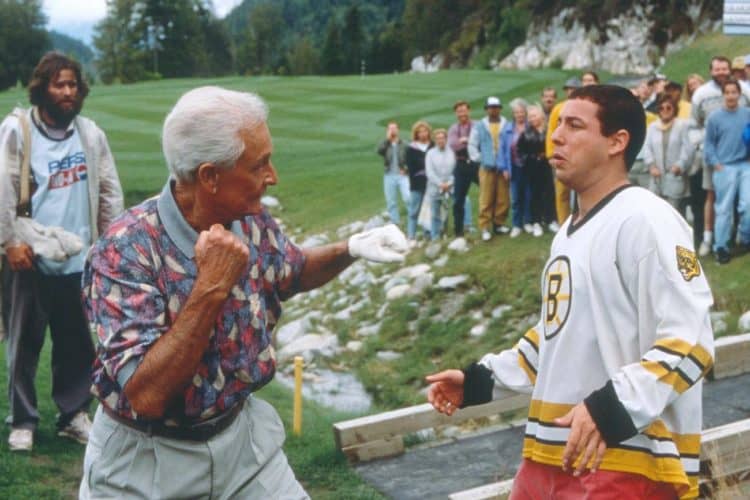 There is a legitimate reason why Adam Sandler continues to stay relevant up to this day. The comedian never stops reinventing himself and his craft. He is loyal to his audience and never fails to his audience and takes his collaborations seriously. This shines through his projects that are still able to make it big in the box office. His recent deal with streaming giant, Netflix has also opened the door to more interesting and entertaining films to be developed. Sandler's comedic style stems from years of stand-up comedy. He is set apart by his spontaneity and unpredictability, which is evident in the outrageous and colorful of characters he has given life to over the years. There is just something about Sandler's sarcastic and slapstick humor that just draws us in anytime. It's comforting to know that there is no stopping him anytime soon. Here are five of the funniest slapstick comedy scenes starring Adam Sandler, in no particular order:
5. Happy Gilmore
The sports comedy is a treat, even for the non-golf lovers. It followed the story of an unsuccessful hockey player named Happy Gilmore, portrayed by Sandler, whose dire circumstances in life forced him to join a long-drive golf contest to help his grandmother pay off her debt. This unleashed another side of Happy that he never knew he had, and turned him into a golf superstar in no time. The scene where Happy was competing in a golf tournament alongside another golf hotshot, Shooter McGavin, portrayed by Christopher McDonald (Requiem for a Dream), was pure slapstick fun. Happy was going ballistic over a missed crucial putt, which turned out to be a good career move, as it made him stand out from the rest of the players. The film turned out to be one of the most memorable sports comedies that are still enjoyed up to this day.
4. Billy Madison
Sandler portrayed the role of Billy Madison, a simpleminded and spoiled man child, who was heir to a hotel empire. Billy's childish ways made his father lose confidence in capabilities, and turn to his scheming executive vice president instead to run the business. This served as a wake-up call for Billy, who begged his father to reconsider his decision, with the condition that he straightens up his act. Billy had to go back to complete all 12 grades of school within two weeks for each grade, and prove that he was competent enough to handle his father's company. The film was filled with comedy gold, but one of the scenes that stood out was when Billy made a fool out of himself in front of his father's colleagues during the business dinner takes the cake. Billy ruined the formal dinner by arriving late, displaying terrible manners, and surprising everyone in the table with his gibberish talk. It was riot to watch, and one that displayed Sandler's one-of-a-kind slapstick humor.
3. Mr. Deeds
The unique thing about Sandler's comedy films is that it usually centers around family. Take for instance this 2002 comedy where Sandler portrayed the role of Longfellow Deeds, the grandnephew of a multi-billionaire with no immediate heir, who froze to death upon reaching the summit of Mt. Everest. His untimely death propelled Deeds to become the closest of kin to inherit the massive fortune. This life-changing event was covered by a tabloid television show reporter, Babe Bennet, portrayed by Winona Ryder (Stranger Things). The legal proceedings for the hefty inheritance uncovered a lot of skeletons in the closet, and revealed the true characters of the people involved. The film was also filled with lighthearted moments, such as the scene where Deeds asked his granduncle's butler, Emilio, portrayed by John Turturro (The Night Of), to whack his frost bit foot was strange and hilarious at the same time. Sandler did not need to do much to entertain his slapstick humor-loving audience.
2. The Waterboy
The film is another sports comedy that is part of Sandler's 90's film repertoire. Sandler portrayed the role of Bobby Boucher Jr., a socially awkward and mentally challenged man with a stutter, who worked as a water boy for the University of Louisiana's football program. Bobby's hard work and eagerness to complete his college education allowed him a linebacker position in the college football team. The scene where his coach told him that "water sucks and Gatorade was better" served as a motivation for Bobby and made him perform much better than expected by tackling his opponents one by one. Sandler was effective in portraying off-beaten characters whose differences made them become overnight sports superstars.
1. Hubie Halloween
The mystery comedy was a Halloween movie that followed Hubie Dubois, portrayed by Sandler, a delicatessen employee who was tasked to save his small town of Salem, Massachusetts from a notorious kidnapper, after a string of disappearances. It was somewhat of a whodunnit plot that had us guessing who the culprit was until the big reveal by the end of the movie. The scene where Hubie crashed his bike after getting distracted from seeing Violet Valentine, portrayed by Julie Bowen (Modern Family), come out of a store was flawlessly executed. Sandler does not run out of silly antics that can just liven up an ordinary scene. His comedic timing and "no holds barred" humor just never gets old.
Tell us what's wrong with this post? How could we improve it? :)
Let us improve this post!