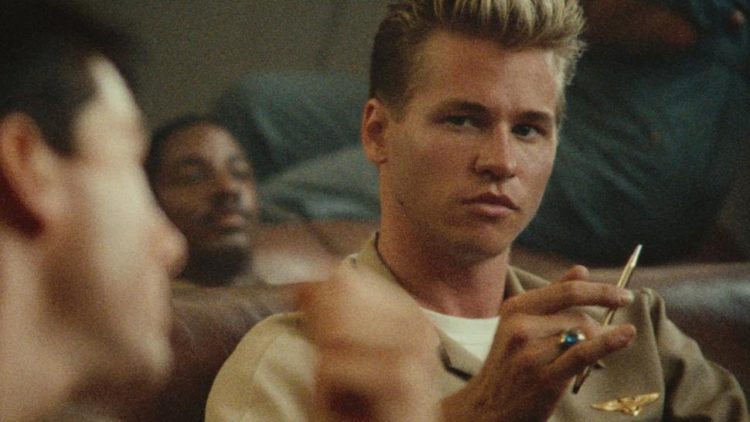 You might be missing films like Real Genius, Heat, and even The Island of Dr. Moreau on this list, but one thing you can be guaranteed of is that they would make a top ten list of Val Kilmer's best, but those in the top five are films where he really got to shine and show what he could do in the prime of his career. At one point Kilmer was THE go-to guy for someone that could transform themselves into the role they were playing. As the years have gone on he's done more movies that go straight to DVD and less blockbuster films that showcase his greatness. But back in the day Kilmer was someone that seemed like he might reach legendary status rather quickly. While he's still someone that people want to see his older movies are the real gems of his career. While a comeback isn't without its merit, he would definitely need to start making it sometime soon. A lot of people are hoping that this might be in the works.
Here are some of the best movies of his career.
There might have been a few inaccuracies in this movie as there usually are when transitioning real life into cinema, but it can't be ignored that Kilmer seemed to channel a part of Jim Morrison all the same. This movie was something that seemed destined to be made since the Doors were a band that kind of blew the roof off of the conventional style of music and did things their own way even when people told them not to. Kilmer becoming Morrison was something uniquely wonderful since he went so fully into character that telling the two apart required a picture for some people.
If you don't know who Madmartigan is then you likely weren't into fantasy back in the day since he was one of the greatest characters ever devised for a fantasy tale. The crazed swordsman was one of many individuals that made Willow so great and was a perfect companion for Willow Ufgood, the main protagonist of the story. Despite their extreme size difference and obvious differences in personality Madmartigan became the protector that Willow needed, while Willow in turn never strayed from his quest, braving all types of dangers in order to bring a young child to her destiny.
3. The Saint
There is a reason why this is in the third slot and it has a lot to do with Kilmer's acting ability at the time since as a spy movie it could be in a top ten, but as one of Kilmer's movies it is really overlooked and not given enough credit. The man takes on various personas throughout the film and while they all look alike, it's hard to really mistake his face, he does make each one of them seem believable in one way or another. In another sense his madness is buried behind layers of secrecy that is born out of necessity in order to keep his real identity, which is unknown, to himself.
One argument for this film is that there is a wealth of alpha male jerks that either get passed off as overly aggressive or simply playful and well-meaning. In that kind of landscape Kilmer's character is deemed as one of the worst, but he's still on the same side as the other jerks that are deemed the good guys. All in all they're on the same team but they're also at each other's throats continuously for one reason or another. In the upcoming sequel to this movie it's been stated that Kilmer is coming back, though whether his character and Cruise's are still on good terms or not is yet to be seen.
By far and large this is one of Kilmer's absolute best roles since he falls into it so easily and plays the role so casually that you might think he was born to it. Doc Holliday was, in history, a rather pretentious man and not at all shy about talking to others and saying how he felt by many accounts. He was also quite deadly in his own right and had a very high opinion of himself, and was a friend of Wyatt Earp at one time. Now his encounter with Johnny Ringo didn't go down like this as it reads in the history books, as Ringo wasn't nearly as educated as this scene would have you believe. But in the interest of cinema and building tension you can't help but love the showdown between Holliday and Ringo, especially when you obtain a translation of what they're really saying. It's basically a bit of verbal banter between the two men, promise of what might happen should they draw on each other.
"I'm your huckleberry." Arguably one of the best lines, EVER.