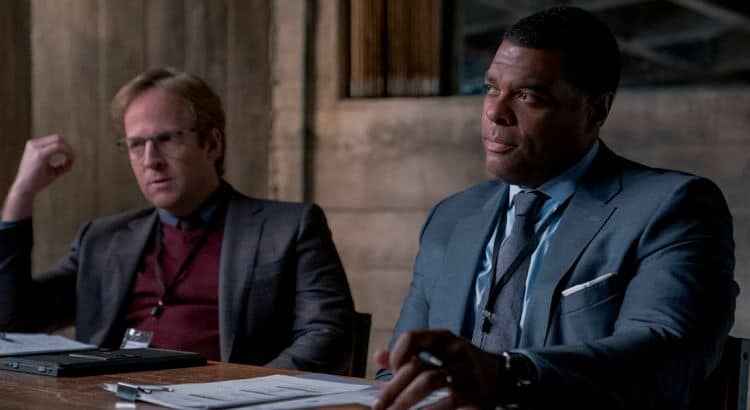 Troy Winbush might not be a household name, but he certainly has a face most people recognize. He's been in the acting business since the late 1980s, and he's made quite an impact on the world at that time. He is well-known for many roles, and he's been in dozens of films and television shows over the years. Some of his roles are bigger than others, but some of them are also a bit more pivotal for various reasons. He's a man who is married to his lovely wife, Monica Dozier, and they share two kids. He is known for being cast in projects with some of the biggest names in Hollywood on a regular basis. It might seem intimidating to some to work with the world's most famous people, but he handles each role with class and elegance, and he stands out even in a sea of the world's most famous. Troy Winbush might not be a leading actor, but he's someone who brings something special and pertinent to every role he is given, even when the characters played by more famous actors should be front and center. He's not a man who fades into the background, and some of his roles are standouts even if they're not his biggest.
Agent Hammer in "National Treasure: Book of Secrets"
This is the second movie in the "National Treasure" franchise, and it was a hit. With a cast that might just include everyone who is anyone in Hollywood, Winbush didn't have a huge role – but the role he played was pivotal. Agent Hammer was looking to do his job, to find out the truth, and to make things right. In this movie, he starred opposite some of Hollywood's most notable names. Nicolas Cage, Helen Mirren, Diane Kruger, Ed Harris, Harvey Keitel, and Ty Burrell are just a few of the major characters in this movie.
Walter Cochran "The Replacements
Winbush's role in this hit was stellar. He played the ordained minister who initially began his adult career playing football in the NFL before a tragic injury took him out of the game forever. His character is tapped to play number 34 on the Washington Sentinels team after a player's strike causes the owner of the team to find, you guessed it, replacements to take over. He's one of the replacements, and he ends up blowing his knee again when he finishes the final game of the replacement season. This movie is another that has a lot of Hollywood's heaviest hitters – Jon Favreau, John Madden, Keanu Reeves, Gene Hackman, and many more.
Steve Smith "John Q"
When Winbush appeared as Steve Smith in "John Q," his role was noted as being one of his best. It wasn't a huge role, but the movie itself was a big one. Starring Denzel Washington, Anne Heche, Robert Duvall, Ray Liotta, Eddie Griffin, and even Jay Leno, Larry King, and Gloria Alred, this movie was one of the biggest of the year back in 2002. Denzel Washington plays the role of John Q, a distraught father whose young son has a heart condition that requires him to receive a transplant that, ultimately, his insurance will not pay for leaving his family with no hope because they cannot afford it. When Washington's character flips out, he holds a hospital hostage and demands his son's name be put on the transplant list and that his son receives a new heart. The movie touched everyone's heart, and every character was pertinent to the result.
Officer Puchinski "The Goldbergs"
One of the most fun shows on television, Winbush's role as Officer Puchinski is not a big one that takes him throughout the entire series, but it is a good one. He appears during the episode where Barry wants a car for his sixteenth birthday. Beverly doesn't want him to have one, Pops gets him one (she makes him return it) and the officer himself makes an appearance. He's hilarious, he's fun, and he should play an officer more often. He fits the bill and works the role as if he was born for it.
Denny "The Cosby Show"
Troy Winbush spent nearly four years of his life guest-starring as Denny on "The Cosby Show," and his fans remember. He began portraying Denny in 1987 and last portrayed the character in 1991. He was Theo's friend who came around regularly. The show was such a big one, and it was such a great time. He made an impression on his fans even back then.
Tell us what's wrong with this post? How could we improve it? :)
Let us improve this post!