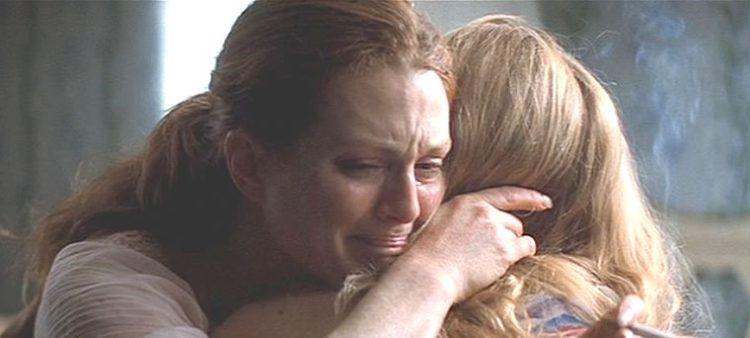 Julianne Moore never aspired to be an actress until she finally started acting out parts in books that she read. She was a rather insecure person for much of her young life until she learned how to become the type that would adapt to wherever she was and whatever situation she found herself in. Her father was a paratrooper in the US Army so it was necessary for the family to move about quite often and as a result she didn't have a lot of time to get to know people and had to be on the move constantly. From this she had to learn how to adapt and become someone else in a new place while adapting to each new circumstance so that she would be able to function in each new place. It seems like a lot of work and a lot re-inventing but it worked for her since it allowed Julianne to finally feel as though she belonged where she was.
Here are some of the best movies from her career.
5. The Kids are Alright
There's a lot to a marriage and a family that goes beyond what some people feel is traditional. Jules and Nic have been together for a long time and have kids that they love and cherish and a good marriage that they don't want to wreck. But when their son Laser seeks out the sperm donor that made him and sister possible they become attached to the man. Jules eventually has an affair with him, almost ruining their family, and when he tries to get her to divorce Nic and start a family with him she refuses. Eventually they all take their daughter Joni to college at the end and rekindle the love they have for one another.
4. The Hours
Laura is a seriously depressed woman that appears to have a good life but deep down is as depressed as a person can possibly be without taking that final step towards the final curtain. Unfortunately when she leaves her son with a neighbor she decides to at least flirt with the idea and makes her way to a hotel room where contemplates suicide as she takes a few bottles of pills out of her bag along with a book that has much to do with the movie. Fortunately she can't go through with it and decides that her life isn't all that bad as she rubs her stomach, her current pregnancy being just one reason why she can't do it.
3. Still Alice
The onset of Alzheimer's Disease is horrifying to those that are going through it and extremely saddening and even depressing to those that have to watch. When the memory starts to go people find that they can't recall what they were doing from one moment to the next and can't even remember their own relatives. As Alice finds it can be and is a terrifying sensation to not be able to find your way around your own home and to not recognize a child that you gave birth to and raised as your mind continues to slip down a slope for which there is no known cure at this point. Having seen this firsthand it is something that you don't forget as you watch someone begin to lose all sense of who they are.
The world of pornography doesn't seem to have the same shine and luster as it might when viewing this film as it goes into the grimy and sometimes illegal underside that a lot of people just don't think about when they look at the cover of an adult video. The truth about this industry is pretty well laid out in this film though since there's a lot of glamour to it but there are also a lot of problems that seem to come along with the business. It's not all bad, but the movie itself is something that tends to show the downsides as well as the advantages that can come, at least until people start getting desperate.
The relations between people in this film is just something else since very people, if any, seem all that happy throughout the picture and the level of abuse and manipulation is simply insane. But it did manage to get a good deal of attention, enough that some folks thought it was thought-provoking and even masterfully done. Moore plays the trophy wife that admits that she married her husband for money but has come to love him and wants to amend his will so that the money he willed her will go to someone else. When she finds that she has no other options however she attempts to kill herself as a solution. Like I said, things in this movie are just messed up.
Julianne Moore is a very classy actress and it's usually shown when she stars in much more serious roles.