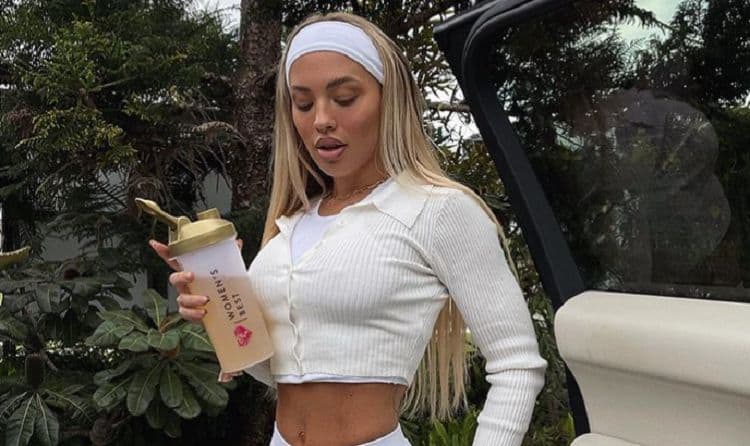 Born and raised in Australia, Tammy Hembrow probably never imagined that one day she would be known to people all over the world. Thanks to the internet, however, that's exactly what's happened. She currently has almost 13 million followers on Instagram, and she's popular for sharing health and fitness-related content. On top of that, she is also a dedicated mother who takes great pride in building a legacy for her children. Although her relationship with her children's father and fellow influencer, Reece Hawkins, didn't work out, Tammy recently shared that she's found love again and she's excited to see where this new journey takes her. Keep reading for 10 things you didn't know about Tammy Hembrow.
1. She Started Her Fitness Journey As A Teenager
Focusing on health and fitness was important to Tammy long before she started sharing on the internet. Tammy told Women's Best, "I began my fitness journey in my late teens when I wasn't too happy with the way my body was going, and I wasn't living a very healthy lifestyle. It became more of a focus when I realized that I could feel my absolute best when I ate well and worked out. It really became a passion for me just before my first pregnancy when I found real joy and happiness in this lifestyle."
2. She Met Her Boyfriend In Bali
Love has a way of finding people when they least expect it, and that's been the case for Tammy's latest love story. She and her boyfriend, Matt Poole, met at an event in Bali. Although they haven't been together for very long, they both seem very committed to building a lasting relationship.
3. She Loves Shoes
There are lots of people who believe that no outfit is complete without shoes, and Tammy is definitely one of those people. She loves shoes and has a huge collection of sneakers. She even has a highlight section on her Instagram profile dedicated to showing off her shoes.
4. She Doesn't Work Out Every Day
Since fitness is such a big part of Tammy's real life and her online identity, most people probably think it's something that consumes her everyday life. In reality, however, Tammy doesn't exercise every single day. Since becoming a mother, she typically works out about three to four times a week.
5. She Hopes To Inspire Others
There are a lot of social media influencers who are obsessed with maintaining a perfect image, but not Tammy. She actually hopes that the fact that she isn't perfect will help inspire and empower other people. According to Daily Mail, Tammy said, "You know, my body fluctuates – it's not always its best shape ever. I'll post photos of myself at the beach in a bikini and you can see a little bit of cellulite and stuff". She added, "And girls are always commenting on my Instagram, saying "Thank you for showing your real body." I want to show that everybody's body, however it is, is perfect".
6. She Likes Giving Back To Others
Tammy doesn't just want to use her platform to share cool pictures and talk about fashion and fitness, she also wants to use her platform to make a positive difference in the world. She likes helping others and has collaborated with several charities both personally and through her business.
7. Her Butt Is Real
There are lots of people on social media (and in the world in general) who have undergone cosmetic surgery. Over the last few years, Brazilian butt lifts have become incredibly popular, and some people have even accused Tammy of having one. However, her butt is 100% real.
8. She Has Some Helpful Advice
Tammy has been around long enough to have a good idea of what it takes to be successful. She doesn't mind sharing some tips with the world. When asked if she has any advice, Tammy told Women's Best, "Be authentic, don't let people who try to bring you down achieve it, and go work for what you want. Those are the three most important things that I still apply to myself today."
9. She And Her Ex Are In A Better Place
When Tammy and Reece went through their breakup, it was a difficult time for both of them and their relationship didn't end on the best of terms. However, since they've had lots of space to process everything, they've been able to move forward and build a nice co-parenting relationship for their children.
10. She Grew Up On A Farm
Tammy's life may be glamorous now, but things didn't start off that way for her. In a YouTube video with E! News Australia, Tammy shared that she grew up on a farm with her father and her siblings. She spent a lot of time playing outside and enjoying the simple things in life.