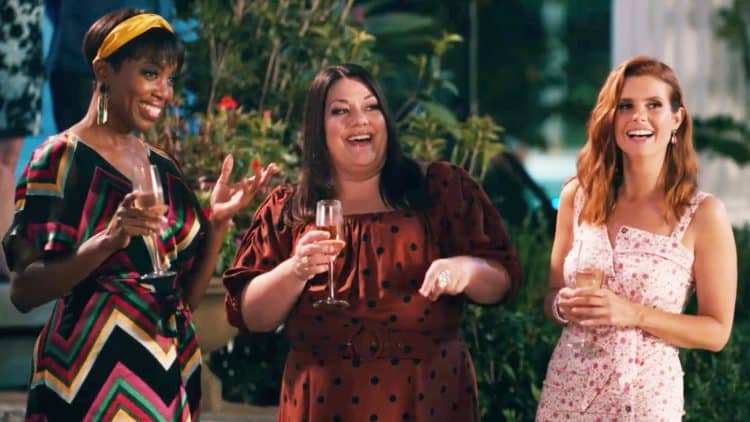 Ever since Netflix began adapting beloved novels for their streaming platform, they have brought several films and series from authors to life. Some romantic dramas inspired by books that have been made for the platform include; Bridgerton, The Babysitters Club, and Virgin River. In May 2020, Netflix dropped yet another romance drama, Sweet Magnolias, with ten episodes that would focus on three women and their lives in the town of Serenity. Netflix put together a lovable cast of actors for the series, including Joanna Garcia as Maddie, Brooke Elliot as Dena, and Heather Headly as Helen for the lead roles. The leading men were also well cast, with Justin Bruening as Cal, Chris Klein as Bill Townsend.
From Novel To Hit TV Series
Sweet Magnolias season 1 surpassed expectations and performed so well that Netflix renewed it for season 2 in July 2020. Many people admit to watching the show because of how relatable it is to their lives. It was in Netflix's top 10 for a few weeks after it came out, which means it was popular with viewers. It even got a 71% rating on RottenTomatoes, which can sometimes be a bit harsh on romance dramas proving how well critics received it. The series is inspired by the Sweet Magnolia book series of eleven books by Sheryl Woods about life, love, family, and friendship. It is about three friends, a chef and restaurant owner known as Dana Sue Sullivan, a divorce attorney, Helen Decatur, and a stay-at-home mother, Maddie Townsend, who all make part of the group, Sweet Magnolias. The three friends had always promised to open a business together, which is where the series focuses.
Twist
If you were a fan of the books, you noticed the TV series changed a few things, but it is primarily the same. With only a few twists added to make it more interesting. In the book, Cal is almost fired for his relationship with Maddie because it was causing so much gossip. Unlike in the series where their relationship is dismissed rather quickly. Other than a few details, the show generally follows the three beautiful women who have been best friends since high school and how they tackle life. The series might be so popular since it reminds many people of another romance drama based on a famous novel, Sex, and the City, by Candace Bushnell. Like Sweet Magnolias, it was also a story about successful women and the ups and downs they faced in life. It revolved around the thirty-something-year-old women as they lived life on their terms and went for what they wanted, similar to the Netflix series. All the drama they went through with the men they trusted their hearts with and their lifelong dreams of making a name for themselves in New York City.
Friendships
The three women in Sweet Magnolias love getting together to unwind and catch up with each other during their sacred Margarita nights. It is a way to regroup and share some of the struggles they are going through in their lives. Maddie is a mother of three who is going through a divorce and has to juggle taking care of her kids, finding a job, and taking care of herself. Plus, the sexy baseball coach who she can't get out of her head. Dana owns a restaurant called Sullivan's, where she also cooks.
Fun
Helen is a lawyer who decides to open a spa called The Corner Spa with her best friends, so of course, they have a lot to talk about. In Sex and the City, Carrie and her friends used to go out to a bar and catch up over a few drinks. Just like the ladies of Sweet Magnolias with their Margaritas, the women of Sex and the City bond over cosmos. After long days at work, they would talk to each other and find comfort in sharing their experiences over a drink. Both shows, friendship, and love themes are evident, perfect for watching with friends and family.
Love
While Sex and the City had several steamy love scenes, you might be shocked to find Sweet Magnolias is more kid-friendly despite being about women. We couldn't help but notice that Sweet Magnolias has complicated love triangles. Maddie's husband Bill had cheated on her with his medical assistant, Noreen, who gets pregnant, played by Jamie Lynn Spears. Meanwhile, Maddie falls for Cal, Serenity High's baseball coach. This love triangle in the Netflix series reminds us of when Mr. Big cheated on his wife Natasha with Carrie. Their affair was the worst since, at the time, Carrie had a boyfriend, Aidan, who was madly in love with her. Talk about a mess! Although many hearts were broken during the messy relationships, all their experiences were worth the watch.
The Cast
The Sex and The City reboot is currently filming with Sarah Jessica Parker and most of the original cast returning to the hit show. Our favorite stars like Kristin Davis, Cynthia Nixon, Willie Garson, and Mario Cantone, Julie Halton will; return. Unfortunately, Kim Cattrall won't be returning as Samantha, leaving the show with only three leading women in New York. The HBO Max reboot of the hit television series might become more similar to Sweet Magnolia's, as the three successful women are also going through their woes.
Plot
It will follow Carrie, Charlotte, and Miranda as they balance marriage, friendship, raising kids, and maybe divorce? Just like Maddie, Dana, and Helen in Sweet Magnolias. Anyone who loves Hallmark and Lifetime-type movies will love Sweet Magnolias, which gives you the same wholesome, sometimes cheesy feelings of love. Plus, the attractive cast is a joy to watch. It is family-oriented and great to binge-watch over some snacks because of how engaging and captivating the characters are. In general, Sweet Magnolias is a great romance drama that sheds light on the modern woman and is definitely worth a watch. Due to the Covid 19 pandemic, season 2 of the Netflix hit might come out in 2022.
Tell us what's wrong with this post? How could we improve it? :)
Let us improve this post!