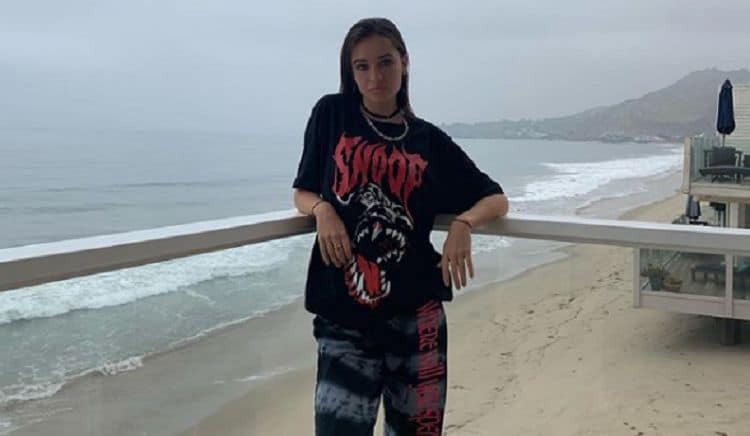 The first few years of an actor's career are crucial. Picking the right roles in the beginning can help establish the momentum for the years to come. So far, it looks like Harlan Drum has made all of the right choices. She only has four acting credits to her name at the moment, but they've all been great opportunities. Some people will recognize Harlan from her role as CeCe Matney in the Netflix series Sweet Magnolias. However, she's going to be recognized for something else very soon. She has a starring role in the upcoming movie Zola, which is based on a bizarre Twitter thread about a stripper and a road trip to Florida. The highly anticipated movie has been in the works for a couple of years, and it might just be her break out opportunity. Here are 10 things you didn't know about Harlan Drum.
1. She's Been In Commercials
Harlan got her first on screen opportunities in commercials when she was younger. She appeared in commercials for major brands such as Samsung Burger King. It was these early jobs that made her realize that she wanted to pursue acting as a potential career.
2. She's Originally From Florida
Harlan was born and raised in Fort Lauderdale and is very proud of where she's from. She told local news station, WSVN, "I love growing up here." She added, "I mean, it's pretty much all I know. I think it's been, like, four generations that my family's been in South Florida. I think it's just like in my blood"
3. She Is Excited About The Success Of Sweet Magnolias
Getting cast in Sweet Magnolias has been a life changing experience for Harlan. During her interview with WVSN, she said that she's grateful for the opportunity and that the show was so well received. She also added, "I just love acting, and I love everything that it implies. I love being on set. I love meeting everybody, so I mean, any time that I get to do that, it's so cool and fun."&M
4. She's Adventurous
Harlan is a very active person who enjoys a good adrenaline rush from time to time. Even though her schedule has gotten more busy over the last few years, she still finds time to unwind and have some fun. She likes to spend time outdoors and she seems to like riding four wheelers.
5. She's A Model
Acting has become her main focus, but Harlan actually began her career as a model when she was in elementary school. According to the info section on her website, she started doing print ads for major companies including H&M, American Girl, and Justice.
6. She Likes To Stay Low Key
Harlan may be on her way to becoming a star, but she doesn't seem to seem to have gotten caught up in any of the hype. She appears to be a private person who likes to keep a low key online presence. She has an Instagram account but has only posted 19 times in the last year. Harlan does't have very many followers at the moment, but that will definitely change once more people discover her talent.
7. She Has A Very Close Relationship With Her Mom
Although she doesn't post much on social media, there is one person who she's made it a point to include on Instagram: her mom. It's very clear the two have a close relationship. She shared multiple childhood photos of her and her mother spending time together. She also added the caption "love of my life."
8. She Is Signed To A Talent Agency
Finding an agent isn't as easy as it sounds. As a result, it can take some actors quite a while to find an agency who is willing to take them on as a client. Harlan is only about a year into her career, but she's always signed with a talent agency called KD Management based in Los Angeles.
9. She Plays The Banjo
Modeling and acting aren't the only talents Harlan has. The bio on her website also says that she plays the banjo. Surprisingly, there aren't any videos of her playing the instrument on Instagram, but hopefully she decides to share her talent with the world some day.
10. She Enjoys Working Out
Having a summer body all year long is great. But working out isn't only about looking good – it's also about feeling good. Regular exercise can be a great way to release stress and improve mental and physical health. When Harlan isn't busy with work, she loves to spend time getting a good work out in.
Tell us what's wrong with this post? How could we improve it? :)
Let us improve this post!