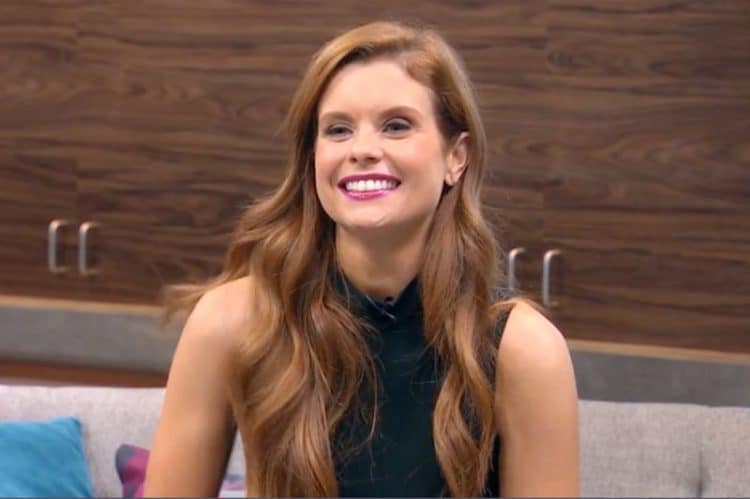 Joanna Garcia's prolific acting career began when she was just a teenager. The 39 year old actress has made a name for herself in television and film. Most recently, Joanna starred on television in "Kevin (Probably) Saves the World" and in the film "First Flight". Joanna married former Oakland A's player Nick Swisher and the couple have two daughters. They live in Los Angeles. Here are 10 things you didn't know about Joanna Garcia.
1. Growing up in Florida
Joanna Garcia was born in 1979 and grew up in Tampa, Florida. Her parents are Cuban. Her mom worked as an elementary school teacher and her father is an OB/Gyn. Joanna is close with her brother, Michael. As a young girl, Joanna's parents encouraged her to become involved in extracurricular activities. She loved playing tennis but also tried her hand at acting with a local theater company when she was 10 years old. Talent searchers from the Discovery Channel noticed her, but her parents encouraged her to complete school before thinking about an acting career but allowed her to pursue some small acting roles.
2. Teen actress
Talent scouts from Nickelodeon found Joanna, and at 13, she appeared in episodes of "Superboy" and "Clarissa Explains All" and on "SeaQuest DSV". While attending Tampa Catholic High School, Joanna commuted to Montreal to film three seasons of the series "Are You Afraid of the Dark". She also appeared on "Second Noah", "Party of Five" and "Step By Step". Joanna also starred in several movies of the week including 1997's "Love's Deadly Triangle: The Texas Cadet Murder". Even with all of her acting jobs, Joanna graduated with honors from Tampa Catholic High School. She was also the Homecoming Queen.
3. Florida State University
After high school, Joanna enrolled in Florida State University and continued to act on the side. Along with activity at the Delta Delta Delta sorority, Joanna starred in the miniseries "From the Earth to the Moon". With many acting offers coming in, Joanna dropped out of FSU and headed to Hollywood. From 1999 until 2000 she played the role of Vicci Appleby, a popular Freshman cheerleader on "Freaks and Geeks".
4. Reba
Although Joanna Garcia was well known for her television appearances and roles, it was the WB/CW series "Reba" that she counts as her big break. Joanna played Cheyenne Hart-Montgomery, the eldest daughter of Reba in Reba McEntire's hit series from 2001 through 2007. She remains close with the rest of the cast, many of whom were involved in her wedding.
5. More acting
Joanna Garcia's acting career never slowed down. She had roles in films including "American Pie 2", "Not Just Another Teen Movie", "A-List", "Extreme Makeover" and "The Internship". She also continued to have a prolific television career after "Reba". Joanna starred in "Privilaged" from 2008 to 2009. She appeared on series including "Gossip Girl" and "How I Met YOur Mother". She starred in several made for television movies including 2010's "Revenge of the Bridesmaids" and "Better With You". From 2013 to 2017, Joanna had the recurring role of Ariel on the ABC television series "Once Upon a Time". She also appeared on "The Mindy Project" and "The Astronaut Wives Club".
6. Marriage
Joanna dated Trace Ayala and the two were briefly engaged in 2008. Ayala co-founded the clothing company William Rost. He is also a childhood friend of Justin Timberlake and later Timberlake's personal assistant. After the couple broke up, Joanna found love again with former Oakland A's player Nick Swisher. The couple married Palm Beach Florida's Breakers Hotel and Resort on December 11, 2010. Bridesmaids included fellow actresses Jamie-Lynn Sigler, Melissa Peterman and Reba McEntire.
7. Philanthropy
When she's not busy acting, Joanna is mom to 5 year old Emerson and 2 year old Sailor who keep she and Nick busy and happy. Joanne also does a lot of volunteer work. She and Nick founded the Swisher Family Foundation to help children in need. Joanna volunteers teaching English as a second language. She is also involved with Make the Commitment, a cervical cancer awareness organization, and We Reach, an organization that helps young girls throughout the United States organize charity events in their hometown and helps to empower women.
8. The Swisher Home
Joanna Garcia Swisher recently said that if she weren't an actress she would love to work as an interior designer. She recently showcased the Swisher home. The couple bought the Los Angeles home as a laid back place to raise their young daughters and to entertain. The twentieth century home is open and airy and has a big backyard. The home is kid friendly and casual and inviting to the guests who often visit. The family loves to cook, watch sports and entertain.
9. Joanna's favorites
With her love of interior design, the Home and Garden Channel is Joanna's favorite. She recently binge watched "The Crown", "Big Little Lies" and "The Handmaid's Tale". Her favorite recent movie is "Wonder Woman". She loves Mediterranean and Greek Food. Along with her interior design hobby, Joanna still loves to play tennis.
10. What she's doing now
Life for Joanna Garcia Swisher never slows down. She appeared in the ABC fantasy/comedy/drama "Kevin (Probably) Saves the World" last year as well as the Ice Cube movie "Fist Fight". Along with her work with her charities and other volunteer work, Joanna is enjoying her little girls. She will reprise her role as Ariel on "Once Upon a Time" and, as always, has many projects on the horizon.
Tell us what's wrong with this post? How could we improve it? :)
Let us improve this post!