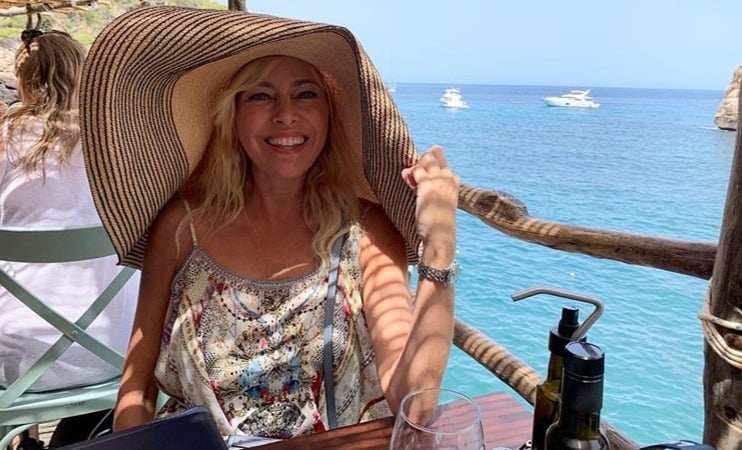 There's a new face coming after the departure of Lisa Vanderpump in the reality series "The Real Housewives of Beverly Hills." She's the replacement and her name is Sutton Stracke. Don't feel bad if you're not familiar with her because she's a newcomer and if you're a fan of RHBH then there you'll want to get primed so you'll be ready for the new reality star filling the open slot in the series. Here are 10 things that you didn't know about Sutton Stracke to help you prepare.
1. She's Lisa Rinnas's best friend
Fans of Lisa will be happy to know that Vanderpump's replacement is close to Rinna. Sutton and Rinna are close friends and this means that we're likely to see some great new drama on the show. Stracke is scheduled to make her debut on the upcoming season of "The Real Housewives of Beverly Hills. Sutton is one of those ladies who is bringing with her some great connections. She's an expert at hostessing parties and was named to the Salonniere 100 list of best party hosts in the entire United States. She placed number 39 in 2017.
2. Sutton is connected with celebrities
Sutton Stracke has an in-road with some of the bigger names in the business. When it's time to throw a classy party, she's the one to call and everyone knows that her parties do not disappoint. In addition to being a close friend of Lisa Rinna, Sutton is also friends with "Bride of Chucky" star Jennifer Tilly. She's made some important connections in her life and this can only enhance what she brings to the show this season.
3. Stracke is a true southern lady
Sutton is a southern debutante who is totally trained in etiquette, particularly when it comes to entertainment and how a lady should behave. She's strong and capable, as well as being outgoing and a businesswoman. Her husband is Christian Stracke, and the couple has three children together. In addition to raising sons, Philip, James and daughter Porter, she also helps herself and others by throwing some amazing parties as a part of her profession. She's active and accomplished and we're looking forward to getting to know her better
4. She maintains her husband's privacy
Sutton has an Instagram account and she uses it a lot. This is one place where you can find out what she's up to and keep abreast on new events and developments in her life. She does post quite a bit on her kids and what she's up to. She's careful, however, to maintain her husband Christian's privacy so you won't see a lot posted about him. This is proper and it makes us have a great deal of respect for her because of the style with which she represents her family through social media.
5. Sutton's appearance on the show has some of the cast nervous
We recently learned that Sutton's acceptance as one of the new Beverly Hills Housewives was kept a secret for a long time. This kept the rest of the cast in a great deal of suspense. They were told that when filming begins in September, there would be a new wife joining them, but they weren't told who it would be right away. This was an element that got everyone on their toes as they tried to imagine who it would be and how the newcomer might affect the dynamics of the group. Now the secret is out and we'll just have to wait and see what happens on the show as a result.
6. She beat out Tori Spelling for the role
There was a rumor that Tori Spelling wanted to become a member of the cast of "The Reals Housewives of Beverly Hills." She shared in an interview that she was never invited to join. It could have been a lot of different people, but Spelling was passed over for the slot and instead, Sutton Stracke was asked to join the cast.
7. Sutton has big shoes to fill
Sutton Stracke may have a difficult time warming the hearts of viewers who are still fans of Lisa Vanderpump. She was the queen of the show in the minds of some viewers, and we recently learned that they're not keen on having her replaced, although it's a necessity. This might make it difficult for Sutton to gain the ratings she'll need. Only time will tell.
8. Sutton Stracke is opening her own business
Stracke isn't the type of woman to take it easy. According to Distractify, she is planning to open her own clothing store. This will add yet more to her already full plate of things to do.
9. She has a great fashion sense
Whenever you see Sutton Stracke, whether it's in a vintage designer gown for a night at the Philharmonic or out shopping she looks amazing. Sutton has a great sense of style and fashion. This is one of the things that we think that fans of RHBH fans will appreciate about her.
10. She's going to change the show this season
Anytime that you add a new face and personality into the mix, there is going to change. "The Real Housewives of Beverly Hills is gaining Sutton Stracke as a cast member and she's definitely going to bring a new dynamic to the group. While some of Vanderpump's loyals are not so sure that they're going to like the new addition, there are others who are looking forward to something different, and perhaps refreshing, so we'll all just have to wait and see what happens after the new season kicks off.