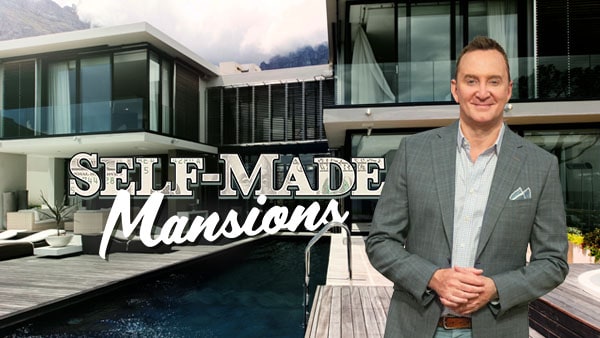 Most people would agree that if they suddenly came into large sums of money, buying their dream home would be one of the first things they'd do. Self-Made Mansions aims to help people do just that. However, instead of featuring cast members who came into their new found fortunes by chance, the show will focus on entrepreneurs who earned their money through various business ventures. Host Clinton Kelly will work with them to find a perfect home that fits their needs and matches their new lavish lifestyle. If you're a fan of home design but also love the occasional feel good story, Self-Made Mansions will likely be very appealing to you. Keep reading for 10 things you didn't know about Self-Made Mansions.
1. The Show Is Clinton Kelly's Debut On HGTV
Clinton Kelly is best-known for being the co-host of the popular TV show What Not To Wear. Although he has many years in the industry, Self-Made Mansions is the first time he's worked with HGTV. While clothing is his expertise, Kelly has always loved home design and his father was a contractor.
2. Season 1 Will Have 6 Episodes
Whenever you start watching a new show, it's always nice to know how many episodes you can expect from a season. Unfortunately for the people who love shows with long seasons, you won't be getting that with Self-Made Mansions. The first season of the show will only have 6 episodes.
3. The Show Will Feature Properties In Different Places
Unlike shows that focus on people in one specific area, Self-Made Mansions will connect with prospective homebuyers from different parts of the country. This will give viewers a chance to see different styles of architecture and see what the real estate market is like in different places.
4. Clinton Kelly Occasionally Offers Some Extra Advice
As mentioned before, real estate isn't really Clinton's forte, but that doesn't mean he can't still offer helpful advice to the home buyers. In addition to providing insight on the houses that are being shown, he also comes through with some interesting general life advice.
5. The Show Focuses On Entrepreneurs Who Got Rich Quickly
Although the entrepreneur lifestyle is often glamorized, the truth is that many entrepreneurs never get rich. Those who do, often spend several years working towards the big bucks. The people featured on Self-Made Mansion, however, have made lots of money in a relatively small window of time and they're ready to upgrade their living situation. Unfortunately, we weren't able to find a casting page for the show or any additional information on how people are chosen for the opportunity.
6. The Show Doesn't Have Any Official Social Media Accounts
These days, there are lots of people who like to follow along with their favorite shows in between episodes. Social media has become the perfect place to do this. Unfortunately for fans of Self-Made Mansion, the show doesn't have any verified social media accounts at the moment. That could all change if the show continues to be a huge hit.
7. Viewers Will See Some Stunning Homes
If you're a fan of HGTV then looking at beautiful homes is probably something you enjoy. You can rest assured that Self-Made Mansions will have plenty of that. Since each newly wealthy home buyer is searching for a new spot that is a big upgrade from their current home, you can bet you'll see the latest and greatest that luxury has to offer.
8. Some Of The Filming Happened Pre-COVID
The pandemic has drastically changed the way a lot of things are done in the entertainment industry and Self-Made Mansions is no exception. Some episodes were filmed before the virus reached the United States, but others were filmed amid the pandemic with special safety precautions in place.
9. The Mansions May Need Some Work
Self-Made Mansions isn't a show about fixer uppers, but that doesn't mean all of that homes will be move in ready for all of the entrepreneurs. Sometimes, even the most beautiful properties need some tweaking in order to be ideal for the next owners and that will be the case with some of the homes featured on the show.
10. There Is No Word On A Second Season
Self-Made Mansions is still fairly early on in its first season, and there hasn't been an official announcement on whether or not it's been renewed. It'll likely be a few weeks before a decision is made but the show has already built up a nice following of people who would love to see it come back.
Tell us what's wrong with this post? How could we improve it? :)
Let us improve this post!