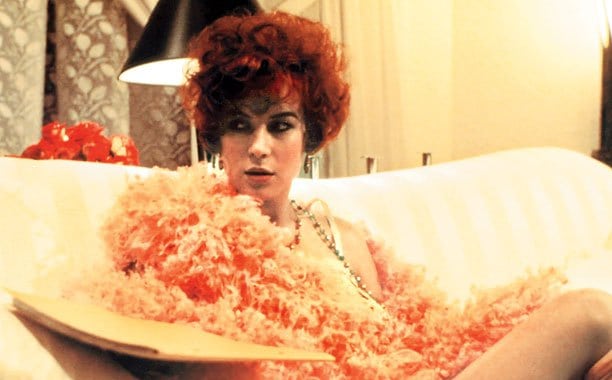 Jennifer Tilly is an actress and a professional poker player who was born on September 16, 1958, in Harbor City, Los Angeles. She launched her acting career in 1983 when she had a small role in 'Hill Street Blues'. She made her film debut the following year when she played Mona in 'No Small Affair'. She has gone on to build an impressive list of credits as an actress in both film and television. She has also achieved success in her other career as a poker player and is a bracelet winner of the World Series of Poker Ladies' Event. Here are five of the best movie roles of Jennifer Tilly's career.
1. Bullets Over Broadway
For her role in 'Bullets over Broadway', Jennifer Tilly was nominated for an Academy Award for Best Supporting Actress. She plays a young actress called Olive Neal who is the girlfriend of a gangster. She is hired by a young playwright and her boyfriend has amazing ideas for the play. This 1994 black comedy-crime film was written and directed by Woody Allen and also starred Jim Broadbent, John Cusack, Harvey Fierstein, Chazz Palminteri, and Mary-Louise Parker.
2. Bride of Chucky
Jennifer Tilly plays the lead role of Tiffany Valentine in this 1998 supernatural comedy slasher movie. Her character brings Chucky back to life as she believes her ex-boyfriend's soul lies within the doll. When she gives Chucky a doll in a bride's dress to mock him, he kills her and transfers her soul into the doll. The pair then devises a plan to get an amulet to transfer their souls into the bodies of the neighbor and his girlfriend. The screenplay was written by Don Mancini who based it on his novel 'Characters'. The film was directed by Ronny Yu and also starred Brad Dourif, Katherine Heigl, John Rutter, and Nick Stabile.
3. Liar Liar
'Liar Liar' is a comedy film that starred Jim Carrey as lawyer Fletcher Reede. Jennifer Tilly played the role of Samantha Cole, his money-grabbing client. This 1997 movie was directed by Tom Shadyac and written by Paul Guay and Stephen Mazur. It also starred Maura Tierney, Swoosie Kurtz, Amanda Donohoe, Anne Haney, and Justin Cooper. This film was a huge commercial success as it grossed $302.7 million at the box office from a budget of $45 million.
4. Made in America
'Made in America' is a 1993 comedy film that starred Whoopi Goldberg, Ted Danson, and Nia Long. Jennifer Tilly played the role of Stacy. The movie is about an intellectual black woman who uses a sperm donor to conceive her daughter. When her daughter finds her biological father, she is shocked to find that he is an obnoxious, white car salesman. The movie was directed by Richard Benjamin and written by Marcia Brandwynne, Nadine Schiff, and Holly Goldberg Sloan. It made almost $105 million at the box office on a budget of $22 million.
5. The Fabulous Baker Boys
Although Tilly's role in this movie is not as large as some of the others, it is significant because this movie was nominated for so many awards and it helped Tilly to get bigger roles in movies. She played the role of Blanche 'Monica' Moran. Other stars in this 1989 romantic comedy-drama included Michelle Pfeiffer, Beau Bridges, and Jeff Bridges. It was written and directed by Steve Kloves and had an award-winning score written by David Grusin.
Tell us what's wrong with this post? How could we improve it? :)
Let us improve this post!