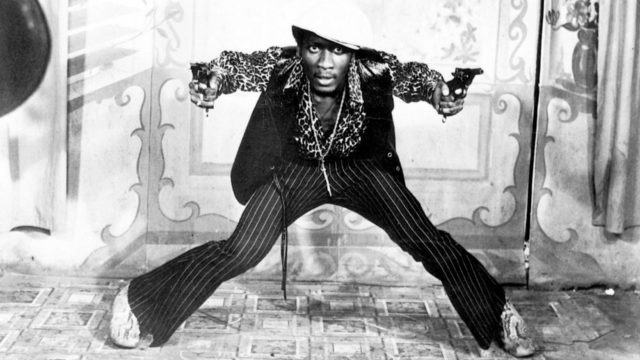 The Harder They Come is definitely a product of the 70's with a 'shoot 'em up' plot that involves the main character, Ivan, making some truly poor decisions as he tries and tries to make his name in the music industry. He starts off simply enough by fixing up an old bike and running errands for a producer that rips him off and pays him pennies on the dollar for a song that he writes. After that his life becomes a series of shoot-outs with the police as he becomes involved with a drug dealer, gets set up more than once and has to shoot his way out of danger, wounding and even killing some people as he makes his escape. In fact he even gets so famous that before he's gunned down his song can be heard on the radio, but he doesn't get to enjoy it.
That's a straight up 70's flick.
10. This was the first feature film from Jamaica.
It created a lot of excitement since this had never happened and it marked a big moment for the country in terms of being known to the world.
9. The original print has subtitles so that English speakers can fully understand the film.
The movie is shot in Jamaican patois, which is a type of creole language that English speakers can usually understand to an extent. In some cases though subtitles were needed.
8. It's on the list titled '1001 movies to see before you die'.
Today it might be seen in a different light by a lot of people but it was considered to be provocative and quite interesting for its time.
7. It was said to have brought reggae to the world.
This isn't fully confirmed but it is a claim of the movie that many people tend to stand behind.
6. It's considered to be one of the most important films from the Caribbean.
The reception from those that watched it was very positive and in fact it received a lot of good reviews when it made its way to America.
5. The main character was based on a real-life criminal.
The criminal in question came to prominence in the 1940's and was known as Rhyging. Unlike the real criminal the film tried to show Ivan as a man just trying to make his way in the world and constantly falling into one trap or another.
4. The film had a couple of different titles before settling on its current one.
It was almost called Rhyging after the infamous criminal the character it was based on and then Hard Road to Travel, which wasn't too far from the main plot of the film.
3. Jamaican's loved the film.
Seeing their own countrymen on film and represented in this way was a big thrill for a lot of people in Jamaica as it meant that they were now a part of pop culture in a way.
2. It was adapted into a stage play in 2005.
It was first shown in the UK and used a great deal of the material from the original film while still adding in a few things.
1. There was supposed to be a sequel.
It's unsure if there was going to be a remake or a sequel but to this date it doesn't seem like anything came of it.
It's still a film of interest these days as it seems to be buzzing around the internet at this time.