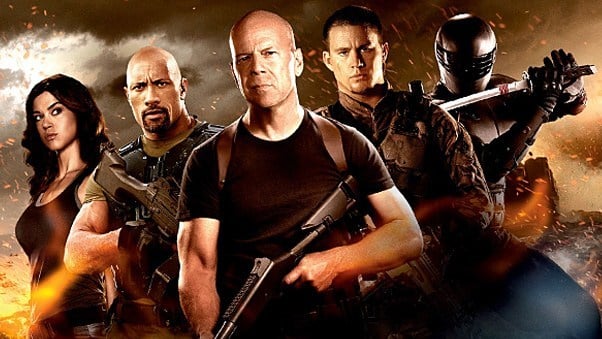 Right from the start this makes a person wonder just who they're bringing back as far as characters go and who's going to get left on the cutting room floor, or back the movies that are essentially being rebooted since with the upcoming Snake Eyes movie that Kevin Burwick of MovieWeb has mentioned the G.I. Joe franchise is being given a do-over as it's likely that new actors and even new characters will be brought into the mix. Given how many characters there actually are in the original series it's fair to say that the movie will only focus on a few of them, and Snake Eyes might actually be another big focal point for the next movie. His feud with Storm Shadow has been a long-running part of the franchise for years, while the emergence of various other characters has at times placed Snake Eyes to the side, but never fully out of the picture. With the last two movies the studio that created them did see financial success, but it was still kind of a 'meh' moment when the movies were rolled out on screen since fans were really hoping for more. Maybe if they'd actually made Brendan Fraser an active Joe instead just giving him a cameo things might have gone differently. Also, Dennis Quaid really didn't get to do much before he was taken out of the picture unceremoniously, just as Channing Tatum was in the second movie. It made sense as in the first movie it allowed Tatum to shine when Quaid was gone, while in the second movie Dwayne Johnson had a chance to save the picture, but then they brought in Bruce Willis.
One of the big sticking points concerning G.I. Joe is that there really are too many characters to go around naming and utilizing throughout the picture but there are a few key components that really need to be kept. Various characters do need to be presented since despite how unique and awesome he really is, Snake Eyes isn't the whole story, and can't really carry off a G.I. Joe movie on his own. Those that want to argue are bound to do so and defy the logic but in the end he's part of the team, a valuable part for certain but still another component to the Joe's and not that much of a leader. There are plenty of individuals that might be great to see on the screen again since there are Joe's that have very distinct skill sets and are therefore utilized in very specialized operations. Snake Eyes of course is a ninja that is nice to have around when the mission requires stealth and a great deal of skill, while someone like Roadblock, who was played by Johnson, is a top demolitions expert and is great at just plowing his way through things and opening a gap in the enemy's defenses.
For leadership there's always Duke and Hawk, as well a Flint to a degree, but in the past it's been seen that ego does play a role in keeping these guys from playing nice at all times, even if they're after the same goal. Over the years there have been plenty of other Joe's that have come and gone and shown an aptitude towards one part of combat or another, but trying to decide who to keep and who to just put in the background is pretty tough. For Cobra this is a little easier since Cobra Commander, Destro, the Baroness, Storm Shadow, and even Zartan are all kind of a given when it comes to their various skills and how they compliment one another. As far as the rest of this group goes there are other specialists, but a lot of Cobra's forces are shock troopers and grunts that are basically recruited in mass numbers so as to overwhelm the Joe's. While quality usually wins out over quantity, the number of Cobra's forces usually poses a pretty big threat to the Joe's since kind of like the Spartans they take only the best of the best, which means that their ranks aren't bolstered by run of the mill individuals that know which end of a gun fires the bullet. No offense to armed forces, but the Joe's are kind of elitist in a way since they do take only the cream of the crop so to speak.
As far as when this movie will be out, that's anyone's guess since with the theaters still shut down, mostly, and production at a standstill it's not likely to see production start on this movie until later this year if possible or even next year. The idea is already coming together in writing so there's no doubt that it's going to happen, but right now it's a waiting game, with the Snake Eyes movie being the only bright spot as it's supposed to release this coming fall. Chris Evangelista of SlashFilm has more to say about this.