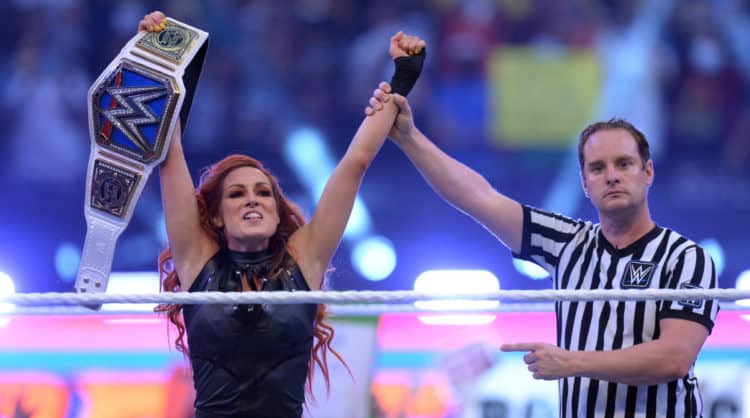 The biggest party of the summer took place last weekend as WWE hosted Summerslam 2021 in Las Vegas. Over 50,000 fans packed into the arena after last year's event had no audience in attendance. Despite the fact that WWE had all of the right cards to play, sorry for the Vegas pun, the company completely dropped the ball with the event. With CM Punk recently debuting for AEW after over seven years out of the ring, it does beg the question of whether this played a part in the lackluster event.
On the second episode of AEW Rampage, CM Punk made his highly anticipated return to the ring in his hometown of Chicago to one of the loudest crowd reactions that we've seen in the modern era. Despite largely being away from the public eye since 2014, it was clear that the fans hadn't forgotten about him and he is without question the biggest signing that the company had made to date. In the past, we've heard many former WWE stars that have moved to AEW say they enjoy the creative freedom, as well as the fact that AEW is a professional wrestling company, rather than a sports entertainment company, something CM Punk echoed in his promo on Rampage. Although not confirmed, there is a chance that we could see the likes of Bryan Danielson, formerly Daniel Bryan in WWE, and Bray Wyatt make the move to AEW in the coming weeks. While not on the same level as WWE, after all, AEW is two years old, it is the first real company to provide true competition to WWE since the closure of WCW in 2001.
On the surface we will never see Vince McMahon or any of the higher-ups in WWE acknowledge the company as a legitimate threat or competition, it would be foolish to assume the company isn't watching AEW very closely, after all, we saw Roman Reigns speak about the CM Punk rumors earlier in the week. With Summerslam 2021 taking place just one day after the return of CM Punk, many fans expected to see some sort of surprise to counter it, which we did get but what should have been the hottest WWE return of 2021 turned out to be hated by many fans online. At the height of her popularity as "The Man", Becky Lynch announced she was stepping away from the ring as she was pregnant in May 2020. Fast forward 15 months and she returned at Summerslam 2021. The crowd response was very good and fans were excited to see her return, but what followed left many fans disappointed.
At the Royal Rumble in January we saw Bianca Belair win the women's Royal Rumble match, with the company finally getting behind her and pushing her as a star. Belair then defeated Sasha Banks in the main event of night one of WrestleMania 37, the first time a WrestleMania main event has featured two black Superstars. Since then she has had a lengthy title run as Smackdown Women's Champion. Although all things must come to an end, the circumstances really let fans down. After it was revealed that Sasha Banks was unable to compete, Carmella was penciled in to take her spot. But then, Becky Lynch's music hit and the crowd erupted. It looked like we were going to get a Bianca Belair Vs Becky Lynch match, with fans expecting Lynch to win.
What followed was a very quick 27-second match which saw Belair beaten very quickly. After a seven-month push, making history at WrestleMania, and a lengthy title reign, it was all taken away in under 30 seconds. I'm not saying that Lynch shouldn't have won, but it did feel like a knee-jerk reaction to CM Punk returning, especially as the current rumors suggested that Lynch wasn't set to return until October. It is possible that as sources strongly suggested that Punk was making his triumphant return, Becky Lynch's return was pushed forward to counter it. And it would have worked if they had a regular match and her return didn't bury Belair. At the very end of the show, we saw Brock Lesnar make his return, seemingly to set up a feud between Roman Reigns and The Beast. It is hard not to think this was another last-minute decision to counter Punk's return, giving us not one but two huge names in WWE.
It could all be circumstantial and the returns were always scheduled to happen at Summerslam 2021, but I am inclined to believe that AEW is posing more of a threat than WWE will ever let on. Only time will tell as we will have to see what happens on Smackdown and how the company capitalizes on the returns of Lynch and Lesnar, as well as whether WWE has anything to worry about when CM Punk has his first match in seven years at All Out in September.Bray Wyatt
Tell us what's wrong with this post? How could we improve it? :)
Let us improve this post!