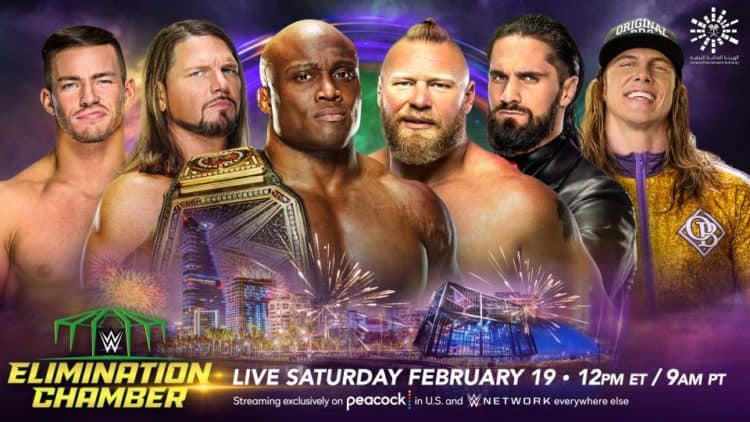 The WWE is once again heading to Saudi Arabia for the upcoming Elimination Chamber event, which will be the last stop before WrestleMania 38 takes place in April. Fitting with the name of the event, the PPV will feature an Elimination Chamber match for the WWE Championship, with the outcome having huge implications for how storylines will play out heading to Showcase Of The Immortals. Here are our predictions for WWE Elimination Chamber 2022.
Bobby Lashley (c) vs. Brock Lesnar vs. Seth "Freakin" Rollins vs. Austin Theory vs. Riddle vs. AJ Styles – Elimination Chamber match for the WWE Championship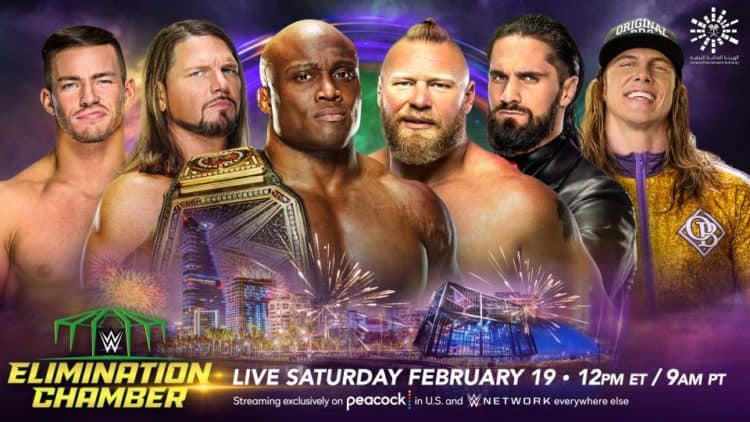 Brock Lesnar won the Men's Royal Rumble match and has a guaranteed match against Bobby Lashley for the WWE Championship at WrestleMania. But, because this is WWE and nothing ever really makes much sense these days, Brock Lesnar has now inserted himself into the Elimination Chamber match to challenge for the WWE Championship. It is very likely that Brock Lesnar will be winning the match and capturing the WWE Championship ahead of WrestleMania. It has been rumored for a long time that Roman Reigns will face Brock Lesnar at the event, but with Lesnar challenging Lashley, it seemed for a moment that this plan had been changed. However, leaks and rumors still point to this being the main event of WrestleMania so it is very likely that The Beast will win and it will become a title vs title or a title unification match.
Winner: Brock Lesnar
Becky Lynch (c) vs. Lita – Singles match for the WWE Raw Women's Championship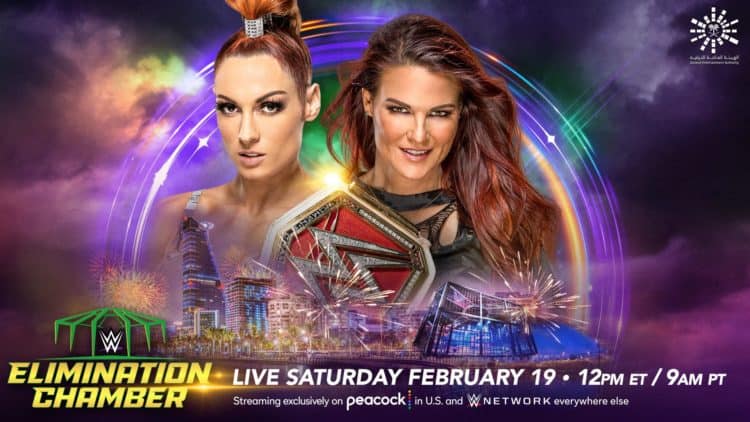 Lita made her return to the WWE at the Royal Rumble, delivering an impressive performance considering she hasn't been a full-time performer since 2006. This has led to her continuing to work for the company and has entered a feud with the Raw Women's Champion, Becky Lynch. Over the last couple of weeks, the promos between the two have been incredibly entertaining and they are doing a great job at building their upcoming match, with Lynch even admitting that without Lita there would be no Becky Lynch. At Elimination Chamber the two will face off for the Raw Women's Championship, but it is extremely likely that Becky Lynch will be retaining the title. Lita isn't a full-time performer and with the popularity of Becky Lynch, it makes sense to want to use her star power at WrestleMania to help sell the show, and it will likely be when Big Time Becks drops the championship.
Winner: Becky Lynch
The Usos (Jey Uso and Jimmy Uso) (c) vs. The Viking Raiders (Erik and Ivar) – Tag team match for the WWE SmackDown Tag Team Championship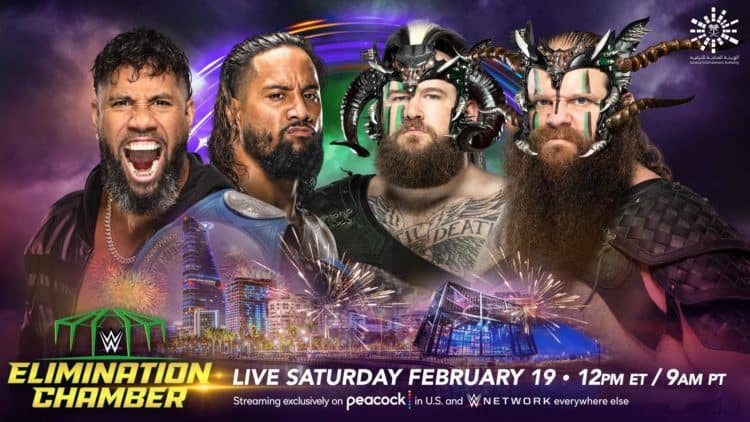 At Elimination Chamber The Usos will square off against The Viking Raiders in what should be a highlight of the event. The Usos have been a dominant team in WWE for a long time and their recent performances as part of a faction with Roman Reigns have been some of the best work they've ever done in their career. With their immense popularity, it makes sense for the team to win in Saudi Arabia, it is not only the best outcome for storylines going into WrestleMania but also the best outcome for the audience in Jeddah.
Winners: The Usos
Drew McIntyre vs. Madcap Moss (with Happy Corbin) – Singles Match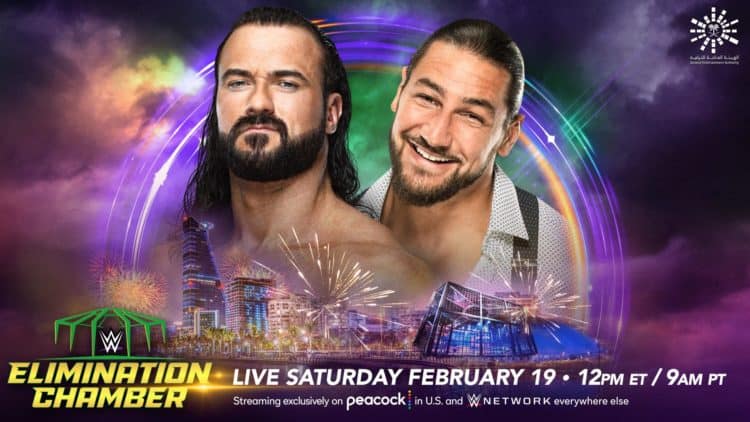 Ever since returning from injury in 2021, Madcap Moss has been aligned with Happy Corbin and tends to do his dirty work, or take the beating at the hands of whoever Corbin is feuding with. At Elimination Chamber he will step into the ring with the Scottish Warrior. McIntyre is one of the top stars in the company, with him being a 2-time WWE Champion. It makes sense for McIntyre to win the match as he heads into WrestleMania to face Happy Corbin. Having McIntyre take a loss against Moss wouldn't make much sense, unless Corbin cost him the match. But, when it comes to the Saudi Arabia shows, WWE tends to play it safe so this will likely be the outcome of the match.
Winner: Drew McIntyre
Roman Reigns (c) (with Paul Heyman) vs. Goldberg – Singles match for the WWE Universal Championship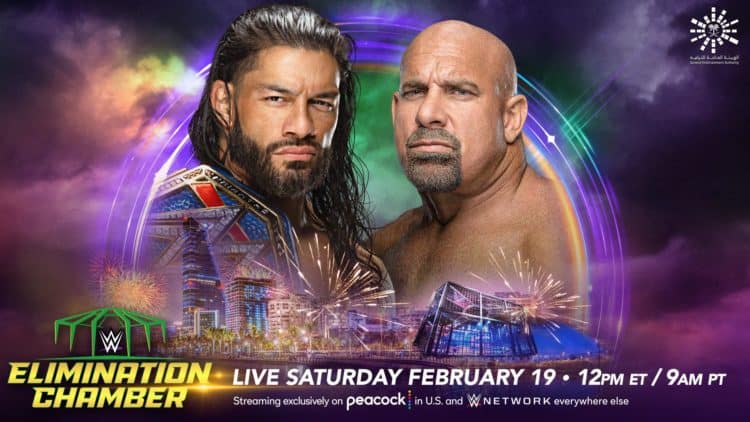 The winner of this match will go on to face Brock Lesnar in the main event of WrestleMania. Both possible matches have taken place before on The Grandest Stage Of Them All, so the match won't be anything that we haven't seen already. But, it has long been rumored that the match will be Roman Reigns vs Brock Lesnar, possibly in a title vs title or title unification match, which signals that Roman Reigns will be the winner of this match and that outcome does make the most sense. Goldberg has returned on a short-term deal due to the lack of star power in the company right now, and Reigns is still the hottest he has ever been and arguably the most popular star on the roster today.
Winner: Roman Reigns
Liv Morgan vs. Rhea Ripley vs. Bianca Belair vs. Doudrop vs. Nikki A.S.H. vs. TBA – Elimination Chamber match for a WWE Raw Women's Championship match at WrestleMania 38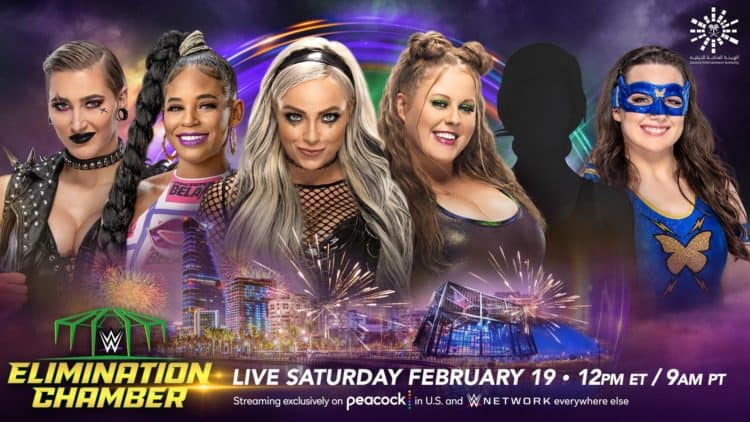 On the latest episode of Monday Night Raw, an Elimination Chamber match was announced to determine who will face the winner of the Becky Lynch vs Lita match at WrestleMania 38. This one is quite a tough one to predict because there are multiple Superstars that would make sense, although one has yet to be announced that could possibly shake up this entire prediction, once they are announced we will update this article. As it stands right now, Liv Morgan, Rhea Ripley, and Bianca Belair all make sense as possible winners for the match.
Liv Morgan faced Becky Lynch at the Day 1 event and many fans were behind her and wanted her to win the title, although she was unsuccessful. It could make sense for her to get another shot and finally win the Raw Women's Championship at WrestleMania. On the other hand, Rhea Ripley is a top star in the company and has a huge amount of star power, which makes her a very likely contender. And finally, Bianca Belair has been red hot since she won the Women's Royal Rumble in 2021 before going on to main event night one of WrestleMania 37. Since then her popularity hasn't lowered at all and she is still a top Superstar, so seeing her face off against Becky Lynch is a match that many fans will be eager to see.
But, who do we think will win? For this one, we're going to go with the fantasy booking of Bianca Belair vs Becky Lynch on The Grandest Stage Of Them All.
Winner: Bianca Belair
Tell us what's wrong with this post? How could we improve it? :)
Let us improve this post!