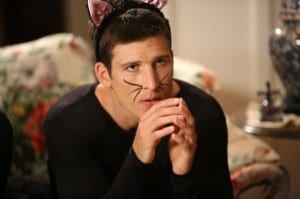 Multiple characters on Suburgatory have been dealing with mommy/caregiver issues. For Tessa, who has never met her mother and hasn't seemed to have any inclination to begin finding out about her, not having a mother around has never been an issue that's caused her much outward grief and turmoil. It may have made her a bit more distrustful of letting people into her life and caused her to not take all authority that seriously, but it has yet to bring out that much anguish. On tonight's episode of Suburgatory, she has to face up to the reality of not having a mother and begin putting the idea of a full-fledged person where a mere noun once stood alone.
Guitar Girl
Tessa has been staying with her grandmother in Manhattan this summer, content to rediscover the life that she had been missing while in the suburbs. In addition, her interest in getting to know about her mother has greatly increased – she's been without her mother for such a long time that that part of herself, the part that wants to know where she came from, had been tucked away in her mind. After being around her mom's old wardrobe, thumbing through old photo albums from years gone by, and hearing stories from her grandmother, though, Tessa wants to know about the maternal side of the family.
One thing that she learned was that her mother was musically inclined; among several items that she brought home (round orange sunglasses, old brown coat), Tessa took a cassette tape/player that had a recording of her mother playing a guitar and singing a song that she had written. As she listens, she notices that Lisa is already in her room, having found shelter at the Altman's house more than once since Tessa had been out-of-town. Lisa informs her about the Fall Follies, an annual talent competition in Chatswin that's ultra competitive. At the end of the summer, when the beach chairs are all brought in to storage, the sign-up sheet goes out, the Shay family competing every year. If Tessa has the type of musicality in her blood that played on the tape, she might have a shot to do well in the competition; if nothing else, directly pursuing something that her mother was interested in might make Tessa feel closer to her in spirit.
Tessa borrows George's old guitar (much to his delight) and informs him that she wants to play one of her mother's original compositions in the show rather than "Peace Train". As expected, George is a little taken aback by his daughter's sudden interest in her mother, something that he hadn't had to deal with before as a parent. Later, when Dalia runs into Tessa playing guitar on the street, the latter ends up getting discouraged about the lack of connection with her mother and her (supposed) lack of guitar playing ability, beating herself up and telling herself that she had to be kidding herself to think that she could pull this off.
At the Follies, where Malik's Medium Fan Club put on a performance to remember, Tessa sits in the audience, George finding her after seeing the picture of her mother that she had in the garbage at home. He gives her a pep talk, highlighting the fact that he had to convince his wife that she didn't suck before each performance and that she was actually pretty damn good, which ends up working and gets Tessa to perform after all. Once on stage, having given the proper warning that she may suck and that would be the fault of her parents, Tessa performs the original composition – the show's theme song.
Paternity Rules
Last season, Lisa got the ultimate leverage to use against her parents – her brother (and Chatswin golden boy) Ryan was adopted and nobody knew. Lisa could have done a lot of things with this knowledge and gotten a lot of things in return for her silence, but she went after the solo part in her family's yearly entry into the Follies, something that had traditionally been Ryan's. The family had performed a number from Cats that ended up with Ryan in the garbage can and belting it out like only he can; this year, though, was going to be different.
Lisa calls both Fred and George into the dining room for a meeting and to let them know that she knows; rather than continue denying it, they fess up to what happened. They thought that Sheila was barren (she was just frigid) and adopted Ryan at only a few hours old from a mother that had changed her mind about the adoption numerous times. Once they found out that Sheila had gotten pregnant with the "back-up baby" (aka Lisa), they took baby Ryan (and his six-pack) and moved to Chatswin to get away from the mother, who they thought would be asking for Ryan back at anytime.
Fred and Sheila agree to their daughter's demands, telling Ryan that the solo part would go to Lisa this year once they finished watching the tape of their performance from the previous year. Ryan isn't having it, though, refusing to get out of the garbage can, hissing at Fred while crawling away on all fours, and getting sprayed with a water bottle by his father. This reaction causes Fred and Sheila to plot a way to get back at their daughter and give Ryan his solo; the thing that terrifies them the most is losing their son, so they try to think of what would terrify Lisa most – quality time with her mother. If Ryan found out about being adopted, he'd likely want to find his birth mother, leaving Lisa and Sheila with plenty of time together. Alone.
Lisa backs down and the episode ends with her, Fred, and Sheila burning down the shed that had the information about the adoption in it.
Housekeeping 101
With Jill on her book tour after the birth of their baby, Noah feels like he needs help – specifically, he needs Carmen to come back and work for him. Carmen, who had helped raise Noah's other children, gets a gold Corolla out of the initial offer over drinks at the country club and tries to use that to leverage something better from current employer Dallas. However, Dallas can't really offer Carmen anything material like that, nothing compared to the gift baskets and lavish presents that Noah continues sending over to their home. She can, rather, burn every gift, which Carmen catches her doing and leaves out of anger.
Dalia, meanwhile, tries to "talk Carmen into staying," telling her that even if she cured cancer, she'd still be a housekeeper to her. When that didn't work, she runs into Tessa and extolls the virtues of having a nanny, even at her age, but it's too late now. Once Dallas and Noah found out where Carmen went to after leaving the Royce's, they head over there and demand to speak with her – George, whose house she had fled to, scolds them for focusing more on who'll take care of the children vs. actually taking care of the children or enjoying the time that they do get with their little ones at this age. Noah and Dallas respond to that the only way they know how…
…by playing rock, paper, scissors for Carmen out on the lawn.
Noah wins.
Additional thoughts and observations:
-"They also have a variety of Caucasian drinks."
-"Even if you, like, cure cancer, you'll always be a housekeeper to me."
-Carly Chaikin absolutely killed it – her line readings on Dalia's initial "Bye, Carmen", her monologue about Carmen curing cancer, and the list of good things about having a nanny were brilliant. My favorite was the one about "if you're walking on the beach and only see one set of footprints, it's because your nanny carried you."
-Next week on Suburgatory: It's Halloween in Chatswin and Tessa is on the radar of the East Chatswin witch. Meanwhile, Dallas wants George to join her in a couple's costume, but he might not be interested.