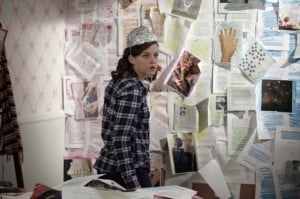 George wants Tessa to get her wisdom teeth removed, but after getting a consultation from Noah, she backs away from the idea. However, she decides to go through with it in order to miss school and not have to do a project on Eleanor of Aquitaine. When she does get them out, her reaction to the medication is to turn into a conspiracy theorist…when blood's not running from her increasingly puffy mouth. Her rantings include thoughts on aliens (the real ones, not the Hollywood ones, who are after our teeth) and before long, her mind gets going to the point of creating a conspiracy board for all of her theories. Seeing the board and hearing her incoherent talk of the number of the beast, Noah gets freaked out (for arguably the first time on Suburgatory) and decides to gradually wean her off the medication.
Later, Ryan brings Tessa her homework at the behest of Lisa and the two share an intimate moment when he creates a contraption that will hold ice on her cheeks and tells her how attractive he finds her, even with bloody gums and dry lips. This confuses Tessa even more, particularly since they tried to do the dating thing once and found they were too opposite to work. They may not work on paper, but there's more to life than living the way you think you should.
Happy Junior Secretary's Day
George hears rats in the basement and goes to clean up their droppings, being grilled by Sheila afterward regarding how he plans to get rid of them. He hears another noise later that he presumes to be rats, but it turns out to be Fred, who had been staying in the basement. The only thing that Sheila is proud of him for is winning Salesman of the Year every year and he failed to win it this year, leading him to duck out while he claimed to be going to the ceremony honoring him. (In fact, Fred took the only position they had left after he got fired from being a salesman – junior secretary.) He claims that he and Sheila have a psychic connection, making the tinfoil hat he's wearing to scramble his thoughts necessary, and that she expects him to be a lion, not what he currently is.
Sheila tries to intimidate George with her knowledge of the FBI interrogation handbook in order to get him to confess to the "rat" problem, but he manages to get away. However, he has to go over to the Shay house to steal the gift basket sent to Fred for Junior Secretary's Day, which he does manage to get after ducking into a closet, being caught by Lisa, and having an awkward encounter with Ryan. Fred then sneaks out of the basement while Sheila's in George's home, attempting to force him to tell her the truth, and continues the charade of being a top salesman.
However, later that night, Sheila lets him know that she knows about him becoming a junior secretary.
Joint Decor
Dallas thinks that she and George are ready for joint decor and that they should begin leaving a few things at one another's house. George seems to agree and takes a crystal picture frame, complete with a portrait of the two of them, to his home, but Tessa throws it away thinking it came from outer space. Dallas finds the picture frame in George's garbage, thinking that he's not ready to take that type of step, only to be told by Tessa that he had been looking everywhere for it and that the lost frame was her fault.
Additional thoughts and observations:
-Dalia gets collagen injections, at Dallas' urging. Wanna bet that she gets botox, too?
-Ryan has a shirtless photo of himself in his locker. Not that I blame him.
-I like how Lisa didn't care that George snuck into her home to steal something.
-Sheila seemed quite comfortable with her riding crop, right?
-Next week on Suburgatory: George recruits Noah and Fred to join a dad-rock band, while Tessa discovers what it means to be a football player's girlfriend.