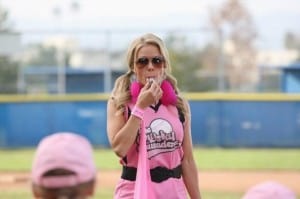 Due to her recent relationship success with Ryan, including making it through a herpes scare that turned out to be an ingrown hair, Tessa has become the love doctor of Chatswin High. She sets up an "Ask Tessa" office in the handicapped stall in the girls' bathroom and plays matchmaker, fixing Justine up with Todd from Pre-Calm, before turning her attention to Mr. Wolfe.
The school is preparing to install a ravioli bar and has hired raviologist Chef Norman to help guide the project along; Norman was Chef Alan's first boyfriend and the man he left his wife for, so Mr. Wolfe is worried about them working alone together in such close proximity. Tessa's advice for him to show Alan who he fell in love with falls flat, as Mr. Wolfe ends up donning purple hot pants and harkening back to that fateful night at Xanadude, and she decides to stake out the cafeteria to see what Alan and Norman are up to. Along with Lisa, Tessa sneaks into the cafeteria and overhears Alan and Norman talking about getting together for "a night to remember," set to begin while Mr. Wolfe is at boxing lessons.
When confronted about the conversation, Mr. Wolfe informs Tessa that they're going to watch the Oscars together; he had boycotted the ceremony since Marissa Tomei won Best Actress in 1993. They get back to the apartment and Alan is on the couch watching the red carpet…but he's not alone. Norman comes into the room painted head to toe in gold, the same gold that was on Alan's lips. Mr. Wolfe leaves heartbroken, though Tessa joins him in the dumps when Lisa tells her to handle her own relationship before dispensing advice to others.
That three-day away game that Ryan told her about? There's no such thing.
The Crystal Crusaders
The feud between Dallas and Noah over Carmen (and dog walker Ashanti) is still simmering. He has gotten her hair appointments cancelled three times in the span of a week by hoarding time with her hairdresser Yves Clyde; when Dallas finds out that Noah's only source of joy comes from coaching t-ball, she decides to beat him at his own game and coach a team of her own to victory.
Unfortunately, Dallas doesn't know anything about t-ball. Rather than informing her team about strategy or giving them practice on fundamentals, she's got them in sparkly pink outfits and teaching them about proper sunscreen techniques and the joy of an individual run style. George gets frustrated at her inability to help the team, setting them up to be beaten by Noah, and joins as an assistant coach. Only George isn't any better; whereas Dallas was too soft and didn't teach anything, George takes the fun out of the experience for everyone and doesn't allow the kids to be…well, kids. It's all drills and no treats until he's pretty much lost every member of the team before the big game.
At the game against the Dental Decay Sluggers, George sees that he was wrong to push the kids too hard when they keep calling to "sweep the leg" and continue getting aggressive toward the other time. The game ends when one of the runners from his team injures the leg of the other team's third baseman, making Noah the winner of the feud. However, George and Dallas are okay with that, since they're learned something more important through their experience.
Additional thoughts and observations:
-"You just think it's beautiful because you're ignorant."
-"Don't you have your own relationship to suss?"
-"I thought that you were Dunston and I had checked in."
-You guys, Kimantha's little brother is named Kevuel. I mean, bravo, Suburgatory.
-I don't know if I'd like a ravioli bar, but if TVOvermind added an alfredo abbey, I'd be all for it.
-Norseman is not gay slang. To my knowledge, at least.
-Mr. Wolfe fears shiny floors.
-Can I just say how much I loved Lisa trying to make Tessa get a grip? And it wasn't even in a mean way – it was more like "girl, what are you doing right now?".
-Next week on Suburgatory: George and Noah have to decide what to do with Marty's ashes after he passes away, while Tessa examines her future with Ryan.
Tell us what's wrong with this post? How could we improve it? :)
Let us improve this post!