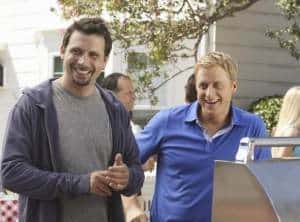 Everybody wants to have people like them, but the characters in Suburgatory tend to go that extra mile toward achieving that goal. Uniformity is the standard in Chatswin for a reason and that is the preoccupation these people have with their standing in the social hierarchy of their suburban hideaway. Without any "real" stresses to weigh them down, the residents of Chatswin do their damndest to assimilate and keep everyone on their side, with those on the fringes of the community always trying to accrue connections and ties to the neighborhood. It may sound trite, but life in the suburbs on Suburgatory really is High School: The Next Generation.
The issue of popularity and acceptance from other people came up again on Suburgatory, in the form of "Poetic Injustice", an episode that continued the show's hot run that began several weeks ago. After a hip poetry teacher moves to town, Tessa immediately does her best to impress her, but it's to no avail as Dalia becomes the star pupil instead. It's a cute reversal of sorts and called back to the beginning of the feud in Tessa going after Scott Strauss, with Dalia finally getting one over on Tessa and showing her how it felt to chase someone and be rejected. Plus, it exposed a little vulnerability in Tessa; she may bask in the glow of her sardonic wit, but girlfriend just wants to be accepted like the rest of us, like it or not. It didn't even feel like a preachy moment, though it could have; instead, Suburgatory has made an interesting choice to keep knocking its heroine down a peg once she gets too high and mighty over her outsider status. Tessa's an endearing and very funny lead character, likely because Suburgatory keeps her in check with constant reminders that life isn't black and white. Just because you seem similar to someone, as Ms. Evans and Tessa did, doesn't mean you're going to automatically get along; it's something that got brought up when she dumped Scott Strauss and it's something that Tessa may have to be reminded of more often.
And Dalia seems to be a rather good candidate to bring her down to earth more. The two have such a fun relationship, adversarial without becoming too aggressive or mean-spirited, that any plot they get to square off is going to better the respective episode it's in.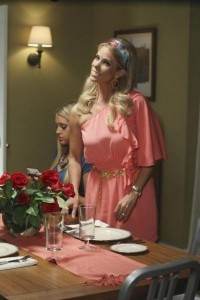 George had to deal with his own popularity issues once Fred read Sheila's diary and found out about her lust for George. I found this to be a little more problematic than Tessa/Dalia, in that it toed the line to becoming too sitcom-y and merely based around a minor misunderstanding. I don't need Suburgatory to have plotting as complex as TV's great dramas, but it felt a little rote at first. It ended up going a different way than I expected, though, which the show gets credit for. Instead of having Fred press up on Dallas out of revenge, making Sheila plant the diary to catch Fred snooping, or getting the two men into a fight, Suburgatory got to play up how cuckolded Fred is and give the fantastic Chris Parnell something to do for the first time since "The Casino Trip". For example, my favorite running gag of the night was the patchy, heinous excuse for facial hair that Fred tried to grow to match George's goatee, a bit of subtle humor that only made me laugh harder the longer it went on. His movement from sadness to anger to the final desperation of growing the beard and begging George to sleep with Sheila showed just how much energy Parnell can bring to the show, with the final reveal of Sheila lusting after George Stephanopoulos having this weird sweetness about it. It may have been done before, but Suburgatory put its own twist on a "traditional" sitcom story and the humor that came from the characters themselves made up for any feeling of been there, done that.
Though George got a little spring in his step, the real moment came when his new croquet partner Dallas had their ball carrier engraved and hinted at making their partnership permanent. The two have had a rough go at it lately, with their emotionally confusing Christmas kiss and the divorce, but it was quite romantic to see the two of them make up like that. What I like most about their relationship is how delicately it's been handled, with the ending of "Poetic Injustice" being no exception; George and Dallas are two nice people that have found each other when they least expected to. The lack of melodrama and constant push-pull has kept their connection very real and grounded Suburgatory at its most flighty. They may not be officially together, but there's something tangible to explore there and how slow the show has taken their courtship makes little moments like they got tonight that much greater in impact.
Popularity (or lack thereof) may be an important thing in the Land of Too Many Red Bull, but "Poetic Injustice added to the issue more than sufficiently for me. You can't make people like you, nor should you have to; part of having a happy life is finding the people that you do connect with and trying to make that relationship last for a while. We come into contact with a lot of people in life and there are very few that tend to stick around, so if there's a chance you've found something special, you have to try and go for it. While Tessa may be trying to reconcile just how lonely and self-conscious she is with her public image of an acerbic outsider, George may have finally found someone to spend some time with. He may not be rolling in the attention like he used to back in college with Noah, hence the disappointment at losing his "ladies man" title again shortly after gaining it back, but George Altman got a reminder on tonight's Suburgatory that it's not about the quantity of the company you keep. It's about the quality.
Thoughts, Quotes, & Observations:
-"And then he opened my mouth and kissed me like a Frenchman."
-"I'd say he's looking a little fat in the face."
-"You are frothing my wife up into a frothy frenzy."
-"Sounds like someone's decided they're the white Wesley Snipes of Chatswin."
-"Think about it, you guys. Cars."
-"Welcome, Lisa…to getting it."
-"You know, you suck right now…even for you."
-"Yeah, you think about that, beeyotch."
-Dear Suburgatory writers, thank you for having a shirtless, oiled up Jeremy Sisto tonight. XOXO, Me.
-Dallas telling Fred that new fling Finn was uncircumcised was perfection. As was Noah's face during Fred's plea for George to "please" his wife.
-Fred is a Californication fan. Wonder if he liked the "Love Song" episode as much as I did?
-Am I the only one that'd read the heck out of "AIDS :("?
-Here's an interesting profile on Tessa Altman herself, Jane Levy.
–Suburgatory is on hiatus next week, but in two weeks, Tessa decides to get a job to pay for a car and a sorority sister of Dallas crashes her store opening.