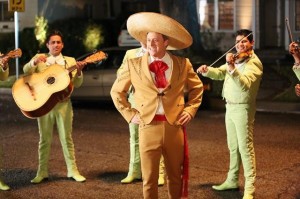 It's George's birthday and Dallas, Dalia, and Tess have taken him to a local Chinese restaurant to celebrate. Dalia gets him a trip to a 5-star bed & breakfast with horseback riding, hedge mazes, and a lighthouse tour, the last of which typically leading to sex. Dallas gets him a V-guitar signed by Sum 41 frontman Deryck Whibley, as well as a Sum 41 iron-on patch, while Tessa found an old set of blueprints at her grandmother's house that she had framed. The prints are from when he was in architecture school and fantasized about building a house with Alex; the plan includes a studio for her. George is incredibly touched by the thought his daughter put into her gift, but he can't savor it for long as they're being rushed out the door for the next reservation.
In the rush out, he forgets the guitar that Dallas gave him and Dallas is the one to bring it to him the following day at home. She's, of course, upset that he didn't pay her gift any mind and decides to avoid talking to George for a bit, at least until she can sort out her feelings. Dallas then seeks out Jill at The Ziti Zone, an Italian chain restaurant the author has frequented since her divorce from Noah, for advice; in her mind, she's not the love of George's life. She's just the love in George's life at the moment and that's got her worried about their future together. Jill recently bought Eat Pray Love on Blu-Ray and while she hasn't moved beyond the first phase, she's never been more content, thanks to lots and lots of carbs. Seeing the formerly uptight Jill so calm, Dallas decides to go about the same plan and begins frequenting The Ziti Zone, too, in hopes of finding the fulfillment she obviously lacks.
George initially thinks that the problem is that he forgot the guitar, but after talking to Tessa, he figures out that the blueprint is the root of their fight. Dallas doesn't think that he'll ever look at anyone woman the way he looked at Alex, so if there's no way she can ever measure up, she wants to cut bait and end things before getting even more invested than she already is. George heads to The Ziti Zone and surprises Dallas with a serenade of R. Kelly's "Bump 'N Grind", which she had mentioned was her favorite feel good song. The two make up after agreeing that they each had a full life before meeting one another and with that life comes exes, children, and history; now, they say, they'll be making their own history.
Trance Trance Trance
Dalia is having a trance party the upcoming weekend and Lisa really wants to go to it. Tessa, though, only agrees to go after running into Dalia in the bathroom and being confronted about being uncool. While she dubs her hands "food holders" and clumsily drops some slang, Tessa's edge has been dulled by being in the suburbs and the idea of no longer being "with it'" freaks her out. The party itself is what you expect: black lights, lasers, loud music, skimpy outfits. Except the fact that nobody's really dancing, with Lisa blindly running into the wall over and over. Tessa shows up and still doesn't fit in, nor does she snap the other partiers out of their trance and get them to dance, but she does give Dalia the money to pay the DJ and get a tattoo to hide from Dallas. The tattoo? Evan's face on the small of her back.
Besame Mucho
Noah is still harboring feelings for Carmen and goes to her house one night dressed as the Tapatio man (a character on a hot sauce bottle) to serenade her. Once again, he declares his love for her, though this time he finds out that he's not the only one with feelings for her. His psychiatrist, Bob, is sleeping with Carmen and now understands why Noah was so enamored with her. Deflated, Noah leaves and walks home with the band playing sad music behind him.
Additional thoughts and observations:
-"Here. This was really thoughtful of me."
-"A lighthouse is basically a bright, shining…penis."
-"Wow. You got him a square."
-"Tessa's prematurely boring."
-"DJ Lance Trance from France – his music will entrance you…if you let it."
-"I'm considering challenging her father to a knife fight."
-"Truth is, I'm having a party tonight and I need you to get the H out of our H."
-So Dalia kind of killed this episode, right? Although I get the trepidation in not wanting to overuse such a good comedic tool, episodes like this make me wish that she played a bigger role in the show. Literally every line made me laugh, with the way she sang "Happy Birthday" to George being the highlight.
-I like sedated Jill much more than uptight Jill, who was way too prickly and unpleasant to ever root for or enjoy. The fresh pepper bit would've been rough had she been her normal self, but it was funny here.
-The one-hour season finale of Suburgatory is set to air Wednesday, April 17th at 8:00. Mark your calendars.
-Next week on Suburgatory: Noah and Opus take up residence in a high-end hotel, while Dallas discovers that Dalia's a hoarder and Fred needs Tessa's help to land the job of his dreams.
Tell us what's wrong with this post? How could we improve it? :)
Let us improve this post!