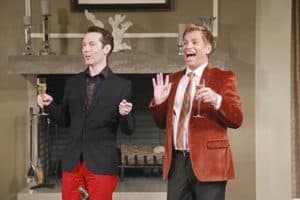 When a show like Suburgatory uses its setting so prevalently in its identity, it can make getting out of town a bit of a difficult move to pull off. You want to keep the same rhythms and energy that you've honed in previous episodes, but a change in venue will inherently skew both in other directions. I mean, the entire concept of Suburgatory is a father moving his daughter to a ridiculous suburb that clashes with their urban sensibilities, so if you take one (or both) out of the funhouse that is Chatswin, you have to think it'd make a noticeable difference in the corresponding episode.
We got a taste of life outside of Chatswin in "The Casino Trip", where George wins an all-expense paid vacation to Atlantic City. The show had dipped its manicured big toe out into the real world before (most notably in "Charity Case"), but this was the first plot centered on a change in venue and honestly, it didn't disappoint. The episode didn't lose any of the distinct timing and feel that a typical episode of Suburgatory has, a major plus since most vacation episodes stick out in syndication, while managing to explore issues engrained in the pilot. George moved to Chatswin because he didn't trust Tessa in the city and that lack of trust was touched on for the first time in a while, thanks to him finding out that she had a boy over after he left for the trip. The relationship between George and Tessa has been one of the show's major building blocks and going back to test one of their Achilles Heels (without getting too sappy) felt like natural progression for the show; it was interesting, though, that Suburgatory was predicated on a misunderstanding (the condoms in Tessa's dresser supposedly weren't hers) and now, 12 episodes into the show, there's another misunderstanding of sorts (Lisa's "love box", which went unused).
The change of dynamics in "The Casino Trip" was a lot of fun, as well, with George taking gambling addict Fred, Noah, and the two not-gay dads he met at the barbecue to Atlantic City with him. George has spent a lot of his B-stories with Noah, exploring picking up their friendship after not being that close for a while, but the rest of the group, he's never spent much time with. Seeing the five of them bounce off of one another gave the episode made George into more of a full character because to this point, we haven't seen him be casual with a group of friends. Hell, aside from his thing with Dallas and pre-existing bro-ship with Noah, George hasn't really had made any friends in Chatswin, so giving him at least vague acquaintances will bring out other sides of George Altman aside from overprotective dad, eternal misfit, and lonely single dude.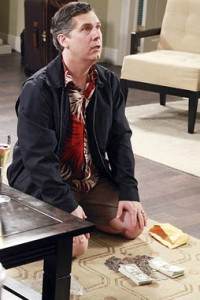 "The Casino Trip" also subverted a few cliche moments when I expected it to embrace them with open arms. For one, I expected Scott to succumb to Tessa's not-so-graceful seduction and scurry out of the house just before George got back, but instead, Suburgatory made him the atypical teenage boy that wanted to take things slow. Too often, it's the boy who can't control himself around the girl and it was a nice change of pace to have Tessa be the one to go for the makeout session that she wanted; it fit with how headstrong her character can be, even with the (awesome) advice from apparent make-out queen Lisa. The lack of spit swapping may lengthen Tessa's relationship with Scott and force her to form a real, human, emotional connection with someone that can't be masked by snark or a serious tongue-down. I love Tessa's sense-of-humor, but seeing her open up to someone would be pretty gratifying and be a sign of real progress, especially if it's too a native Chatswinian.
I also thought that Fred's "Aunt Elaine" would pop up at the end and blow his spot up in the face of his $14,000 windfall. Apparently his psychic connection with Sheila only goes so far?
The other major recurring element in Suburgatory, aside from the unique father-daughter relationship, is the weird push-pull between Dallas and George, which has went from fun and flirty to rather awkward following their kiss under the mistletoe. "The Casino Trip" added a little more awkwardness with the reveal of Steven being a cheater and lying to Dallas about his round-the-world business trips, something George may or may not be revealing in a future episode. He may have agreed to keep it on the low, but George values Dallas too much, for being a friend to himself and Tessa when they didn't know anybody, to keep something like this locked up for too long. Plus, "bro code" doesn't come into play here due to how hostile Steven has been toward George, so there's not even the slightest "obligation" for the secret to be kept. If/when George does tell Dallas, I have a feeling it'll be a turning point for the two going forward. One of the major stumbling blocks to them getting together has been the fact that Dallas is married and if she's unaware of Steven's indiscretions, there'll be one less obstacle to a potential hook-up/relationship in the near future. However, it may not turn out all roses and Red Bull if Dallas knows but is living in denial (or living for the money), as she could turn against George for getting into her business.
Whatever comes from a small detail in "The Casino Trip", I'm glad Suburgatory won't be whipping us into a tizzy with an extended "will they/won't they"; adding in the layer of infidelity on Steven's side will give future George/Dallas interactions a little more tension, raising the stakes without making it too unbelievable.
"The Casino Trip" took an Altman out of the 'burbs and didn't suffer for it, as George had some friends, Tessa found out her status with Scott, and the journey toward Deorge just got a little murkier. There was progress in some recurring elements without sacrifice to the show's humor, with "The Casino Trip" being one of the more laugh-out-loud episodes Suburgatory's had recently. It wasn't perfect and it's not the show's peak in creativity, but this was a transitory episode that opens doors up for the final stretch run of the season and beyond.
Thoughts, Quotes, & Observations:
-"I was just told by the Davenports that Amanda got her first period."
-"4…7…3-teen…"
-"And if I don't rush to her side, she may not have a side to rush to."
-"This is bad. I'm sweaty and nervous and a little horny."
-"He's been to Africa. Africa. He's going to want to go tribal on you."
-"Times like these, I'm thankful my wife's barren."
-"And I docked something in a stripper's docking station."
-Dalia was away at braid camp. Of course she was.
-Random funny moments: Steven's speech "inspiring" the strippers to quit their job and the shot of everybody at the charity benefit looking in the camera.
-Dallas's use of "urban slang" (jiggy, crackalackin', on point, crunk) was cute but felt like a one-off joke.
–Suburgatory's off for the next two weeks ("Driving Miss Dalia" and "Halloween" will be airing, respectively), so stock up on the Red Bull and leopard print for when it returns on February 8th.