The last time Tessa Altman tried to change the Chatswin status quo, things didn't work out quite as she had planned. A potential charitable operation turned from well-meaning to shallow quickly, with the school eyeing dry skin as its cause du jour. It may have cemented Tessa's point that the 'burbs were all flash and no substance, but it made for one of the first sub-standard episodes of Suburgatory for that very reason. "Charity Case" hyped up the quirks on an already quirky show and didn't pack enough of a plot punch to make up for that, so it was a double shot of Red Bull on an empty stomach, to say the least.
So you could be forgiven for being a little apprehensive about "The Body", the latest in the "Tessa Altman saves the suburbs from their vapidity" saga that "Charity Case" highlighted. A funny thing happened, though, in that "The Body" eschewed the unbelievability of its predecessor and instead displayed some interesting character growth. After inadvertently getting herself involved in the race for student body president over her frustration with Chatswin High's sports obsession, Tessa's realization that she may need to change herself before she comes for anybody else showed real progress from earlier in the series. Though she's had understandable growing pains adjusting to her new life, Tessa needed a tiny bit of humbling to remain the likable lead character that she is; there have been moments where she's veered from sarcastic and astute to a little judgmental, so an episode like "The Body" keeps her in our good graces and is a mile marker of sorts. Tessa may not be where she wants to be, both literally and emotionally, but "The Body" showed that she's well on her way to some personal understanding.
While Tessa was throwing one Shay a bone by dropping out of the race (and assuring the latter of a much needed victory party), George was dealing with another Shay. After getting injured at a wrestling match, Ryan "The Body" had a personal crisis, in that he didn't know who he was outside of star athlete and marinara enthusiast. George's plots have always been hit-or-miss with me, but "The Body" was both a funny and sentimental episode for the single dad. The pairing with Ryan could have flopped, but it was fresh and took advantage of the fact that at one point, George was the Ryan Shay of his high school. It's been established that George used to be a ladies' man, the "dude" to end all "dudes", and by trying to help Ryan out of his funk, he got to examine his own life to positive results. I don't know if the revival of the Alt. Man is going to last going forward, but like Tessa, George learned something in "The Body" without the sentimentality overriding the funny. Taking the easy road may seem ideal when you're in a difficult spot, but in the long run, you've got to put in time and effort in order to produce something worthwhile.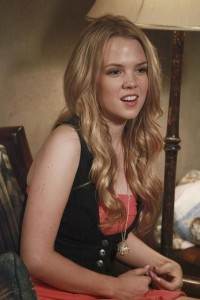 George may have been getting in touch with his past self after having a conversation with…his past self, but would-be love Dallas was busy looking to the future after filing for divorce last episode. Interestingly, it's not all sunshine and roses now that Steven's gone, particularly regarding her relationship with their mutual friends. After making an appointment to see Noah for some teeth whitening, Dallas came face to face with the reality that the newfound pep in her step may not be pleasing everybody, as Noah didn't seem to care for it at all. I liked that they didn't immediately throw Dallas into the arms of George, especially since there's a lot of material to be mined from a newly single lady out playing the field after being in a pretty loveless marriage. There's time to bring the two of them together and it'd look very bad if she took up with someone her husband was suspicious about during their marriage.
Plus, it complicates things, as Chatswin is a small town and there's still plenty of Steven laying around, so to speak. There are mutual friends, favorite places, and all types of memory-inducing stimuli to deal with, and Noah's decision to straddle the fence is only the beginning.
"The Body" did something that "Charity Case" could not. It managed to keep the manic, somewhat goofy energy of a typical Suburgatory episode without sacrificing the reality that grounds the show and keeps it relatable. Sure, things got extremely silly and again, the Chatswin High populous is painted as very superficial, but there was enough sincerity and real human emotion embedded in the episode to keep it properly balanced. You wouldn't think that a show like Suburgatory would be concerned about portraying an overarching arc, but "The Body" subtly (!) indicates that the Altman family has grown in their brief time in the suburbs, an encouraging sign going forward.
Thoughts, Quotes, & Observations:
-"They never carried Salinger down the hallway."
-"She cannot run for student body president. She wears layers."
-"Is there a bridge?" Mr. Wolfe, ever the critic.
-"Do you get it?" "No, but I trust you."
-"I'm not in a wheelchair."
-Am I weird for wondering why Kimantha didn't run for student body president, too?
-Tessa's Dalia impression was everything and more.
-The 12 debates comment: meta commentary on the current presidential primaries?
-Here are a few videos of Jeremy Sisto performing music. Who knew he could sing (that well)?
-Something something Buffy the Vampire Slayer.
-Next week on Suburgatory: Noah's wife gets a glimpse at the single life from Dallas, while Dalia and Tessa plot revenge against one another.