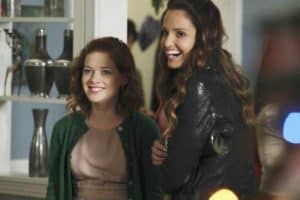 Suburgatory's extensive supporting cast has been both a blessing and a curse for the young show. While having a roster of capable, interesting talent makes for innumerable options for interesting stories, it can be hard to find a place for everybody on a week-to-week basis without stretching credibility. Granted, a show like Suburgatory has been camping out on the thin line between satire and cartoon for most of its run anyway, but there are only so many ways even it could realistically bring large portions of its cast together.
One fairly reliable way for a sitcom to bring everybody together in a low amount of locations is the holiday episode, of which Suburgatory has had three thus far. Following pretty good Halloween and great Thanksgiving episodes, "The Nutcracker" was more of a mixed affair, telling a bit of a worn out story while opening up some intriguing emotional ground that could make the back half of season one rather interesting indeed. The episode mostly took place at George's holiday party, primo ground for the cast of Suburgatory to tread on and almost every recurring character got a "moment" or two of their own. While I would have preferred to see some of these familiar faces interact with one another as opposed to one/two-off characters, I have to admit that I enjoyed Mr. Wolfe's feud with the Yee family, Lisa's insight into Tessa's dynamic with her dad, and Noah's pick-up-turned-snowball-fight with George's ex; I just think that Suburgatory can stand to mix its regulars up a little bit more than it has been. It's a communal-emphasizing show full of neighborhood Events, so I'm sure that there'll be more chances to pair up characters, but on an episode based around a huge get-together, you'd think we'd get to see some new combinations.
The very capital-S Sitcom nature of the episode was a bit worrisome, as well. Not the holiday party aspect of things, which are the bare bones from which many a show has built a great episode of television. What transpired at the party veered dangerously close to being too broad/wacky, particularly George's three kisses and the fact that he was caught in the act each time by a different lady. Single dad George Altman went from being lonely and stuck in the 'burbs like his daughter to magically having three women into him at once and all three have miraculous timing, apparently. Since he and Dallas can't be together (yet), I kind of hoped that Aimee would stick around, if only to see how she could alter the dynamic of the show; I'm afraid that they're going to keep George single and Dallas married and miserable, something not conducive to growth for either one of them. In a sense, it felt like the sole purpose of "The Nutcracker" was the clear out George's suddenly full romantic closet and leave room for Dallas, which is too early and obvious of a move to make at this point.
What kept "The Nutcracker"'s head above water is the new emotional turf that it covered and the fact that we made some pretty good progress, all things considered. After weeks of undeniable chemistry and flirtation, Dallas kissed George under the mistletoe and then immediately backed away when it looked like he got weird about it. Personally, I thought that George and Dallas would go seasons without confronting their feelings for one another, so having all the girlish smiles and thoughtful gestures finally manifest themselves into a fairly passionate kiss was unexpected and surprisingly rewarding. Obviously, putting them together early would be rushed (and complicated, since Dallas is technically married), but having the light bulb finally turn on for both of them means that the dynamic has shifted a little bit and there's good material to be mined from it.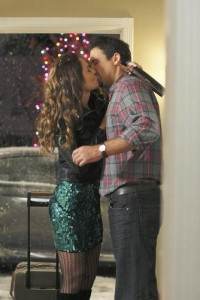 Also pertaining to George was Tessa being confronted with possible guilt she faces over being the reason George is alone, which explains why she was so desperate for Zoe to stay in the first place. It's a different approach to the single-parent-tries-to-date topic that sitcoms have implemented for decades in that it feels more modern, mature, and in-character for the relationship we've seen from George and Tessa. Of course, Tessa trying to break up George's date with Aimee (and the three lady pile-up that resulted) were a bit tired, but in a theme of "The Nutcracker", something great could possibly be coming from something that was underwhelming. I think that George and Tessa have one of the most unique dynamics on TV right now and seeing how Suburgatory handles the topic of dating from here on out should put this episode into better context in terms of its impact on the series.
Suburgatory goes into winter hiatus on the heels of an unsteady but ultimately promising episode. While "The Nutcracker" wasn't all it could have been, with its stagnant character combinations and sometimes too wacky "bits", the fact that it was mostly pretty grounded and managed to give depth to George's relationships with Tessa and Dallas makes me think that the second half of season one is ready to take a step up the Quality Ladder. A lot of sitcoms aren't comfortable covering the type of dynamics that Suburgatory has hinted that it's more than capable of doing, especially so early in its run. Usually, you see newer sitcoms focus on smaller stakes and just establishing relationships until they're comfortable enough to expand outward, but it looks like Suburgatory knows they have the characters to make a move like this early. There are all the ingredients in an average episode of Suburgatory to create something truly special and by the looks of "The Nutcracker", we may have cracked our first egg.
Thoughts, Quotes, & Observations:
-"Slow down, white tiger."
-"You're kind of pushy." "But I wouldn't be if I were trying to date you."
-"You didn't mean 'gosh, no' ironically?"
-"I got blindsided…like Sandra Bullock in that movie The Proposal."
-"Well, the sex was rockin' and I do get super horny around Christmas."
-"God, mom, call Yakult!"
-"I'm only gonna need one thing from you – soft rock."
-I loved Dallas's three red blinking Christmas trees and the gold VMA-ready outfit.
-Anybody know where Malik is?
-If you want some reading material, here's a super spoiler-y feature with the show's creator Emily Kapnek (Parks & Rec) and an interview with recurring guest star Chris Parnell. Also, a casting spoiler for a role mentioned by the creator.
-Sadly, this is Suburgatory's last new episode until January 4th, which features an episode titled "Driving Miss Dalia". Until then, hit the comments (or my e-mail) and let me know your thoughts on season one thus far. Who are you loving/hating? Favorite episode? Anybody you think should get more screen time?
Tell us what's wrong with this post? How could we improve it? :)
Let us improve this post!