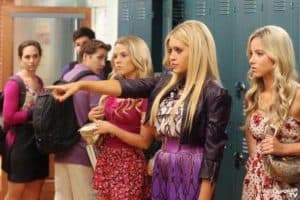 Every now and then, there's that episode (like tonight's Suburgatory) that hints at more than it shows. Instead of taking two or three of the ideas machine gunned out and running with them, the episode opts to keep churning out the concepts and not flesh anything out too much. Of course, there's only so much fleshing out you can do on a high energy sitcom like Suburgatory, but a little bit can certainly go a long way.
"Independence Day" pumped out quirky, cool ideas for its colorful cast of characters, but a lot of them felt a little half-formed. There wasn't anything introduced in the episode that I found that objectionable or overly silly, but we barely got to spend time with any of them in order to make that type of value judgment. For example, the appearance by Robin Givens (giving good camp) felt a little wasted, as Dallas having a rival like that could make for a lot of fun, especially a rival that harkens back to her time at college. Tulsa didn't even make that much of an impact in her brief time on the episode; in a sense, she was only there to answer the question of who Steven cheated with, a way to slam the door shut at a possible reconciliation. But there wasn't that much of a sting because we didn't know her and she was gone by the time she finished her insult about M/L panties. I'm fairly certain that Dallas's new crystal store will be around, at least through the end of the season, but it was probably the main culprit of the storylines put out there and then buried. The opening of the store could have been an episode unto itself, but minus a few Joy Behar jokes and Tessa's job interview, it was just kind of…there. In an already overstuffed episode of gags, it may have been better to keep this on the bench for a minute, only to give it the episode time it deserved.
It did set other things in motion in the episode, but I only hope more is done with it, and the Dallas/Tessa working dynamic, in the time to come.
The other thing I wasn't a huge fan of was the emotional ending being undercut by Dalia's text. I mean, I get that they don't want to take the gloss off of Chatswin's reigning Barbie girl, but having her break down the deadpan wall around her to kinda, sorta let her mom in was a genuinely touching moment. I don't want Dalia to become all in touch with her feelings and ooey-gooey emotional, as part of the fun of her character is how vapid she is, but part of Suburgatory's charm has been in showing the person beneath the outer veneer. Even if it's just a tiny peek into the real person away from the persona, we've gotten to know that Fred, Mr. Wolfe, Sheila, Noah, and especially Dallas are more than they let on in public. It felt like a bit of a missed opportunity to deny Dalia that same opportunity to, at least once, be unguardedly herself. It wouldn't even take anything away from her character, considering her antagonism is saved for Tessa and the peons of Chatswin High. And as we all know, even spoiled, shallow Queen Bee's can love their moms.
However, "Independence Day" wasn't nearly a lost cause, considering how much the show did well. Getting Tessa's maternal grandmother Helen introduced was a smart move, as where you come from influences who you are and gives us insight into what got her and George to the point of moving. George has been painted as being overprotective and sensitive, but from the looks of Helen, part of the motivation to leave home was to truly start fresh and put distance between them and Helen/Alex. The final look at the end of the episode makes me think this won't be over just yet, which is a pretty interesting avenue for the show to explore this early. And most importantly, Suburgatory knows the "couples" that work well, giving us Dallas/George and Tessa/Lisa, the two duos with the most innate chemistry. You don't have a soul if you didn't smile at Dallas telling George he was her only true friend in the room at her store opening, or laugh at Lisa offering Tessa cigarettes in East Chatswin because y'know "when in Rome". I mean, c'mon. Every show has pairings that could be filmed reading the encyclopedia and make for fun TV, but Suburgatory got their two strongest together and let them do what they do best.
All of my criticism of "Independence Day" could be for naught if Suburgatory follows up on at least one thing presented tonight. The show has gotten better at being more connective from episode to episode, but tonight's installment could have just as easily been a dumping ground for half drawn ideas as the starting pad for the final five episodes of the season. Time will only tell where this episode of Suburgatory lands in the seasonal hierarchy, but for the most part, I did enjoy "Independence Day". The past handful of episodes or so, the show has demonstrated how deeply they know these characters, which is played up in this episode quite well. Etching out characters that defined can allow a show to have less than perfect episodes, if only because you want to spend time with them for 21 minutes a week. Be they shallow or silly, the residents of Chatswin are becoming those kind of characters, the type that inhabit a place where everybody knows your name (and gossips about your lawn care).
Thoughts, Quotes, & Observations:
-"You know what, Joy Behar? You give me strength."
-"Mad respect, mother bird."
-"Is it meth money?"
-"You like a fat noodle, George?"
-"She's a known liar. She steals from us."
-How gorgeous were the gowns worn by Dallas? The gold was my personal favorite.
-Favorite sight gag: the Billy Crystal.
-NPR did a piece talking about how ABC's Wednesday comedy block is the best night of TV on right now.
-Rex Lee on Suburgatory, nudity, and Entourage.
-Here are looks at Parker Young and Jane Levy before they were famous.
-This is the last new episode of Suburgatory until April 11th. In case you missed the announcement, it's scheduled to have its finale on May 16th, so once it returns, there'll be five new episodes in six weeks.
Tell us what's wrong with this post? How could we improve it? :)
Let us improve this post!