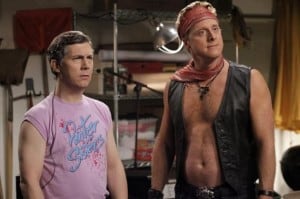 Tessa and Ryan are now official at school, having celebrated their "extremely tender" love in the hallway in between classes. In the chaos, Ryan introduces her to Amber, who will show Tessa the ropes in the art of being a football girlfriend. This includes doing away with any thought of college, making goodie bags for game day, doing their boyfriend's homework, and working on signs in the pep rally nerve center. Lost in all this is what the girls want to do; rather than make being a football girlfriend a part of their lives, they're focused solely on that and forgotten about their hobbies and, in Joan's case, their name.
Initially, Tessa doesn't want to get on her soapbox about the treatment the girls have subjected to, but after being called out on her lack of honesty by Lisa, she speaks. One night while working on a paper banner for the team to run through at an upcoming game, Tessa draws a frog and tries to talk to the other girls about the joys of going home, having individual interests, and getting proper medical care. It works – a little too well, as the pep rally is DOA with the girls pursuing their outside interests. Without the paper banner to tear through, the team loses their game and Tessa confesses to Ryan that she had a role in the decided lack of pep. He gets upset at her always making people think, but the following day, they make up and he encourages her to run through a paper banner he had made for her; Ryan wants her to know how it feels to have someone rooting for it, which turns out to be a little embarrassing and quite exhilarating.
Give Me the Beat, Boys
George is feeling judged by Dallas, who just bought a printer and has been going overboard making up flyers for his business. He's insecure about not being that successful and decides to form a dad band with Noah, who can play bass, and Fred, who can drum. It's meant to give them a place to hang out, be away from their significant others, and blow off steam and at first, it's exactly that. They fiddle around with different names (Fathers of Mass DestROCKtion) and numbers ("Drift Away" by Dobie Gray, "One Week" by the Barenaked Ladies) before Sheila busts in on them to complain. However, her main fault with the band isn't the noise but George's singing, which she deems pitchy, and she gives an electric rendition of Heart's "Barracuda" that makes George want to put her in the band. Noah and Fred buck at the idea of their dad band hobby turning into something different and bail, leaving George to hire studio musicians to fill out their line-up.
Dallas walks in on them jamming and gets upset; in her mind, George is doing this to avoid her, but he informs her that he's scared of her potentially changing him and of trying to live up to the moneymaking capability of her ex-husband. The two come to an understanding and George welcomes Noah and Fred back into the band.
Additional thoughts and observations:
– I kind of want a flashback to George's semester in Charleston.
-Fred builds miniature cities in the basement, while Noah is adept on the uneven bars and loves Rhoda.
-Lisa and Malik are still not on good terms; this week, Lisa talked down about lacrosse to Malik, a lacrosse player.
-Cute comment about going home to watch something on TV at 9:30 on Wednesday.
-Ana Gasteyer serving Bobbi Mohan-Culp realness.
-George used to be in Five for Fighting – y'know, before they got big.
-Buckethead.
-My favorite line had to be Dallas referring to her ex as "an absolute skid mar on the pristine panties of my soul." Awesome.
-Next week on Suburgatory: Yakult becomes depressed, leading Dallas to seek help from Yoni, while Tessa is asked to set Lisa up on a date.