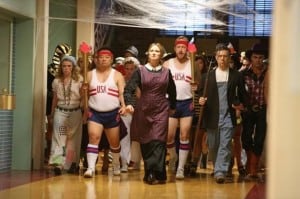 This week on Suburgatory, the show decided to revisit what I'd argue is the central theme of the series: people are not always as they seem. You may have an idea of who someone is and how they think, but we're all hiding something for fear of being rejected; Suburgatory has peeled back the layers on several residents of Chatswin to reveal something beyond perfect hair, bright-colored outfits, and tan skin. There's pain and vulnerability there and the Halloween episode this year gives Dallas a chance to expose her true feelings for George and Tessa another reminder that her image of Chatswin doesn't fit every single resident.
Chasing Down a Demon
When Tessa overhears the KKK debating their Halloween costumes in the bathroom, a slutty skunk and a slutty firefighter being two of the most popular choices, she immediately reacts and tries to talk to them about the feminist implications of showing that much skin. In her eyes, it adds fuel to the inequality fire and doesn't do the gender any good; as expected, the KKK don't seem to take it to heart, though Tessa notices someone watching her from the stalls. Later, Tessa tries to talk to Lisa about what happened while the two are in the library only to catch a brief glimpse of a shadowy figure running by her.
At Lisa's house, Tessa finds a strange book in her bag that she knows she didn't put in there herself, a dusty novel titled "No One Can Hear You" that has Celtic Runes on the cover. According to an irate Sheila, who later burns the book on the family grill, the novel comes from the East Chatswin Witch, or "she whose name must not be spoken". The Witch, a woman named Paula that Sheila had went to middle school with, never managed to fit into the world of Chatswin at the age, defying the gender mores that defined the times decades ago – she opened her own pudding cup, she took wood shop, and she did unspeakable things to a Holly Homemaker doll that has left Sheila shaken to this day.
The next day at school, Tessa is in the bathroom doing a book report when she hears a noise outside the stall, a cryptic message scrawled on the mirror in blood-red: "Tessa Join Me". After trying to use a ouija board with Lisa to figure out what was going on, Tessa heads to the Witch's house that evening before the dance, in order to prove to herself that her time in the suburbs hadn't softened her. When she gets to the front yard, she finds the witch hunched over a steaming cauldron, telling Tessa to join them with two other cloaked figures beside her. Tessa gets out as quickly as she can, but the witch follows her to school and pops out of a supply closet. It turns out that the Witch isn't a witch; she's a 45-year-old pesco vegetarian feminist that hasn't had any plastic surgery, spent too much time in the sun, and cooked pumpkin soup with her book club late at night. She had heard what Tessa had to say to the KKK and thought of her as a kindred spirit, giving the young girl a copy of her book that had been banned by the school board as a gift/peace-offering.
Once the dance chaperones hear that the witch is in the building, they break out the (fake) torches and (dull) pitchforks, Sheila leading the charge to drive Paula back to the slums of East Chatswin. The mob began to get a little antsy with Paula continuing to dispel the rumors about her, eventually giving up when the lights go out and she disappears from the room. The witch left Tessa her cloak as a parting gift to a fellow feminist, getting out of the school in one piece and back to her life that no one in Chatswin could truly understand.
Come On, Barbie, Let's Go Party
Dallas is planning to use an upcoming country club Halloween party in order to get closer to George. While at the fitting for her costume, she informs the designer that she wants George to be the Ken to her Barbie, though when she brings it up, George laughs it off and rejects the idea, hurting her feelings in the process. He isn't saying no to being with Dallas – he's saying no to that particular costume. He doesn't find a costume idea until Noah comes to the door dressed as him, clad in leather, plaid, and jeans while doing an impression of his voice that could be described as Cookie Monster meets Sylvester Stallone. George decides that turnabout is fair play and heads to the bathroom to become (his version of) Noah.
After shaving his legs (and goatee!) and throwing on a blonde wig, George makes a fairly convincing Noah, especially later that night at the party, where he has on an outfit filled with pastels and preppiness. Noah arrives only to be tossed out a short time later by club security; Dalia, meanwhile, runs into George at the bar and tells him Dallas' true intentions behind the costume idea. It wasn't about George being Ken – it was about George being her Ken and the two of them taking their "flirty friendship" to the next level. George claims not to have known that the idea of moving beyond their friendship was on the table, asking Dallas out when she alludes to it being an option still.
Of course, she accepts, the sounds of Dalia spitting up from her vodka-cranberry providing the soundtrack to the moment Dallas had been waiting for.
Additional thoughts and observations:
-Against my better judgment, I love the slutty skunk idea, if only for the cheap perfume that would be sprayed from the tail.
-Lisa has a craft store in her mind that she visits when Tessa begins ranting, which includes bead kits, wood glue, and an express checkout. She also had a Lord of the Dance phase.
-Noah describes George's voice as "Kathleen Turner after drinking a milkshake," which may be my new favorite thing ever.
-The last book that Sheila burned was "Belly Laughs" by Jenny McCarthy. I don't blame her there.
-Sheila once chased off a mountain lion with one arched eyebrow.
-If I had my way, the recap picture (and every picture ever) would be of George in his underwear in front of the mirror. Hubba. Hubba.
-Favorite costume? I liked the group costume with Malik, Lisa, Ryan, and Tessa, but the identity switch between George and Noah was too good. Honorable mention to Sheila and Fred as the couple from American Gothic.
-Next week on Suburgatory: Lisa feels guilty for not telling Ryan about the adoption, while George goes on his first date with Dallas and Tessa babysits Opus for Noah and Jill.
Tell us what's wrong with this post? How could we improve it? :)
Let us improve this post!