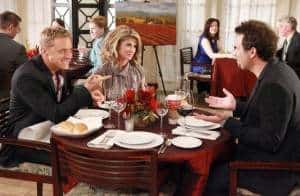 There's a lot that I like about being such a big TV fan, but one of my absolute favorite things is watching a show grow into itself, realizing whatever potential the pilot/cast/concept had opened up. You can't help but feel a little pride while slowly watching the pieces come together, considering the time (and emotion) you may have invested in the show and its world building. Obviously, you aren't a part of the production, but good becoming very good could potentially lead to very good becoming great; there's an extra bit of confidence going forward from writers who understand what they can and cannot do. All the problems may not immediately go away and there may be an occasional misstep or two, but with the rougher edges smoothed away, the ceiling for what the show (in this case, Suburgatory) could be gets raised.
"Entering Eden" may not be the greatest episode in Suburgatory's brief existence, but it's the episode that has given me the most encouragement as to the direction of the series. For one, having George get out there and actually date someone makes him more of an active participant in the show, rather than being a more reactionary figure to the growing independence of Tessa and Dallas. I like George a lot as a character and getting the last bit of mopeyness over Dallas out of his system frees him up to go out and live life. He may have previously been with Zoe and the art teacher, but this is his first trip into the dating world since Dallas got her divorce and it was a necessary hurdle to get over. It didn't hurt matters that Jeremy Sisto and Alicia Silverstone have inherently fantastic chemistry, highlighted by the endless, damn near delightful string of Clueless references that filled their opening and closing scenes together. (My favorites: "Which is it – does it suck or does it blow?" and the song from The Cranberries) They have this fun familiarity around one another that just sold it without being hammy; I mean, I'm not a huge fan of the "meet-cute", but I don't know if it gets any cuter than George and Eden meeting at the market and later, the hospital. Eden's obviously not going to be the love of George's life, especially considering the fact that she's Noah's surrogate (a little unnecessary, but I'll go with it), but he needs to get back on his feet and if that's her purpose, bring on more Clueless references.
While George was dipping his toe back into the dating pool (and standing up for his right to be with whomever he wants), Tessa was playing doggy detective with Dalia, as Yakult ran away from home. Somehow,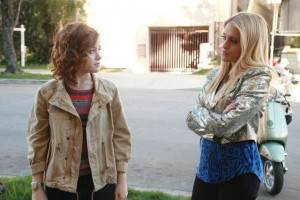 Suburgatory managed to cram in the three participants in the two greatest rivalries on the show (Dalia/Yakult, Dalia/Tessa) and make it work extremely well. There's this natural tension between the two girls that never fails to make for an exciting, funny subplot and this was no exception. They may have needed a coincidental citing of a dog hair on culprit Mr. Wolfe's jacket in order to properly finger their suspect, but the thing about Dalia and Tessa is that they really do work well together, all things considered. There'll be some snark traded and the possibility of a poor comment on the other's outfit, but whenever they collaborate on something, it tends to end up going pretty swimmingly, perhaps due to how they complement one another. The plot itself may have been a tiny bit rote, having been included on a Full House episode, but Suburgatory's not especially plot driven and that could be excused by the effect the dog search had on the other people they interacted with.
Dalia's continued acting out toward her mother, thanks to her feelings of loneliness, may have gotten resolved as a result of her finding Yakult. It made for a nice moment to have them make up without getting sappy, since they have to rely on each other more now that they're on their own. Dalia may be vapid and messy, but Suburgatory gave her some depth and humanity once the divorce happened. Don't get me wrong, I think she's consistently an episode highlight, but I like getting to see the person behind the lip gloss and that, well, that there's actually a person behind the lip gloss. It makes you care more about the fate of the characters and while Suburgatory is very funny, it doesn't produce enough jokes per episode in order to ignore characterization. We got a nice reconciliation between Dallas and Dalia, with the latter still hating Yakult for being such a life ruiner, but my favorite little moment of the night belonged to Mr. Wolfe and his new boo Chef Alan. After getting together around the holidays, the two hadn't made much noise, but I have to admit, I was quite touched to see Alan become more accepting of his sexuality through the events of "Entering Eden".
One of the major improvements that Suburgatory has made is being able to go between tones more easily; the last batch of episodes has been able to balance the heart and the silliness quite well, which it did with Mr. Wolfe's plot tonight. All the doggy clothing and slo-mo 60s cop show chase sequences couldn't take away from the poignancy of Chef Alan pledging his commitment to his significant other after many months of referring to them as "roommates". Of course, the chase sequence was a bit of well-produced goofiness and the emotional moment only lasted briefly before a makeout had to happen, but it's there, it gave another angle to the dog-napping tale, and Mr. Wolfe got another layer added to his character. And a happy ending to boot.
Suburgatory produced one of its best episodes yet in "Entering Eden". Endearing, intelligent, heartfelt, and appropriately silly, it made strong use of the supporting cast and managed to do everything it does well even better than before. Though always enjoyable, Suburgatory has raised its game recently and made me excited to see where this season ends up and where the next begins. With George dating, Tessa on the road to independence, and the likes of Lisa, Dallas, and Mr. Wolfe happy with their current situations, life in Chatswin, Whereverthisttakesplace has never been better.
Thoughts, Quotes, & Observations:
-"It tastes like…my throat's closing."
-"Mommy, I just fired Tessa without severance."
-"You. Swept. Yakult."
-"Buddy, I love you, but you're no Seal."
-"How would you feel if Jill and I wanted to have sex on top of Tessa?"
-"We're not roommates. We're homosexual lovers."
-"Yakult was living as a gay male dog in East Chatswin."
-Dalia's rant about Tessa bringing her to East Chatswin to kill her, get plastic surgery, and become cool was so strange, fantastic, and perfect. It didn't top the infamous organic lesbian catering business diatribe from earlier in the season, but it was still awesome.
-I also loved the meeting of the KKK in the bathroom, where they all shifted their weight to the right to help them think.
–Suburgatory is on hiatus next week, but when it returns on May 2nd, we're in for a decidedly George-centric episode. He'll be introducing Eden to Tessa while also dealing with Noah and a meddlesome Sheila, the latter of which makes Eden uncomfortable.