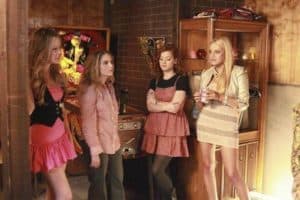 The third episode of any new show is arguably the most important going forward. Sure, there have been shows that found their groove later in their first season and beyond, but by the time the third episode airs, you have a fairly good indication of the tone you can expect from here on out. A pilot usually just throws in a bunch of characters and sees what sticks, while a second episode tends to begin expanding the world of the show a bit and fleshing out the people we just met. By episode three, we know who these people are and, in broad terms, how they can be, so it's time to start mixing, matching, and seeing putting them in character-building situations.
The third episode of Suburgatory, "The Chatterer", does just that. Following a surprisingly well-formed pilot and a second episode that filled out the world of Chatswin a little more, "The Chatterer" sent both Tessa and George sliding up and down the popularity meter through their dealings with the school newspaper and the PTA, respectively. It makes sense to see them dipping into the community on their own, as anyone that moves somewhere suddenly knows that making friends can be one of the hardest adjustments to make, and the episode didn't disappoint in that aspect. Tessa ultimately may have made a new friend in Malik, the word jumble aficionado and part-time Medium fan club member (he made a fierce Allison, no?), and George buried the hatchet with Sheila Shay after realizing that she has special, err, gifts that make the PTA run smoothly. After "The Barbecue" focused on the residents of the street the Altmans live on, "The Chatterer" was exclusively school-based, which was a nice decision as it helped color the Altmans world in that much more.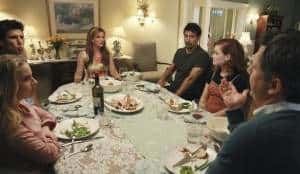 As a whole, "The Chatterer" felt like a very fast episode, both in rhythm and in storytelling. The jokes were one right after the other, amping up the cleverness found in the pilot about ten notches to craft the most laugh-out-loud funny episode of the show's brief history. I enjoyed how the show never feels like a quips machine, as they make note to include a fair amount of physical comedy (i.e. Deena Doogan's stripper routine) and sight gags (i.e. the faux tabloids that the Chatswin Chronicle turned into) to go along with the wonderfully dry humor found in its dialogue. It seems like the show has found a nice way to balance its ridiculously strong supporting cast with its two main characters, as "The Chatterer" managed to weave in almost everybody that we know well, give them something important to do plotwise (the guidance counselor making Tessa take an elective) or comedywise (everything Dalia said), and not have them completely take over.
I didn't have too much of a problem with how much ground was covered in 30 minutes, though I can understand the complaints about how it went too quickly. I get why the two stories were placed in the same episode, but they were both so juicy and full of comedic potential that you almost wish that each had gotten their own "spotlight" in an episode with the other character getting a more minor storyline. The one thing Suburgatory will have to be mindful of is when to shift the focus from George to Tessa (and back again) and when to pair the two of them up in a story; it's a case of having too much good stuff, though, because either Jeremy Sisto or Jane Levy could carry an episode by themselves, but part of the show's charm is A) watching father/daughter interactions and B) seeing how, despite what we may tell the kids, life is pretty much one big high school. That's one thing I'll be keeping my eye on going forward because while technically Tessa is our eyes and ears to the horrors of Suburgatory, George is a pretty pivotal part of the show and I'm curious to see how they use both characters.
Thus far, Suburgatory is far and away my favorite new comedy of the season. It's sweet without being cloying and has a certain bite to its humor that can sneak up on you if you're not careful. "The Chatterer" may have been a broader episode than the previous two, but it made up for that with how funny it was and how clear it helps establish Suburgatory's identity, both in its sense of humor and its manner of telling stories. It made fine use of the show's deep bench while still keeping the focus on the development of Tessa and George, two people that are going through the same pains associated with moving and trying to find your way in the madness. Fun, bold, and brilliantly sarcastic, it seems like the third episode may have been the charm for Suburgatory.
Thoughts, Quotes, & Observations:
"Again with the pudding."
"Without the P, we're just T&A."
"My, this is getting downright Elizabethan."
"I'm gavelling you!"
"You're so obsessed with the MILFs that you don't notice the ILFs."
"But seriously, you guys know who has fat knees?"
"Don't you think it's time you hung up those mom jeans and went back to being a dad?"
I don't know what to think about Tessa's last second revelation that she doesn't want to go to college. Cliffhanger to be brought up another time or simple final joke?
I think I prefer ba-nay-nay to banizz-nas. What say you?
Funniest moment: the "drama" club bit with Kenzie, Kaitlyn, and Kimantha. Please, comedy gods, make them recurring.
Second funniest moment: Dallas's tennis outfit, which was what happened if Bo Derek in 10 became an NBA dancer.
I like all the animal metaphors the show's had thus far. Last week, Tessa was a Gentoo penguin and this week, she's a mudskipper from Borneo. (Plus, the "pack animal" visual with the girls in zebra print.) Next week? Ocelot. Bet on it.
Jocelyn made another appearance. Yay!
Next week: Sheila's Shirley Temple doll collection is stolen, while Dalia and Dallas come stay with the Altmans.