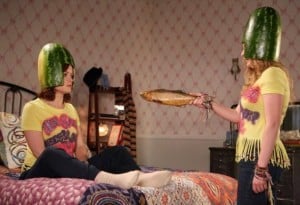 With Lisa breaking up with Malik last week on Suburgatory, she's alone for the first time in a long while. She knows that she doesn't want to get back together right now, having demanded back her scrunchies, and she immediately attaches herself to Tessa, who wanted to spend her weekend with her tablet and Edgar Allen Poe. Lisa brings her sticker-covered sleepover trunk, full of arts and crafts supply and a fish she caught at summer camp that had been smoking in her closet for a month. It was a tradition at her camp for friends to share the same fish and she wants to share that with Tessa, who she considers to be her best friend.
After nearly three hours of airbrushing t-shirts, scrapbooking, making watermelon helmets, posing for a caricaturist, and singing Bette Midler songs about friendship, Tessa decides that she's had enough. She heads to the bathroom and makes a call to Lisa's mother posing as a fire inspector and talking about a safety hazard. Sheila quickly comes by to take Lisa home, but Tessa feels guilty about choosing technology over her friend, even having a bad dream about the smoked fish talking to her that makes her decide to confess. As a result of the smoked fish, Lisa has been sentenced to roadside clean-up and even though Tessa confesses to wanting time with her tablet, the two decide to finally split the fish. However, you're only supposed to smoke a fish for four hours (not four weeks) and Tessa is rushed to the hospital with food poisoning.
Once there and feeling better, she can't leave without having a family member sign her out. George cannot be reached and she ends up calling Helen, who takes her home and promises George that she isn't going anywhere this time.
New York, New York
Dallas and George, on much better terms than they have been lately, shop for clothes and she convinces him to ditch the flannel on top for a more suburb-friendly look. Gone is the leather jacket, t-shirt, and jeans and in their place are a polo, flannel shorts,and a sweater tied across his chest; George may initially be happy with the change of pace, but he runs into problems while gardening (in clogs and a sun hat), as Tessa makes a comment and two friends from New York make an impromptu visit. A local performance arena is wanting to add a concert hall and the architects, who worked with George in the city, are going to put a bid on the job, though they're more concerned with their former partner's attire and living situation.
The George they knew, the cynical, rough-around-the-edges guy, has been replaced by a man that bakes pastries, drinks Diet Grapefruit Spritzers, and uses coasters in the middle of the kitchen. After ragging on him for doing skylight work and referring to him as a Real Housewife of Chatswin County (although Chatswin's not a county), the two are taken by George to the country club. However, there they continue to talk down about the place and end up insulting Dallas without knowing that she was George's girlfriend. He has enough of their need to appear above it all and leaves, but not before they call him a sell out and question whether he's dating Dallas ironically.
At the urging of Dallas, George decides to put in a proposal for the venue and his presentation goes well, the committee of three impressed by the use of skylights to open up the place and the number of women's bathrooms, a suggestion from Dallas. Unfortunately, George doesn't get the job and neither do his friends; George is okay with it, though, because these days, his priorities are different and there's nothing wrong with that.
Additional thoughts and observations:
-The Lionel Richie montage came out of nowhere and exemplified the random, pop culturally-ADHD sense of humor the show can have. As does my favorite line of the episode – Fred's Grease-inspired "they call me ChaCha because I'm the best dancer in Chatswin."
-More animal metaphors, as the episode began with talk of catepillars.
-What do you think Lisa's favorite Better Midler song is?
-I own the polo that George gardened in and no, I'm not proud.
-George's pastries looked yummy, right?
-Would you watch The Real Housewives of Chatswin?
-Tessa's dream gave me Billy Bass vibes.
-Next week on Suburgatory: It's fall finale time and when George sends Tessa into the city to spend time with her mother, he doesn't get the reaction he thought he'd get. Meanwhile, a secret comes out at the Shay house and Dalia has an…interesting request for Christmas.