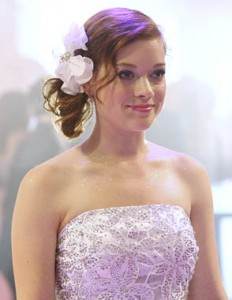 In a music, a mash-up consists of two (generally unalike) songs that are fused together to create a new song. Some of the best mash-ups have come from artists with the most differences in sound, especially if the mash-up creator can smooth out any of the rough edges that come from joining, say, hip hop with teen pop or indie rock with glittery dance music.
Suburgatory's latest episode, "Sweet Sixteen", can best be described as a mash-up between My Super Sweet Sixteen and Misery, as Tessa's plans for a quiet night in are derailed by her favorite band and George injures his back, allowing Sheila Shay to swoop in like a vulture in a sweatervest and "help him". While it was an improvement over last week's "Charity Case", the first time the show's broadness/energy was a detriment rather than an asset, "Sweet Sixteen" wasn't a step back up to the heights of the show's first couple of episodes, partially due to said mash-up of homages. Instead of being quirky and clever, the show felt more tonally disjointed and the shifts between Tessa drowning in Tessa-tinis and George taking old hysterectomy medication weren't as smooth as they could have been. I understand where they were going for with having these two plots together, as it set up a rather heartfelt final scene, but it was too much of a leap to cast Sheila as a killer and captor of all sick men in Chatswin. She's a lonely control freak with a strained relationship with her daughter, but the whole "she killed old man Tom" joke from Dallas (that George took seriously) was a little too sitcom-y "what a wacky misunderstanding!" for me.
It did let Cheryl Hines and Ana Gasteyer interact, though, which should be a goal for every single episode. Just sayin'.
Aside from tone issues, the content was pretty decent. The show continues to try and bring Dallas and Dalia together with George and Tessa, which works because of how different they are from one another. Anytime the show gives Dalia something to do, it ups the quality level immensely because Carly Chaiken's performance keeps the character from going too broad and she plays off of Jane Levy (Tessa) really well. Dalia could have easily been the typical meany ditz that roams the halls of Chatswin High like a panther in patent leather pumps, but Suburgatory has made a point to keep pushing her up against Tessa in hopes of producing a soul or some empathy. (Or just to emphasize their Odd Couple dynamics.) We're not there yet, but she did pick out a gorgeous, non-dirt colored dress for Tessa to wear, which shows that there may be a certain amount of respect forming between the two girls. Obviously, they still have their major differences (see: Dalia not allowing Lisa and Malik into the party), but seven episodes in and it looks like they may be on their way to begrudging toleration.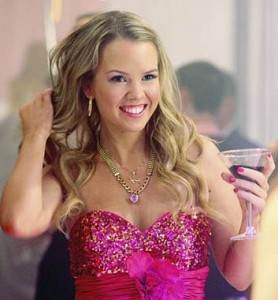 My favorite thing about "Sweet Sixteen", aside from the copious amounts of Dalia, was the sweet (if predictable) ending, that saw Tessa get the sweet sixteen party she really wanted, complete with awkward dance with her father. While Suburgatory slathers on the snark quite well and knows how to dry humor, seeing a little sweetness underneath help keeps the show grounded, which has been one of the show's early problems. I don't want the show to swap the snark for syrupy emotion anytime soon, but every now and then, it's okay to have a "moment" and to show that behind the lightning quick quips are good people that love one another. What kept the scene from being too formulaic was the presence of Dallas at Tessa's party, a choice that said more about her relationship with the Altman family than an hour of expository dialogue could. Dallas may seem like one of the Suburga-moms that Tessa actively rails against, but take away the tight clothes, Red Bull fridge, and money flaunting and you have a genuine, helpful person with a kind streak about her. Having Tessa recognize that seems to be the major reason why she's adjusted to the 'burbs this quickly, as she sees that there are actual nice people in all the SUVs.
"Sweet Sixteen" wasn't perfect, but I appreciated the ambition that was shown in its writing. Suburgatory has already shown itself to be a rather adventurous comedy, which is something that I respect. I just hope that the show keeps its ambitions realistic and do-able because what keeps me watching the show isn't how wild and zany things can get. It's the relationships and dynamics between characters; it's watching Tessa become more comfortable in an environment that she's not 100% used to while dealing with the awkwardness of being a teenager. "Sweet Sixteen" managed to work in some good character moments while getting more of the (fantastic) supporting cast involved, as well as taking the action out of the school, but Suburgatory has to be sure to keep its characters first and any grandiose plot ideas second if it hopes to take any steps up in the near future.
Thoughts, Quotes, & Observations:
"Gray chest hair. So this is what it's come to."
"You have a veiny forehead."
"Yeah, I don't like any of those words."
"You're getting meaner in your old age. Did you know that?"
"Hey! You have an overbite! Call me!"
"I felt close to the diamonds, also."
Grade-wise, this is still a B/B- like most of season one's episodes have been. It's been fairly steady, but there's yet to be a big leap up in quality to take it from being pretty good to being great.
Question: where's Sheila's husband? He was in one episode and hasn't been mentioned since.
It makes me sad that Average Shelf Life never sang about a prostitute that becomes a scientist. Quick, someone write a song about a prostitute that becomes a scientist!
In Suburgatory pop culture news, Kimantha loves The Thin Red Line. Of course.
If you have a bit of time, check out a pretty interesting interview with Suburgatory's showruner Emily Kapnek that touches on the show's formation and possible future storylines. (It's not very spoiler-y, though.)
Future guest stars: Wilmer Valderrama and The Situation.
Next week: Tessa gets Dallas to take her to the city for Thanksgiving, George is caught making out with a woman, and Sheila continues torturing poor, poor Lisa.