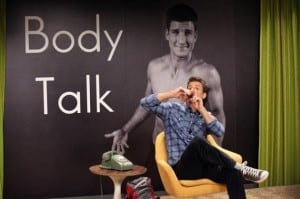 Tessa is trying to figure out when she can have a little time with Ryan, but between nude modeling, jump rope club, and boy band practice, among many other activities, he's pretty booked up. Feeling inadequate next to the King of Chatswin High, Tessa jumps at the opportunity to join the school's TV channel, ran by Mr. Wolfe, as a producer. Her first day is marred by the host not showing up 5 minutes before air time, only Ryan happened to be there and willing to go on camera and fill in. Naturally, the show then morphed from Teen Talk, an advice call-in show, to Body Talk, a forum for people to call and either compliment Ryan's body or ask a question about it.
The show turns out to be a big hit, growing 12.5x the regular audience of Teen Talk and reaching a grand total of 25 people, up from the 2 that it had been receiving. The set gets a makeover (including a shirtless poster of Ryan), but Tessa isn't feeling the "dumbed down" Teen Talk, particularly since her name is all over the credits. She and Ryan have a fight over the direction of the show, with him telling her that he only did the show because of her being a loser; she fires him and promises to make the show even more popular without him. However, that doesn't happen – at all. Tessa loses 24 of 25 viewers and is forced by Mr. Wolfe to see that Body Talk wasn't popular due to Ryan's body; like her own attraction to him, it was due to his spirit.
During a special edition of Body Talk, Tessa is surprised by Ryan in the studio and the two make up, sealing it with an on-camera kiss.
The East Chatswin Lions
While designing a cabana for Dallas, George comes across the fact that 58% of her property is in East Chatswin, meaning that Dallas and Dalia are technically residents of the "slum." Once the information is out, Dallas is kicked out of the country club, with only a complimentary gift basket, a similarly displaced Yakult, and the non-taste of melon water for her trouble. While Dallas is afraid to go back into her home, deeming it "practically a crack den" and opting to live out of her car, Dalia gets removed from school and sent to East Chatswin High. Unlike her mother, Dalia has opted for denial…until she runs across Daisy, the (black) Dalia of the school, and the triple A of Amber, Ashley, and Amantha.
Dalia gets bullied for being pale and pelted with paper, while George and Noah seek aid from Marty, a man from the country club steam room who could help bring the Royces back. After Noah guilts him into giving them a chance to reverse the ruling, Marty gives George a disc full of documents to be printed out and filled out. However, when George brings them the following day, Marty rejects them, citing how much of Dallas' property resides in East Chatswin. Dallas hates not living in luxury anymore, but with George around, she can handle anything, including non-fruited water.
Fortunately, Noah uses steam room availability as a bargaining chip and gets Marty to allow the Royces back into the Chatswin bubble.
Additional thoughts and observations:
-"Please talk to my glutes. They're all ears."
-"It's the kind of name that thinks you're an ugly, pale loser."
-"No one should ever be judged by how deep their tan is."
-"Bye, losers. I'm done being a loser."
-Ryan has to have 30 grams of animal protein at every meal and looked to be devouring a plate of ribs at lunch with Tessa. Who would win in a rib-off between him and Alex from Happy Endings?
-Mr. Wolfe calling Ryan perfect (for the job) and Ryan responding with "I'm sorry, I'm seeing someone right now" was a delight.
-Where is Dalia's kangaroo?
-Literally every aspect of East Chatswin High was perfect. Daisy, the triple A, and all of Dalia's "nicknames" need to be brought back.
-Next week on Suburgatory: Tessa gets Ryan to attend an arthouse movie, Sheila's mother pays a visit, and Dallas has a bad reaction to a cosmetic procedure.