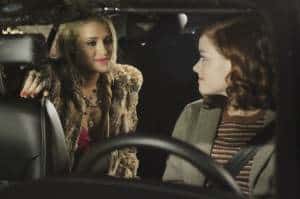 When you think about it, the characters on Suburgatory have it pretty good, all things considered. I mean, they live in a beautiful, safe neighborhood where their biggest worries are following the latest trend and when to schedule the next barbecue. It's not exactly an area of hopelessness and desolation, so I can understand turning inward and looking at your own situation to A) try and better it and B) occupy your time. The grass in the manicured lawn next door can look a lot greener in certain situations and it's only human to wonder about the effect that drastic change in your life can have on your self-esteem.
In "Fire with Fire", Suburgatory explored what happens when another Chatswin contemplates divorce in the wake of an inattentive spouse. This time, Noah's wife Jill gets fed up with how up-his-own-butt her husband is following a trip to the hospital and a talk to newly single Dallas. We last saw Jill in the Thanksgiving episode and even then, you could tell the Werner household wasn't all sunshine and roses, but I couldn't quite connect to her second appearance. Her lack of presence in the series thus far made her threat of divorce not that impactful, as we don't know her that well nor do we know their relationship. Divorce worked with Dallas because while we didn't see her husband much, we knew their interactions and the impact they had on Dallas; additionally, Dallas has had deeper storylines and more screentime than Noah, so we care more about her well-being than the Chatswin dentist. It was a pretty decent story, with Noah whisking away Jill on a white horse (before getting thrown off and taken to the hospital himself), but I wish we knew Noah aside from being George's friend (and Jill in general) for it to be taken to the next level.
If there's any indication of how indifferent I am toward Jill at this point, I referred to her as "Julie", "Julia", and "Jillie" in my notes over the episode. Take that for what you will.
Elsewhere, Lisa was busy getting accepted into Dalia's inner circle, before coming to her senses and returning to her group of outcasts. Any time Lisa gets on screen is usually quality stuff and this was no exception, leopard print ensemble and all. But what most got me from Lisa tonight was the time she spent with Malik, including a brief kiss at the end of the episode that may hint that a little romance is on the way for the two. This was another example of a character making a change in their life that actually leaves an impression because of time invested getting to know them. Last week's episode highlighted just how much crap Lisa has to put up with at home, so seeing her "get her man" was a nice win for someone that needed the pick-me-up. Whenever Malik's been around, they've had some bubbling under tension that you had to wonder, but their little moment at the dance (and afterward) may change the dynamic of their friendship with Tessa. It was a sweet, innocent, real moment on a show that has grown increasingly comfortable with emotion.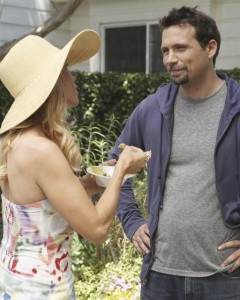 Speaking of emotion, check out how upset George was at the introduction of Yanni (Wilmer Valderamma), the first post-divorce boytoy for Dallas. Of course, the hot South American reiki instructor won't be lasting long in the arms of Ms. Royce, but his main narrative purpose was to grind George's gears and remind him of his feelings for Dallas. He did just that, making George jealous to the point that he went clubbing with Noah to stalk her, Jill, and Yanni. George and Dallas have had a weird push-pull going on, as evidenced by George mysteriously paying for Dallas's bill at a local food place without letting her know at the end of "Fire with Fire", but I do like when their relationship gets another layer added onto it. For example, in "Fire with Fire", George got to be on the other side of the jealousy spectrum, after Dallas retreated from her feelings following a jealousy spell in the Christmas episode. It's a subtle way to explore their feelings for one another and that push-pull feels very natural; here are two divorced single parents, still reeling from heartbreak and petrified at the notion of putting themselves out there to be hurt once again. Dallas can get with Yanni because it doesn't mean a thing, but George means something to her and she doesn't want to screw that up by either confessing with him not into her or trying a relationship and it going sour.
I'm not usually a big fan of will they/won't they relationships, as I feel like they can be a bit of a crutch, but George and Dallas are consistently one of the best parts of Suburgatory, including "Fire with Fire".
Thanks to a very hopeful ending and a whole lot of humor, Suburgatory had yet another strong episode in "Fire with Fire". Several characters got to try out new things after having wondered about them for a long time and things weren't quite as they expected. In the end, though, things worked out, with Jill's absence spurring Noah to man up, Lisa choosing Malik over being popular, and Dallas getting another reminder that George isn't going anywhere. It may be human to wonder how drastic change would affect your self-esteem, but oftentimes, it's the little changes that matter most.
Thoughts, Quotes, & Observations:
-"Oh, you're a bloody mess, girl."
-"You talk like our grandmother. She calls things 'marvelous'."
-"Lisa…the girl one."
-"Your eyeball is so big, it's getting in my way."
-"Let's just say…I hate her."
-"It's working, Evan!" "You're falling in love with me?"
-"Would you like to wear one of her tiaras to bed?"
-Here's a little information about reiki.
-I couldn't get it all down, but Dalia's long, complicated plan to get Tessa back by ruining her organic lesbian catering business was the funniest thing Suburgatory has put out yet. Laughed 'til I cried.
-13 things about the rest of the Suburgatory season, courtesy of creator Emily Kapnek.
-Next week on Suburgatory: Tessa tries to impress her new poetry teacher, while Fred thinks Sheila's into George.
Tell us what's wrong with this post? How could we improve it? :)
Let us improve this post!