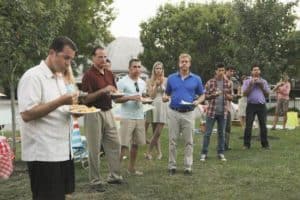 By the time one reaches a certain age, you're likely to have had at least one person that, try as you might to avoid it, continually draws you in. They're not even close to being compatible with you, but there's something that keeps you from cutting all ties with them, even when you know on an intellectual level that you're just doing harm to yourself by sticking around.
That person for Tessa Altman happens to be Ryan Shay, the dumb-as-a-box-of-biscuits brother of her friend Lisa. Ryan may not know foreign films or any good potential dinner partners, but he's passing out tickets to the gun show like there's no tomorrow and more importantly, he has some serious sexual chemistry with Tessa. Following a passionate kiss at a basement party, the two can't seem to stay away from each other, no matter clear it is to Tessa that he's just not the type of guy she wants to be with.
In "The Barbecue" (aka "The Humpus in the Rumpus"), we not only get to witness Tessa trying to work out her feelings for Ryan, but George is being strong-armed into having a barbecue for the residents of Chapman. Both of the Altmans are stuck doing things that they don't want to do, but for one reason or another, they're still doing them. It was an episode that fleshed an already pretty well-formed world out even more, as we got to meet Sheila's husband Fred (Chris Parnell) for the first time, who kept trying to come for George, as well as spend time with the guidance counselor (Rex Lee) and several of the amusing characters that populate the Altman's neighborhood. Unfortunately, Dallas's husband (Jay Mohr) was "away on business" (ahem), but I do like the fact that they're slowly expanding the cast of characters and not just throwing a dozen brightly colored (sorry, Noah) suburbanites at us at once.
Aside from coloring in some of the other neighbors, "The Barbecue" was both a funnier episode than the pilot and dialed back on the stereotypes that existed in said pilot. There was even a little tongue-in-cheek bait and switch with the two dads that George met that was cute and felt like a bit of a wink at the audience. I didn't have a problem with how reliant the pilot was on (extreme) preconceived notions about the suburbs, just because the show has been able to keep a pretty good nature in the tempting face of mean humor, and I think stuff like the dads is a creative way to poke fun without going over the line. I hope they've a recurring duo in the Suburga-verse and not just a one-off.
My favorite thing about "The Barbecue" was the fact that Tessa became a more sympathetic character. I did feel for her in the pilot, as her sense of humor obviously masks pain about her mother leaving, but you got to understand her a little more in this episode. I think part of the reason that she was so drawn to Ryan, aside from the obvious, was that she's a little lonely, especially after being thrust into an area that doesn't seem like the most natural fit for her. While I appreciate her running commentary about the 'burbs and how nice it is to have another intelligent teenager on television, it's those moments of vulnerability that will keep me invested in the show, especially if the show were to have an off-week.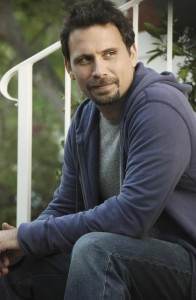 The only problem I had with "The Barbecue" was that it felt very reminiscent of other shows in the "sarcasti-girl" universe. When Tessa was trying to question Ryan and find out how much she had in common with him (while making out with him, no less), it immediately put me in mind of Awkward., the successful MTV comedy that debuted during the summer. It made me think of the moment early in the show's run when Jenna and Matty were having sex in her old playhouse and she tried to get to know him while in the act. (Plus, the inept guidance counselor put me in mind of Awkward.'s Val.) I like the type of influences that Suburgatory obviously has and I think they've put their own spin on the fish-out-of-water/suburban satire, but I'd like to see them really differentiate themselves from the pack in the coming episodes. They have such a strong supporting cast that this could end up being a world unlike any other on TV, if they play their cards right.
I was definitely "in" for Suburgatory's brand of dry humor with a touch of sweetness after the very solid pilot and "The Barbecue" just solidified my trust in the show. While Suburgatory has very grounded roots and some interesting emotional dynamics that could be explored in future weeks, its ventures into the silly-awesome (the opening slo-mo action-ish sequence) and the sweet-awesome (Tessa's friendship with Lisa) are nice accents for the show to hit when it needs to. They've toned down some of the supporting characters, while others seem to be ready to fire on all cylinders if given the screen time and I think that the show has shown some pretty good balance in terms of using their cast in the first two episodes. Tessa Altman may be trapped in Suburgatory until she graduates from high school, but as of now, I'm glad to be stuck in this universe right along with her.
Thoughts, Quotes, & Observations:
"Have you tried running her over with your car? That's creative."
"Hey Lisa. This is how dad does it to mom."
"Maybe I was Eva Braun." I think Lisa listens to too much Hank Williams, Jr.
"I'm familiar with the rules of wussiosity."
"Intellectual, neurotic, self-loathing Jew. Much more my type."
"Sounds like the kind of relationship people have with their drug dealers."
"Who's cliche? Is she, like, a singer?" Amazing.
"I am a sick, diseased Gentoo penguin and I'm dying here!"
"As Ryan and his six-pack walking out of the laundry room…"
I appreciate how much hip hop the show has implemented so far. Keep it up, even if it's ironic.
There was a nice bit of editing when Tessa was at her house, closed the refrigerator door, and it cut to her closing her locker at school.
I like how everybody in the neighborhood knew the rules of suburban barbecuing. It must have came in the handbook.
Lisa's chip/will-power/Ryan metaphor was great. How good is Allie Grant, you guys?
Next week: George joins the PTA and Tessa revamps the school newspaper.