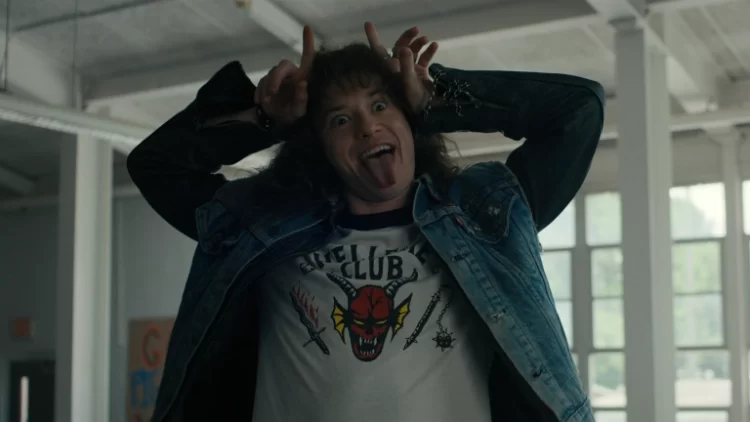 In the early morning hours of May 27, 2022, millions of people tuned into the long-awaited first volume of Netflix's Stranger Things 4. Over the entire Memorial Day weekend, the series broke Netflix records. That will likely happen again when the final two episodes of season 4 are released on July 1 for the Independence Day holiday weekend. The first volume of season 4 had an epic quality, with supersized episodes that effectively transitioned from one character thread to the next (not an easy feat to pull off). As well as prototypical 80s authenticity (1986 this time), and incredible visual effects inside of another uncharacteristically dark (very dark), tight, intense, and well-written story by the Duffer Brothers. But early in the new episodes, I was immediately intrigued when I heard Max (Sadie Sink) listening to Kate Bush's "Running Up That Hill (A Deal With God)" in her era-specific Walkman while walking the halls of her high school. As a long-time Kate Bush superfan, I immediately started fanning out a bit, but then it became overwhelming since the song kept reappearing across the episodes, finally culminating in a powerful moment that occurs in episode 4 titled "Dear Billy." The song fits the March 1986 timeline, having been released in the autumn of 1985, and also becoming Kate's only hit song in the United States. So, it all fits as to why Sadie would be listening to the track, but it was pleasing to see that it was actually her favorite song. So who is Kate Bush, and how does this song fit into a major storyline in Stranger Things 4?
An Overview of Kate Bush
I first discovered the music of Kate Bush during the summer of 2002. I listened to one of my mother's CDs, which included one song each from influential female singer-songwriters, and coincidentally, the first song I ever heard from who would become my all-time favorite musical artist was "Running Up That Hill (A Deal With God)." The track had a strange, beguiling, and seemingly otherworldly quality to it that sucked me right into the passion and emotions of Kate's lyrics and delivery, but also into the esoteric soundscapes that thundered through those old headphones of mine and into my soul. Right before mp3s and music downloads started to saturate the market, I remember going straight to Amazon and ordering a CD box set of all of Bush's albums. I have been transporting myself into Kate's singular artistry ever since.
Few artists are as versatile and unapologetically different as Kate Bush. In one song, you are on the verge of tears as she sings about memories of her dead mother brought on by looking at a little brown jug. And in the next track, you are being transported to the recesses of the subconscious, where angels and demons emerge through your headphones in surreal examples of mystifying strangeness. It's almost a miracle that Kate Bush was ever signed to a major record deal, but thankfully major labels were willing to give bold and experimental artists a chance in the 1970s. Bush was born in 1958 and raised in an upper-middle-class family in Kent, England. She was musically gifted almost from the beginning of her life, as she started to write songs, sing, and play instruments long before she entered her teenage years. In the mid-1970s, Pink Floyd's David Gilmour financed the demo versions of some of Kate's songs that he then took to EMI–Kate was signed almost immediately. Her bizarre, yet beautiful song "Wuthering Heights" was released in the spring of 1978, and her stardom was assured as she became the first female singer-songwriter to top the UK Singles Charts with a self-written song.
Max's Song: Running Up That Hill (A Deal With God)
The character of Max has long been a personal favorite of mine since her addition to the show back in season 2. By the end of Stranger Things 3, her character was at a crossroads thanks to the tragic death of her older brother Billy, which was made all the more complex and emotional for her since both had never gotten along. When we pick up with Max's storyline in this new season, she is in an obvious funk. Her brother is dead–killed graphically in front of her–and she now must talk about it openly and against her wishes to a school counselor. Although Kate's song is not about swapping places with a deceased person, a first listen when comparing the lyrics to Max's situation could easily imply such. Bush's music has that quality; the direct meaning does not have to be maintained since so much of the emotion and power found in her songs can mimic other profound emotional experiences in our lives. In "Dear Billy," Max, having been a victim of trauma, becomes a new victim for the season's villain Vecna. Her friends discover that her favorite song is the only thing that can pull her away from Vecna's curse, and in a thrilling, beautifully filmed scene, the thundering synths and powerful emotions of "Running Up That Hill" plays over the soundtrack as Max runs through the upside down to reach her friends in this realm. The lyrics match Max's struggle and perseverance, and the otherworldly soundscapes of the song are also matched to the visuals on screen. It's a decisive moment that was tailor-made for Kate Bush.
The Importance of Kate Bush
For us Kate Bush fans, we know all the back story, and if you are like me, you skip all the stuff you have seen printed a million times before about her life's journey, chart history, etc. What truly matters about the music of Kate Bush is trying to add insight as to why it is so important in the decades since popular music was developed. This is likely also why the Duffer Brothers featured "Running Up that Hill" so often in volume 1, and why this song literally saved Max's life. But all the facts about Kate's life you see printed over and over are not so much writer laziness; it's impossible to write authoritatively about Kate because she is such an enigma. Since the early 1990s, Kate has lived an almost exclusively private life, with only a handful of radio and print interviews, a handful of awards galas, and one successful concert residency in 2014 (her first live shows in 35 years) comprising her public profile in nearly 30 years.
Kate Bush is anathema to how we all digest media in this day and age. What makes her important since before this last week not many people outside of her fandom knew who she was? Well, there are many reasons. Kate is still fairly well known in Britain and was a major force in UK music in the late-70s and 1980s. This question seems to imply why she is no longer constantly in headlines, touring, talked about, etc. It has actually been decades since Kate engaged in that type of publicity for promotional purposes. From about 1978–to 1982, Kate was a tabloid sensation in the UK—a huge "star" in many respects. And then, she pulled the plug on all of that because it never interested her a bit in the least. She has never been interested in touring the world, and that is likely why she never made it big in America, and likely also because her music was far too cerebral for America. She is a British Laurie Anderson in many ways, and Laurie was successful for a bit in America but then everybody went back to mindless pop.
Kate Bush is—and I mean this in the most tactful way—a thinking person's popular musician. Her artistry is imaginative, bold, theatrical, otherworldly, raw, emotional, and very, very truthful to the point that it can make many casual listeners either confounded or even uncomfortable in how she often creates soundscapes and stories that strike at the most intimate and closely guarded aspects of the human experience. She is a singularity almost in how she literally probes the fantastical depths of her mind and manages to convey all of this in her lyrics, sounds, and highly versatile vocal deliveries. Then there are the visuals, which are an entirely separate canon of creativity. She can be calm and mind-blowingly seductive in one song and then appear like an apparition on hallucinogenic drugs from another planet in the next song. She also pulls all of this off without an ounce of pretentiousness or affected subversiveness—-she just puts you in a trance that is uniquely spellbinding and beguiling. And then it just becomes even more unbelievable once you realize that she writes every single word, produces every song (save the first two albums) and every single bit of what she does comes from her solely. So why is she not constantly lauded? Because she does not and has never played by the industry's rules and expectations. It is a miracle that she was ever signed to a record deal by a major pop label in the first place.
Kate Bush is beyond a mere singer or performer; she is a pure artist, almost as if a novelist, painter, or filmmaker who just happened to be musically gifted decided to start writing songs and recording music when she was a teenager. With this in mind, it becomes easier to see why her music was appealing to the Duffer Brothers, and Max's showdown with Vecna, in particular apart from this song simply being a famous alternative track in the mid-80s. After Kate's album The Dreaming came and went in 1982, she returned with Hounds of Love in 1985 and her style drastically changed from the nearly inaccessible (yet mind-blowingly creative) soundscapes of The Dreaming. She had now bought a home in the countryside and spent a large sum of money to build her own private recording studio on her property. This was intentional in many ways because she was signaling that she was no longer interested in the fame aspect of being a popular recording artist. She kept going with promotional work occasionally but she began to resist the need to constantly put out material and decided to take her time creating her music. After The Red Shoes in 1993, she vanished from the public eye for 12 years (completely vanished) and has maintained a private profile ever since. She now solely exists for her fans who want to engage with her music whenever it comes along. She has no social media or anything we come to expect from people now (certainly famous individuals) and I think it is safe to say this is how she prefers it. So it's like she always wanted—-her public profile exists solely through her fans now. And thanks to Stranger Things 4, an entirely new generation of listeners who are discovering that odd, beguiling quality to her music I first heard. 20 years ago.
Stranger Things 4, Volume I is now currently streaming on Netflix.
Tell us what's wrong with this post? How could we improve it? :)
Let us improve this post!