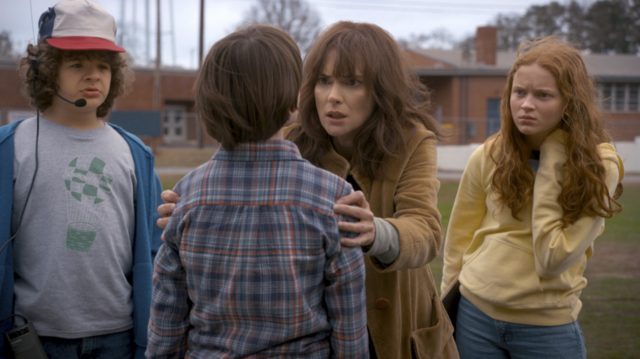 We're dividing Season 2 of Stranger Things into three parts, check out our review of part 1 here and get ready for our review of episodes 4-6!
[WARNING: SPOILERS AHEAD].
The theme of the first episodes of season two was that things are not normal, despite everyone trying to pretend like they are. As we move further into the season, normalcy has gone out the window, and the weird stuff that's been going on is escalating. There isn't so much of a connecting theme of the second half of season 2 as much as there is a collective raising of tension. Mysteries from the first three episodes are starting to unfold, bad things are going down and the biggest threat of all continues to build up.
And that's the connecting thread of these episodes, rising tension. It starts with the various plot lines, they are still a bit too scattered, still barely connecting, but the tension is building with each of them. Will's visions of the upside down have transitioned from simple flashes to full interaction, the shadow monster has become one with him. He just wants this to be over, for things to be normal, but as we already learned, things are not normal in Hawkins.
With Eleven and Hopper, their "normal" family life is falling apart, and the two are growing further and further apart. After sneaking out to see her friends, Hopper grounds El, which leads the two to fight, resulting in a telekinetic tantrum that destroys the cabin. Later she finds files about Terry Ives, learning she's her mother and leaving the cabin to visit her. That's the last we see of her in this part of the season, which sort of highlights how little was put into El's story arch. She remains separate from the rest of the plot, with no connection to the coming threat from the upside down, and the reunion with her mother is rather unsatisfying. So far, El is the most boring part of season 2.
On the other end, Will is the most interesting, and seems to get the most screen time this season. This makes sense since he is essentially this gauge for the growing tension of the plot. He literally feels the coming threat, linking with the shadow monster in the upside down and acting out its desires, the most devastating twist of episode six. Will is definitely the star of this season, and Noah Schnapp, who had very little screen time in season 1, gets to stand out as the best actor of season 2.
The rising tension of these episodes are of all scales. There are the small things, like the sexual tension between Nancy and Jonathan, who are taking a road trip to bring justice for Barb and take out Hawkins Lab with the help of investigative journalist Murray Bauman. There's Bob, who is learning just how "not normal" the Byers family is. Then there's the big stuff, Dustin's beloved Dart is quickly growing, eating his cat and revealing itself to be a demogorgon. Elsewhere, Hopper's investigation of the crops reveals infected tunnels underneath the whole town. Most frightening of all, Will is becoming more connected with the monster, feeling its pain when the lab soldiers burn the infectious vines.
Everything is escalating, and this is the best part of these episodes, we feel like we're heading for something big. However, it's not all executed perfectly, and episodes 4, 5, and 6 are thus far the weakest chapters in season 2. The plots still feel scattered, with the main group barely interacting. It feels like all the plot lines are half a world away from each other, with only the occasional small connection. Further, a few loose threads are left hanging in each episode. There are also times when characters are just there, serving little purpose, like in episode 6, when Mike is by Will's side the whole time and only speaks a few lines at the end.
The nerdy and '80s aspects of the show, part of its biggest draw, are all but gone at this point in the season. Though, this was also something that was pointed out by critics as being too derivative, so maybe these elements were downplayed help the show better stand on its own. Jonathan and Nancy's relationship is rather cringey at times, especially when Murray, an adult, pushes them, two minors, to sleep together under his roof. It's not like fans didn't want them to get together, but it could have been done better, and less creepy.
These might sound like a lot of complaints, but the truth is, they are minimal in the larger scope, especially when theses episodes do such a good job of making us want more. The rising tensions of the middle episodes build up excitement and fear for what's to come. The little details of chapters 4, 5, and 6 of Stranger Things season two might be a bit off, but the episodes do their job, they escalate everything, making us want more.
And we definitely want more, so stay tuned for our review of the final three episodes of season 2 of Netflix's Stranger Things!
Stranger Things Season 2, Ep. 4

Stranger Things Season 2, Ep. 5

Stranger Things Season 2, Ep. 6