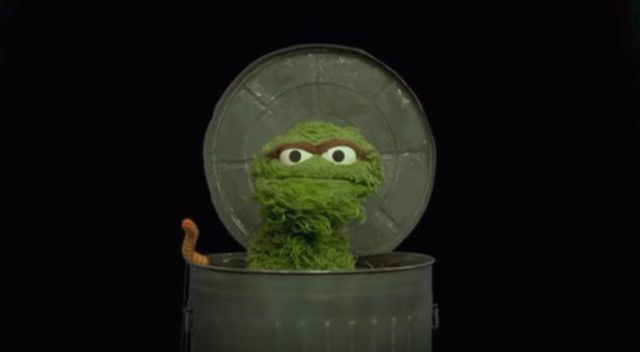 When you put the words Sesame Street and Stranger Things in the same sentence you might think it's a mistake waiting to happen, but honestly the parody is pretty amusing. Using the Cookie Monster as the Cookie-Gorgon is a funny idea, and Hopper as a bunny is also pretty clever. You wouldn't initially think that Stranger Things could be fit into a parody that kids could watch but this effort did just fine. Sesame Street has actually done a lot of parodies of films and shows that you might have thought would work, but somehow they did. So Sharing Things is funny and even in some ways kind of cute.
At this point it makes a lot of sense for Sesame Street to keep up with the rest of the world as it continues to change. I don't recall a lot of these type of skits being done as a kid, it was usually learning numbers, letters, and other types of important lessons. But since kids can learn those in preschool and Kindergarten now it seems that Sesame Street is more focused on core values and how they can be applied in a bunch of different ways to reach children. Let's face it, kids watch more TV now than ever and be it on a regular home set or a mobile device they're bound to watch shows that our own parents would have scolded us for ever asking to watch.
Of course back then the shows that we wanted to watch but couldn't were considered so risque that a lot of them had parents demanding that they be pulled from the networks because they were 'poisoning' our minds. Nowadays those same parents would probably be having a straight up heart attack if this kind of programming was on. That's the change of the times though, what used to shock people and was thought of as taboo no longer applies in the same way. Now the shock value of a program is what drives people to watch it. If it doesn't assault your senses in some way then it's not deemed good enough.
Thank goodness for Sesame Street. No matter which show it's parodying Sesame Street still keeps it at a level that kids can understand and still enjoy. Honestly it's always been on a level that almost never tips and does its best to stay within the reach of kids' imagination and understanding. I mean come on, Sesame Street has parodied Game of Thrones and The Walking Dead, two of the bloodiest, most gore-ridden shows on any network. And they've STILL managed to keep it clean, wholesome, and in some way educational. That's a show that has earned it's right to stick around for one generation after another. Whether it continues to do so is always up in the air but at this moment Sesame Street has earned its stripes and then some.
Plus, the part of the parody in which Eleven and then Eight come into the picture was pretty cool too.