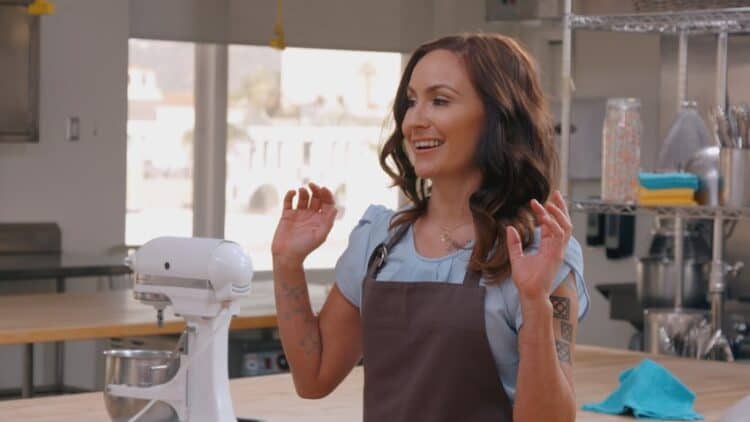 Stephanie Boswell may have started her career as a pastry chef, but these days she's so much more than that. Her skills in the kitchen have given her the opportunity to be on TV and she is now an official part of the entertainment industry. Over the years, she has been a judge on several shows including Chopped Sweets and Halloween Baking Championship. In addition to her talent, her personality has also made her a huge hit among fans. While she doesn't have any upcoming TV projects in the works, we have a strong feeling that we're going to be seeing a lot more of her in the future. Keep reading for 10 things you didn't know about Stephanie Boswell.
1. She Is From California
Even though Stephanie has spent a good amount of time in the spotlight, she has never been one to share lots of personal information. One thing we do know about her is that she is originally from the Los Angeles area. Outside of that, we weren't able to track down any details on her upbringing. It appears that she still lives in the Beverly Hills area.
2. She Is A Dog Mom
From what we know, Stephanie doesn't have any children. However, she has still found a way to experience some of the joys of motherhood. She is a very proud pet parent and her pup has become the star of her Instagram profile. Any time she posts a picture featuring her dog, her followers love it. All of the cat people out there will be happy to know that she also seems to love cats.
3. She Enjoys Traveling
Just because Stephanie works in the food industry doesn't mean that she spends all of her in the kitchen. She also likes to get out and explore the world. She has been fortunate to do a good amount of traveling over the years. Some of the places she's visited include Japan and Australia. Thanks to the success she's had in her career, she will probably get the chance to travel to even more places in the years to come.
4. She Likes True Crime
True crime has become really popular over the last several years, and Stephanie Boswell is one of the many people who enjoy the genre. In an Instagram post, Stephanie shared that she enjoys watching serial killer documentaries. Unfortunately, she didn't share which documentaries are her favorite.
5. Her On-Screen Career Started More Than A Decade Ago
Some people may think that Stephanie just started her on-screen career within the last few years, but that isn't true at all. According to her IMDB page, she made her first on-screen appearance in 2010 as a judge on a competition series called Your Hometown Show.
6. She Likes to Take Pictures
Stephanie's work in the kitchen isn't the only way she likes to express herself. She also enjoys taking pictures — whether it be of food or her adventures — and it's something she's good at. She is truly a natural at knowing exactly when to snap the perfect moment.
7. She Likes to Run
To lots of people, the idea of running for long periods of time seems like torture. However, it's something that Stephanie actually enjoys. In December 2017, she shared an Instagram post showing that she had completed her first half marathon. It's unclear if she has completed any half marathons since.
8. She Enjoys Spending Time Outdoors
There's something about stepping outside and breathing in fresh air that can really help a person decompress from the stress of daily life. When Stephanie gets a chance to take a break from work, she likes to get out and enjoy all of the beauty that nature has to offer. Some of her favorite outdoor activities include going for hikes and hanging out by the water.
9. Pastries Aren't The Only Thing She Can Make
Stephanie is known for being a pastry chef, but don't get it twisted. That isn't the only thing she can make. She also enjoys preparing other dishes and it looks like she's got the skills to whip up just about anything. She often shares photos of the other dishes she makes on Instagram.
10. Family Is Important to Her
As mentioned earlier, Stephanie has chosen to stay pretty private when it comes to her personal life. However, several of her Instagram posts make it very clear that she comes from a close-knit family and that's something that is important to her. She has two siblings and she enjoys spending time with her loved ones.