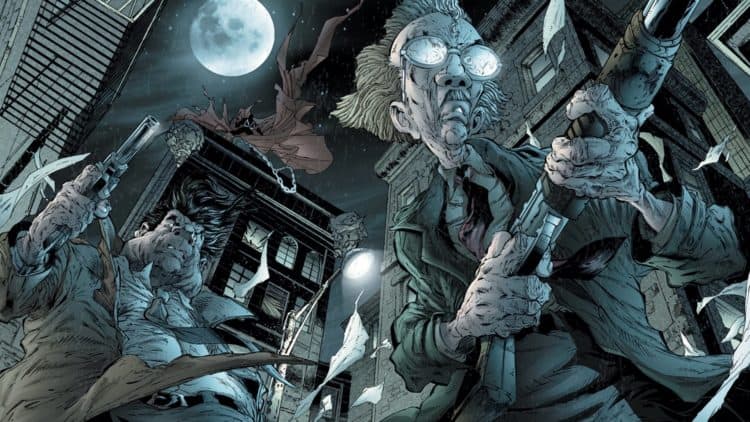 One might have to be a big fan of Spawn to know who Sam and Twitch are, but the upside to that is that the Spawn franchise does have a lot of fans, which means that it's bound to happen that plenty of people might be on board to see this spinoff when it finally appears. It's not known for certain just when it will arrive or to which streaming service it will be given, but HBO sounds like the real contender at the moment. The two detectives that have been a part of the Spawn story for so long did come close to getting their own show thanks to Kevin Smith years ago, but it sounds as though things fells through and Todd McFarlane has been trying to get something going ever since. Now though, it would appear that things are really happening and that Sam and Twitch will be able to finally get the show that a lot of people feel that they deserve. This is what Todd McFarlane had to say via We Got This Covered:
"My two detective characters Sam Burke and "Twitch" Williams appeared in the very first issue of SPAWN #1 back in 1992. Since then, they've become fan favorites and have branched out into their own comic series throughout the years," said McFarlane. "Their stories, blending traditional crime noir and the supernatural, is a combination that I've always thought would make for an entertaining television drama. The addition of wiip and the creative writing skills of Jason Smilovic and Todd Katzberg make for a very compelling team that we all hope leads to the entertaining show we know this can be. If you like cool, moody, creepy, odd crime stories, this will be your cup of tea!"
Seeing as how there are so many fan favorites in the story of Spawn, it's kind of amazing that these two would be given so much focus, but if one thing is true in any story it's that people will focus on the strangest characters and those that somehow resonate with them. It's also important to note that if the creator places enough focus on a character that people will pick up on this, even if such a thing can backfire in a big way. There have been characters that authors and artists have focused heavily on only to see them vilified and absolutely hated by the fans when the idea was to turn them into the main focus. That's kind of how things go though, fans are often quick to make up their minds when it comes to which characters they enjoy and which they don't. In this case, though, clinging to Sam and Twitch might have been more possible since they were tied closely to the main character, which would make a lot of sense. It's going to be interesting to see if the two can carry their own story on the small screen, especially since the Spawn movie is still languishing about, trying to get going even as more delays make it next to impossible.
Spawn was a perfect character for the 90s since from the attitude to the overall look and feel of the character he was one of those that exemplified the decade and was well-suited to usher in a new franchise. But as the years went by Spawn and everything that went with his story kind of faded a bit, even if fans helped to keep it alive while the idea continued to evolve. To this date, Spawn has seen his popularity rise and fall, since the live-action movie starring Michael Jai White flopped tremendously, while the continual promise of another movie has continued to frustrate a lot of people. But Sam and Twitch might be a nice lead-in to the movie hopefully, since a lot of fans are kind of tired of waiting, but will continue to do so.
It might feel just a little awkward if Sam and Twitch comes out before the Spawn movie, but perhaps it will serve as a nice entry for the titular antihero, or perhaps it will give people a better idea of who the two detectives are and what they're all about. However it might happen, the show is coming and the movie is still in the process of being formed. Right now things feel kind of discombobulated when it comes to the development of Spawn and the spinoff that's already on its way, but once things get settled it might be possible for Spawn to really get going and create more spinoffs that might widen the overall world in which the character resides. Whenever Sam and Twitch does come out, one can imagine that Spawn fans are going to be tuning in and seeing what there is to see. As for the movie, we'll just have to wait for further word of what's happening.
Tell us what's wrong with this post? How could we improve it? :)
Let us improve this post!