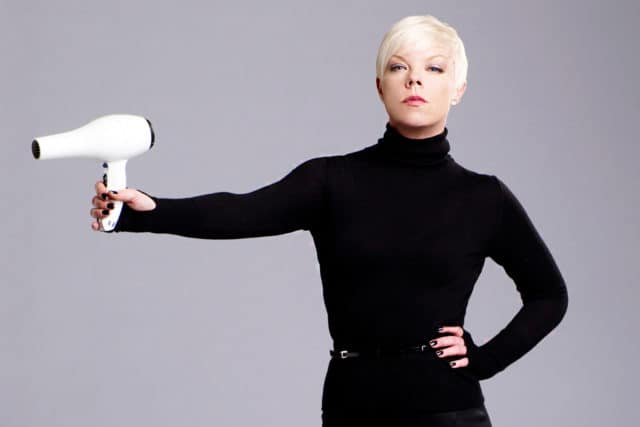 Tabatha Coffey is back. Our favorite Aussie expat hairstylist pro and businesswoman has a new reality show coming to Bravo. "Relative Success With Tabatha" premiers January 18. The show will follow Tabatha as she helps troubled family owned businesses become successful. The show will combine Tabatha's business sense with the difficulties that family working together can bring about.
Here are 5 things you didn't know about "Relative Success with Tabatha".
Who is Tabatha Coffey?
Tabatha Coffey was born in Queensland Australia on May 17, 1969. With a mom and a brother who were both hairstylists, it's no surprise Tabatha entered the business early on. At 14 she started assisting in a salon and the following year began a 4 year apprenticeship learning the trade. Tabatha moved to London to continue her training and picked up her business sense as well as styling sense. She returned to Queensland and opened a salon.
Surprise success from "Shear Genius"
Just for fun and out of curiosity, Tabatha Coffey auditioned for the Bravo realty series "Shear Genius" in 2007. Jaclyn Smith was the first host of the show where stylists compete to create the best hair style. Contestants are challenged by a theme, materials and time. Tabatha won most of the initial competitions. She proved her talents as a transformative artist who focused on the individuality of her model and not the trend. She also showcased her straight-forward, sometimes blunt personality. Much to fans disappointment, Tabatha Coffey was eliminated with her teammate Tyson in the sixth episode.
Growing career
She may not have won "Shear Genius", but the reality show led to a successful career for Tabatha, not just as a hair stylist but as a businesswoman and an entertainment star. She opened a salon in Ridgewood, New Jersey and worked in West Hollywood. She is a platform artist for haircare company, Joico International, which offers her opportunities to work with and teach other stylists around the world. L'Oréal and "Matrix". She is a regular editorial stylists for magazines including Seventeen, Marie Claire, and Mademoiselle. She has written two books, "It's Not Really About the Hair" and "Own It" and travels as a motivational speaker.
Surprised by spin-offs
Tabatha was asked by Bravo to return to "Shear Genius" for a reunion special. She was excited to receive a prize of $10,000 as "Fan Favorite". Yet, she never expected to be asked to meet with producers and executives at Bravo including Andy Cohen. They wanted to create a spin off to "Shear Genius" with Tabatha. While sketching out ideas for the new show, Tabatha did not want it to be a realty show following her around at her home or salon. "Tabatha Takes Over" followed the stylist as she helped small businesses turn around and become successful. Her blunt personality, talent and business savvy was popular with audiences. Tabatha is driven and intense. She encourages pushing boundaries which worked out great for the businesses she helped.
What we can expect from "Relative Success"
Because of her success and connection with fans, it's no surprise Bravo asked Tabatha to return with a new show. "Relative Success with Tabatha" is the perfect spinoff to "Tabatha Takes Over". The show continues the concept of Tabatha going into small businesses, assessing the situation, and transforming them. The added touch to this new show is the businesses are all family owned. Not only does Tabatha have to figure out how to help the businesses succeed, but she has to deal with the pitfalls of relatives working together. Although they all have the same goals, relatives can sometimes bring other issues into the office. It will be fun to watch they dynamic Tabatha Coffey take on the challenges of "Relative Success".