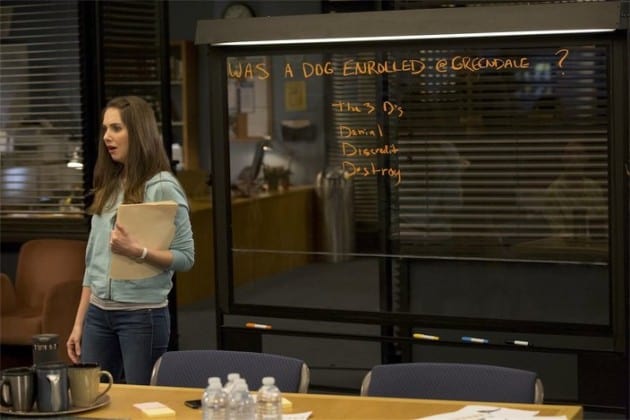 Community is still back! No, you weren't dreaming last week! Even in its most improbable sixth season, it's still proving to be one of my favorite comedies of all-time.
This week on Community: The gang spends all night working on a rebuttal to a smear ad that City College plans to run. Unfortunately for everyone, the ad might be true: Greendale might have given a degree to a dog.
I LOVED the premise of this episode. It sort of reminded me of "Cooperative Calligraphy," the bottle episode in Season 2 in which Annie and the group search for her pen, although not totally contained in a bottle like that episode was. It's just so very Greendale of them to do an episode about a dog who may have been issued a degree. I wonder if there are other creatures (like "Annie's Boobs" the monkey?) who have received baccalaureate honors from Greendale. Community never stops coming up with great ideas for episodes, and I love it.
This episode was the first glimpse of the new group in action: Elroy, Frankie, Dean Pelton, Chang, Jeff, Annie, Abed, and Britta. They're awesome. Sure, I miss Pierce, Troy, and Shirley, but each of these characters brings something special to the table. They're funny, they're diverse, and they're so compelling to watch. Like when Elroy stared everyone down? Gold. Keith David and Paget Brewster have fit perfectly into the "weird, passionate, and gross" family that is Greendale.
This was unceremonious (meaning not at ALL indicated in the episode), but this was Community's 100th episode. As a fan, I'm just so grateful to have been watching the show for this long. It never ceases to make me laugh, and this episode was no exception. Dan Harmon and crew are funny. There's no denying it. This show is FUNNY. I am always laughing out loud at this show, and that's something that comedies rarely accomplish nowadays. The cast is perfect, the writing is top notch, and the weirdness is my favorite kind. I was hoping that there would be some sort of ceremony that included parading old characters through, but I'll be honest: they're probably saving that for the movie.
Here are some of my favorite quotes/moments from the episode:
– Jeff and the Dean "texting." Man, that Dean will believe anything.
– "I could call it a cookie room."
– Elroy and Britta have the same taste in music, because of course they do.
– "I found the smell. Someone filed a taco."- Frankie
– "Eat crap, Ruffles, and not just your own!"- Jeff
– Chang made a solo movie.
– That Asian kid gets data charges? Who gets data charges anymore?
Community is back, friends. It's back for a good long while, and we get another brief taste of the wonderfully weird, passionate, and gross comedy for at least one more go round. I love Greendale. I love Community. I love that it's lasted for 100 episodes. While I doubt 200 or even 150 is a reasonable goal, there's no denying that fellow Communies will keep this show alive for years to come. Six seasons and a movie!
What did you think of Community's 100th episode? Let us know in the comments!
[Photo via Yahoo Screen]
Tell us what's wrong with this post? How could we improve it? :)
Let us improve this post!