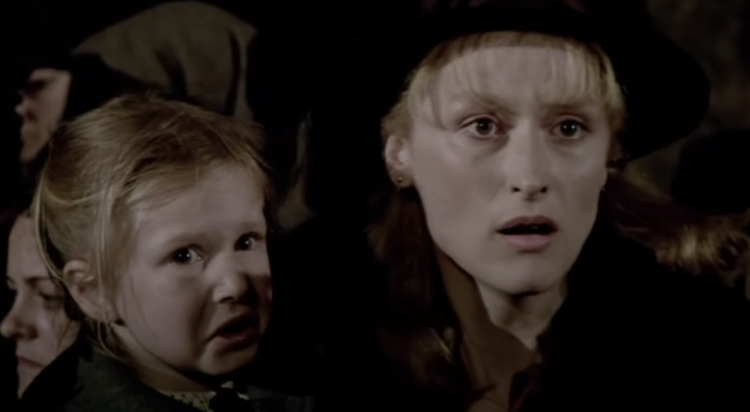 Credit: Screenshot of Sophie's Choice via YouTube
When Sophie's Choice was released in theaters in 1982, it was met with critical acclaim. The movie tells the story of a Polish woman named Sophie who is forced to choose which of her two children will be sent to Auschwitz concentration camp and which will be allowed to live. It stars Meryl Streep as Sophie, Kevin Kline as her lover Nathan, and Peter MacNicol as Stingo, the American writer who becomes involved in their lives. In 2022, the movie celebrates its 40th anniversary. In celebration of the legacy of one of the best movies ever created, here are some of the reasons you should watch Sophie's Choice on its 40th anniversary in 2022:
It's one of the most iconic movies of all time
Sophie's Choice is one of the most iconic and recognizable films. Few movies have left such a lasting impression on popular culture, and even fewer have influenced the way we think about Holocaust cinema.
Filmmaking legend Alan J. Pakula directs it
Sophie's Choice is directed by Alan J. Pakula, who is widely considered to be one of the greatest filmmakers of all time. He's responsible for classics like All the President's Men and To Kill A Mockingbird, and Sophie's Choice is arguably his best work. Pakula's filmmaking style is reflected in how he directed Sophie's Choice, especially in the way he uses flashbacks to tell Sophie's story. In an interview describing Pakula's legacy, Meryl Streep said about the filmmaker, who died in 1998, "I think he laid a map of integrity for artists, and that, more than anything, is his legacy for me. He was such a moral filmmaker. It's like an old-fashioned idea, but he was. He was a moral man, and he had a backbone. He loved women and respected them. So I mean, it was that thing you feel listened to instead of tolerated. It's great, great quality. All the best male directors have it. All the best female directors have it naturally."
It features an unforgettable performance by Meryl Streep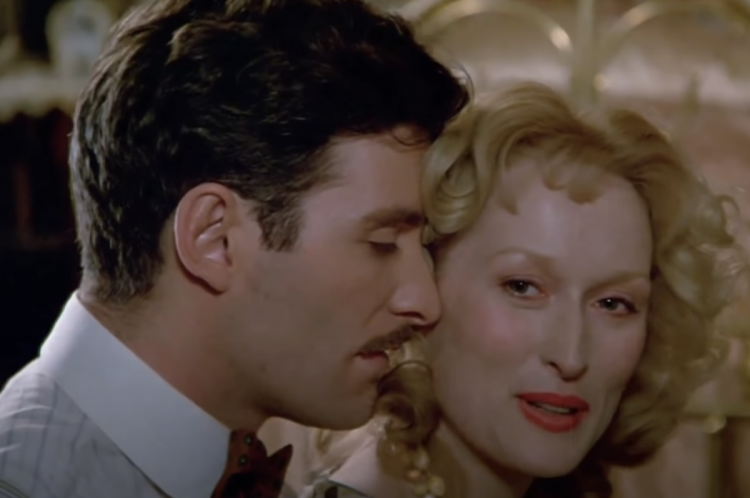 Credit: Screenshot of Sophie's Choice via YouTube
Meryl Streep's performance as Sophie is one of the greatest of her career and one of the greatest ever captured on film. She won the Academy Award for Best Actress for her performance, and it's easy to see why. Streep is heartbreaking, devastating, and mesmerizing in the role. One can even say that Sophie's Choice is the movie that made Meryl Streep a Hollywood star. The actress gives one of the most memorable performances in film history, and it's definitely worth watching again. Perhaps what informs Streep's memorable performances are her deep insights into her acting career. This is apparent in a statement she once made describing her acting journey, according to Stage Milk: "I never imagined in my wildest dreams that I would be successful… The fear is always there with actors that you will never work again. That goes with the territory. You have that fear in the second job, third job, and fourth job. You have it down the line… I never thought it was going to happen to me. You can't if you're an actor. Some people do, I guess. Some say: 'I'm going to be a star!' And they are. But for all those people who say that, I bet there are hundreds of thousands of those who say that and are still struggling. I know a lot of my success has to do with luck. I've also poured a lot of hard work into it, so I feel I can justify myself in some way. But I'm just happy that things have happened this way."
It has a beautiful cast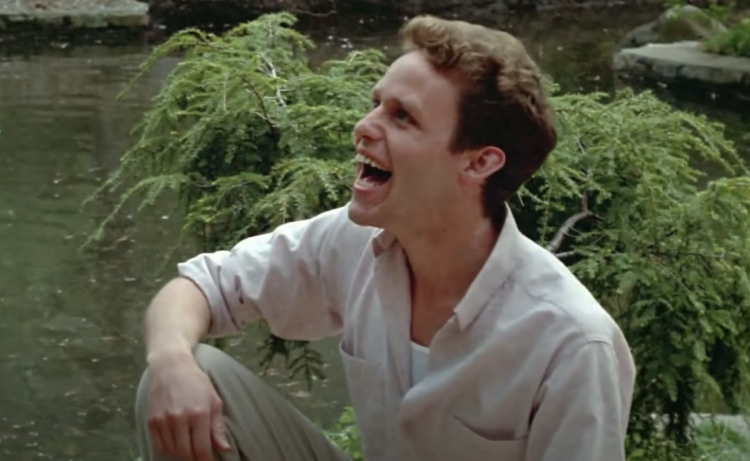 Credit: Screenshot of Sophie's Choice via YouTube
In addition to Meryl Streep, Sophie's Choice features an excellent cast of actors in supporting roles. Kevin Kline is excellent as Nathan, Sophie's lover, and Peter MacNicol is superb as Stingo, the American writer who befriends them. The entire cast brings the characters to life in a way that makes them unforgettable.
Howard Fine, an acting coach, perfectly describes the genius of the ensemble of Sophie's Choice. In an article for Backstage: "What can we learn from the cast of "Sophie's Choice"? Nonactors could never handle this work. Streep, Kline, and MacNicol all had to be adept at handling language and poetry. Kline and MacNicol read passages from Emily Dickinson. We must believe that all three are well-read and have sharp intellectual capacities. Streep has to master German, Polish, French, and a Polish-American accent. She does this flawlessly. She can keep her full personality alive in each foreign-language sequence, meaning she wasn't listening to herself or self-conscious about tackling them. Kline has to master the medical condition of paranoid schizophrenia. We have to believe that MacNicol is an innocent who is new to the big city and yet has the mind and soul of a writer. The movie consists of real and extended scene work. No car chases or special effects. This demands a concentration skill that only actors who have done theater can attain. No attention deficit disorder (an epidemic among young actors) here."
It's an essential reminder of the Holocaust
Sophie's Choice is an important reminder of one of the darkest chapters in human history. It's a brutal, gut-wrenching film, but it's also important. It's essential viewing for anyone who wants to understand the true horror of the Holocaust. Moreover, the movie was developed only a few decades after the actual Holocaust occurred, which makes it all the more impactful.
It's a timeless classic
Sophie's Choice is a timeless classic that deserves to be seen by new generations of moviegoers. It's as relevant and robust today as it was when it was first released, and it's sure to continue to resonate with audiences for many years to come.
Its message is still relevant today
The message of Sophie's Choice is still relevant today, perhaps even more so than when it was first released. In a world that seems to be constantly on the brink of disaster, the film's themes of love, loss, and hope are as crucial as ever. Yet, everyone in the 21st century can learn from the movie that no matter how dark and difficult things may seem, there is always hope. And that's a message worth watching once more.