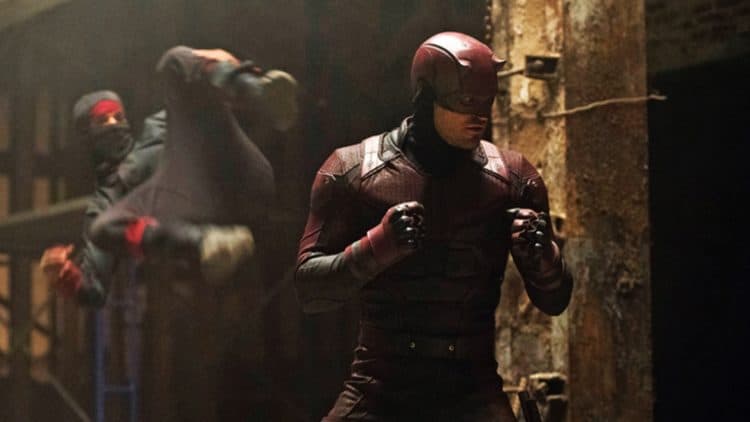 If you miss the Daredevil series that originated on Netflix, then you may be in luck. It is no longer on Netflix, but you'll find all three seasons on Disney+. A little inappropriate for a Disney channel, but then again, that's why it was so awesome. For a superhero television series, it really felt grounded and had a darkness to it that really separated it from the Marvel Cinematic Universe. But wait, it actually was a part of the MCU, wasn't it? It technically was, but that really doesn't matter now. After the show was cancelled in 2018, fans were anxious to find out if the show would ever be renewed for a fourth season or if Charlie Cox would at least return in an MCU movie.
Well, it took about three years, but our hope was restored when Charlie Cox made a brief cameo appearance in Spider-Man: No Way Home. That was a nice surprise, on top of the fact that Vincent D'Onofrio would subsequently reprise his role as Wilson Fisk/Kingpin in the Hawkeye series. At least it showed us the best parts of the Daredevil show would carry on, but we fans were still curious about other things. Did this mean that the timeline established in the Netflix show would continue? Would the other cast members from the show return? And what did this mean for the other actors who played the Defenders in the other Netflix shows?
All fair questions that will surely be answered in the near-future. As for Daredevil, it looks like Disney is opting to do a more soft reboot, rather than continuing the Netflix show timeline. It has recently been reported that the Daredevil show has been rebooted for Disney+, with Charlie Cox set to play the blind vigilante once again. Good news for us, despite the fact that the Disney+ show will not be continuing what was established in the Netflix shows. Or will they? Maybe they can still do what was originally planned, but with a little nuances thrown in there. Either way, I think we should all be grateful that Charlie Cox is returning to play Daredevil.
Now for this series to really live up to the Netflix show, it has to bring in some villains we haven't seen before. We all know that Kingpin and Bullseye will probably pop up and they will probably have more of a comic vibe to them compared to their Netflix counterparts. That's okay, but that also means there's room for some of Daredevil's more bizarre villains. This ranges from the creepy supernatural, to the absolutely insane, and the downright weird villains of Marvel Comics. And yes, it does include some C-listers the casual Marvel fans have probably never heard of, but think of the Daredevil reboot as a chance to make them cooler. It has been done before and it can be done again in this reboot.
So with that in mind, here are six Daredevil villains that should appear in the Disney+ reboot.
6. Stilt-Man
Kicking off this list is a villain who totally puts the C in C-list villains. Wilbur Day, better known as Stilt-Man sounds lame, but that's because he is. His only abilities are implied in the name: he wears a battle suit that allows him to walk on telescopic legs. Yeah, that's pretty lame, but he is on the cover of one of the most recognizable Daredevil comics ever. So why him? Well, to be honest, Daredevil could always use a good warm up. It would just be so cool to see horn head swoop in and take down a villain he regularly tangles with just to see him in action.
5. Mister Fear
Lawrence Cranston, better known as Mister Fear, is basically Daredevil's Scarecrow. As the name implies, he uses a gun that shoots gas pellets which causes his victims to be afraid of anything. This villain could have fit the darker tone of the Netflix show, but Daredevil is still the man without fear. Mister Fear could really put his nickname to the test and expose a fear in him he didn't even know he had.
4. Gladiator
Daredevil has tangled with Melvin Potter, better known as Gladiator before in the Netflix series. The difference is that Melvin Potter never actually suited up as the Gladiator. In the comics, Melvin Potter is a costume designer who owns the Spotlight Costume Shop in New York City. He eventually used his skills to suit up like a Gladiator and use two wrist-mounted buzzsaws as weapons. If the Disney+ series wants to somewhat continue Melvin Potter's story, it could have him suit up as Gladiator. This villain has fought Daredevil on several occasions, reformed and became an ally, but would later turn back to villainy. This could lead to an interesting rivalry between him and Daredevil for the Disney+ reboot and give him a good physical challenge.
3. Blackheart
I've named some lesser-known villains, but this one dives into the ultimate supernatural realm. Blackheart is a demon and the "son" of Mephisto. He has already appeared in the 2007 Ghost Rider movie played by Wes Bentley, but that was hardly faithful to the character. Despite being known as a Ghost Rider villain, Blackheart actually debuted in a Daredevil comic. And as the son of Mephisto, his only motivation is to torment the innocent as much as he can. I believe having Blackheart debut in this reboot will not only give Daredevil a serious challenge, but it can open the door to the introduction of Mephisto. That will lead to a whole other realm being introduced in the MCU and bring in one of Marvel's most dangerous villains.
2. Typhoid Mary
For you few Marvel fans who remember the Iron Fist show, you'll probably remember Typhoid Mary. And yes, that is another villain who has often tangled with Daredevil more than Iron Fist. Much like the Netflix version, this villain suffers from Multiple Personality Disorder. She also eventually became romantically involved with the Kingpin at one point. Now that can set up for an interesting conflict between her and Daredevil. Matt Murdock has never had much luck with his love interests, so having a former lover turn to his archenemy could only strengthen the animosity between them.
1. The Owl
With the MCU's new Kingpin currently playing in prison, there is a spot open for New York's top crime lord. Leland Owlsley has appeared in the Netflix series, played by Bob Gunton. We all remember how Kingpin threw him down an elevator shaft, but he did have a son. If this reboot wants to continue that, it would be a good way to set up a revenge story. On top of that, Wilson Fisk is now in prison, which means his criminal empire is up for grabs.
Having a former C-list villain like the Owl come onto the scene and establish himself as a dominant and ruthless crime boss can give Daredevil another challenge. And as the name implies, this villain can glide and has long and sharp talons for weapons. Wilson Fisk can't do that, so this could be a far less grounded battle compared to the one they had in the Netflix show. That's okay, because the Owl could be a big far cry from Wilson Fisk and really make this reboot feel different from the Netflix show.
Final Thoughts:
What do you think Daredevil fans? Do you agree on my choices or am I missing out on some villains?
Tell us what's wrong with this post? How could we improve it? :)
Let us improve this post!