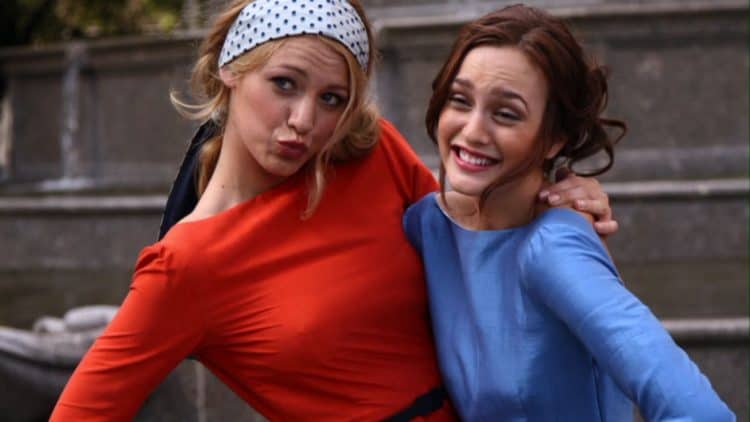 Friendships form a vital part of teen dramas. The storylines usually center around family, love, and the friendships that make events more exciting. There is nothing like a trusty sidekick who is by your side through life's ups and downs. Teenage years are also such an important chapter in a person's life. It's a carefree time where we are free to experience new things and discover ourselves even more. One of the teen drama's that tackled all this and more was CW's Gossip Girl. The series premiered in 2007, and ran for a successful six seasons. The storyline followed the lives of a group of wealthy adolescents living in Manhattan's posh Upper East Side. Two of the show's lead stars were frenemies, Blair Waldorf, portrayed by Leighton Meester (Single Parents), and Serena van der Woodsen, portrayed by Blake Lively (A Simple Favor). Here are five scenes from series that highlight Blair and Serena's friendship:
5. When they had an impromptu photoshoot around New York City
Blair and Serena's friendship was tarnished after Serena momentarily moved away from New York City. It also did not help that Serene had a fling with Nat Archibald, portrayed by Chace Crawford (Blood and Oil), Blair's boyfriend at that time. Serena's return rehashed old wounds and made the two characters confront their scarred relationship. One of the more lighthearted moments after Serena's return happened when the duo decided to skip a photoshoot and do their own thing instead. It was a memorable scene that showed how much fun Blair and Serena had whenever they were together. Their friendship might have gone through some rocky moments, but in the end, the bond they have established was too strong to be completely destroyed.
4. When they enjoyed a Parisian getaway
The series was filled with fashionable moments, which Blair and Serena knew like the back of their hands. Leave it to them to spruce up an everyday outfit and make it runway-worthy. The series focused on the luxurious New York City lifestyle for most of the episodes, but we were also gifted with some special trips that showed the glitz and glamour on the other side of the globe. The scene where Blair and Serena took over Paris felt like watching a Parisian fashion show. They strutted their way down Paris' iconic cobblestone paths and carried the stylish outfits like true pros. It was always nice seeing the two characters bond and not fight over common love interests and other family dramas. The scene felt like we were watching a fashion playbook unfold before our eyes, and it was enchanting to say the least.
3. When they got stuck inside and elevator
We witnessed Blair and Serena go from friends to temporary enemies throughout most of the seasons. Just when things were getting better between the two, some new kind of drama would suddenly blow up and create friction again in their relationship. There on and off friendship grew tiring at some point, but it still did not stop us from rooting for their sweet reunion. The scene where Blair's boyfriend, Chuck, portrayed by Ed Westwick (Freaks of Nature) locked Blair and Serena inside an elevator to talk things through was a thoughtful gesture. The two had no choice but to confront their feelings and somehow work on patching things up. The two characters still cared for each other despite their fights, and it was evident in scenes like this.
2. When Serena confronted Blair after a break-up
Friendship is being there for each other during one's worst moments. It's a two-way street that involves giving and taking at the right time. Serena and Blair may have had an imperfect friendship, but they knew when to show up for each other and be a reliable shoulder to lean on. There was no better person to comfort Blair during a break-up than Serena. The scene where Serena sat with Blair to hear out her heartache was reassuring and heartwarming, especially when she told Blair that she regarded her as her sister. This is the true beauty of friendship. As the saying goes, friends are the family we choose.
1. When Blair made an effort to make up with Serena before she leaves for another trip
We can be the most vulnerable whenever we are in the company of true friends. The same can be said for Blair and Serena, who know each other the most. They have gone through outrageous fights, but still find a way back into each other's arms. At the end of the day, it does not matter who started what. It's how you make up and rebuild your friendship. The scene where Blair visited Serena before she left for a trip to offer a truce was heartwarming to watch. She was honest enough to admit that she needed her best friend more than anyone, and that she could not make it without her. Blair and Serena always made it a point to rekindle after a fight, no matter how long and hard. This effort paid off in the end, and just strengthened their friendship even more.
Tell us what's wrong with this post? How could we improve it? :)
Let us improve this post!