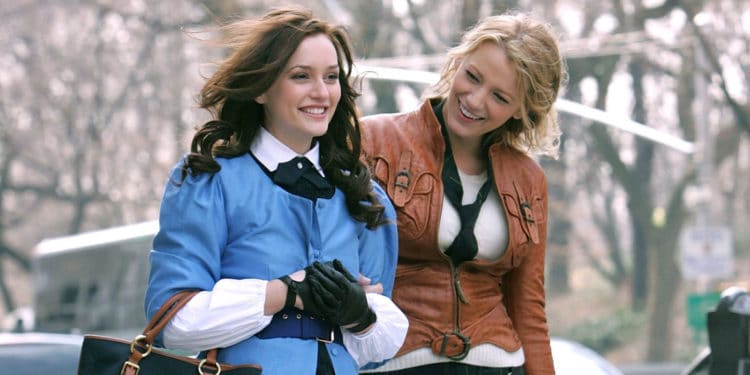 Created off of a novel that bears the same name, Gossip Girl made its debut on The CW in September of 2007. The show had a six-season run that ended in 2012. It told the stories of students from privileged families, through the eyes of an anonymous blogger. The show's popularity birthed several spin-offs in numerous countries, including Thailand, Indonesia, Mexico, and Turkey, where it was named Little Secrets. During its reign, Gossip Girl received a total of 18 Teen Choice Awards, and in 2021, inspired a sequel which, according to The Guardian's Lucy Mangan, is nothing like the original. At the end of the series, fans got a taste of a much-awaited reveal of Kristen Bell as 'Gossip Girl'. It's nearly a decade since the show wrapped up. Its fans have been treated to a reboot with all-new characters. The question on everyone's mind is, what is the original cast up to?
1. Blake Lively ( Serena van der Woodsen)
Since the show came to an end, Lively, who portrayed the camera-loving it girl Serena van der Woodsen, has appeared in a number of movies. Her most notable role in a film was in 2015's The Age of Adaline, in which she appeared alongside Harrison Ford and Michiel Huisman. Her last appearance in a film was in 2020's The Rhythm Section, in which she portrayed Stephanie Patrick. This year, the Teen Choice Award recipient made her directorial debut on Taylor Swift and Chris Stapleton's music video for the song 'I Bet You Think About Me.' Lively also has an entrepreneurial spirit that is very much alive, thanks to her non-alcoholic drink, Betty Buzz.
2. Leighton Meester (Blair Waldorf)
Two years after playing Blair Waldorf, the Queen Bee of Constance Billard School for Girls, Meester landed a role in the film Life Partners, where she played Sasha Weiss. She's since made appearances in Like Sunday, Like Rain, By the Gun, and the short film The North Winds Gift. In 2016, Meester appeared on the television show Zoolander: Super Model as herself, and has been oddly quiet when it comes to the small screen. Away from acting, Meester is, according to her Instagram, reading a lot, and taking trips to Disney land.
3. Penn Badgley (Dan Humphrey)
Once listed as one of television's sexiest men by Buddy TV, Penn Badgley is a more familiar face thanks to his role as Joe Goldberg on Netflix's You. Not only is Penn a main cast member of the show, but he is also its producer. Two years after wrapping up his role on Gossip Girl, Badgley portrayed the role of Erik in the film Parts per Billion. He's also made appearances on The Paper Store and Adam Green's Aladdin. This year, Badgley made an appearance as Rex in the Billy Crystal-directed film, Here Today, his fifth role in a film since the ending of Gossip Girl.
4. Chase Crawford (Nate Archibald)
Besides appearing on Gossip Girl, Crawford is popular for his roles on The Covenant, The Haunting of Molly Hartley, and What to Expect When You're Expecting, where he portrayed the role of Marco. Since the show ended, he has made appearances in more films, including Rules Don't Apply and Eloise, in which he played the role of Jacob Martin. Crawford is set to make an appearance in Riptide, whose release date is yet to be announced. On television, he's had roles on Glee, Blood & Oil, and is currently part of the Amazon Prime series, The Boys.
5. Taylor Momsen (Jenny Humphrey)
Prior to being one of Blair's minions, Taylor Momsen was already a familiar face, thanks to the 2000 movie How the Grinch Stole Christmas, which is one of the highest-grossing Christmas movies of all time. Soon after the end of Gossip Girl, a role for which she got herself nominated for a Teen Choice Award and a Young Artist Award, Momsen retired from the acting industry. Her attention shifted to Music, where she leads the band The Pretty Reckless. This year, the band released its fourth studio album.
6. Ed Westwick (Chuck Bass)
As Chuck Bass, Westwick was the spoilt billionaire's son who had a thing for the ladies. Eventually, he ended up with the it girl, just like anyone who'd inherited billions would. Following the show's end, Westwick made appearances in several movies, including Bone in the Throat, Freaks of Nature, Enemy Lines, and his latest, Me, You, Madness, in which he plays the role of Tyler Jones. On television, he played the role of Vincent Swan on White Gold from 2017 to 2019. While he is missing in action in the television arena since then, not the same can be said for the big screen, given that Me, You, Madness was released this year.
7. Kelly Rutherford (Lily van der Woodsen)
Following the end of Gossip Girl, Rutherford returned to the big screen after a decade-long hiatus. Prior to that, her last known role was in the 2002 movie, Swimming Upstream. Rutherford broke her sabbatical by making an appearance in The Stream. She would make one more appearance on Christmas Wedding Planner, in which she played the role of Aunt Olivia. On television, she's since made appearances in several television films, including Dark Angel and Fallen Hearts. Her last known role was in Power Book II: Ghost, in which she portrayed Colleen Saxe. Off of acting, she runs Sovereign Collective and is set to release an app named Whyzzer.
8. Matthew Settle (Rufus Humphrey)
Since his entry into the acting industry back in 1996, Matthew Settle has starred in several television films, including Shaughnessy: The Iron Marshall, in which he made his debut, Crime in Connecticut: The Story of Alex Kelly, and The Mystery of Natalie Wood. Settle was lucky on television, such that his first role in a series, that of Capt. Ronald Speirs, made him well-known. Following the end of the six-episode miniseries, Settle would make a name for himself as Rufus Humphrey on Gossip Girl. Since his portrayal of the role, he has landed more film roles, his last one being that of Bono in Valentine: The Dark Avenger. Since 2016, settle has been completely under the radar, but appeared on a HBO podcast to discuss The Band Brothers.
Tell us what's wrong with this post? How could we improve it? :)
Let us improve this post!