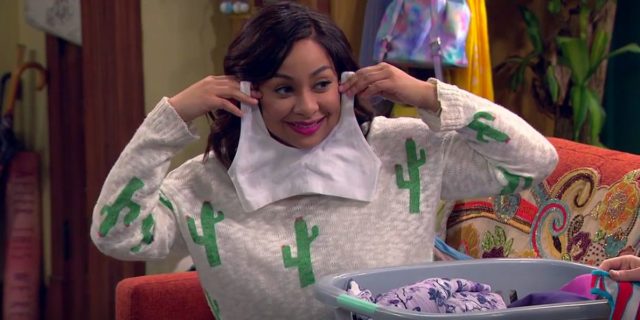 The new sitcom "Raven's Home" is a heartwarming trip back to our childhood years, for those of us who grew up with "That's So Raven." The girl with a little something extra is back as a single mom of twins and she hasn't changed much, to our relief. Now we get to find out how the character evolved into adulthood. After seeing the pilot, it's clear that there are quite a few reasons to say that this new series is definitely the best Disney channel program on the air right now.
Nostalgic
Anyone who enjoyed watching Raven Simone as a child will enjoy her as a mom. Raven comes home after getting a divorce and she has twins from her marriage, but she is still the same zany character that we have all come to know and love. We remember how she used her psychic powers to help friends who were in trouble. This is still a part of who she is and while it is sometimes helpful, it also leads her into a few bizarre situations. Now we get to see one of her children learn how to deal with this incredible, yet somewhat burdensome gift that has been passed on. It's like taking a trip back in time, except, Raven has aged with the rest of us. She still looks great, but it's obvious that she is no longer a teenager, and this makes it so easy for viewers to relate to the character. Chelsea is back and the girls are still best friends. This reinforces the value of friendship and it gives us a warm and fuzzy feeling.
Wholesome content
Instead of being a teen who is in the process of discovering herself, Raven is now a mom. She struggles now and then, being a single parent, but she does a great job of it. This is very much a show about family and friends. As Raven teaches her children about the importance of values, we learn lessons along with them. It's a show that any parent would be happy to have their children tune in to. Instead of using more colorful language, when something goes wrong, Raven's famous phrase "Oh, Snap!" which caught on big in the 2000s era really set the tone for the moral temperament of the show. It is definitely a kid friendly series.
What you can expect
If you haven't yet tuned in, expect to find some of the same crazy situations and problem solving that we experienced with her previous sitcom series. Raven is truly at her best in "Raven's Home." There will be meddling, backpeddling and visions aplenty. We've had fun watching Raven get herself into some pretty funny jams, but she always manages to find her way out of them. The new series is not much of a departure, bringing a blend of chaos and hilarity and it gives us a look at how fun life can be even when circumstances are a bit rocky at times. The show airs on the Disney Channel on Fridays at 8:00 p.m. Eastern Time.