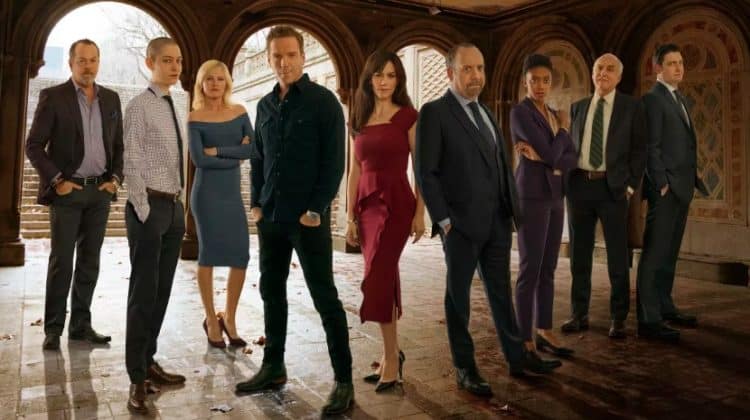 Since its debut in 2016, Billions has been one of the most popular dramas on cable TV. The show follows a hedge fund manager named Bobby Axelrod (Damian Lewis) on his quest to make endless amounts of money. Billions is full of drama and suspense and it's introduced the world to some pretty awesome characters. As the fifth season of Billions draws to a close, many fans may be looking for other ways to get their fix of great on-screen entertainment. The good news is that there are several other movies and shows that can give you a similar feeling to Billions. Some of them might just earn a spot on your favorites list. Here is a list of shows and movies to watch if you're a fan of Billions.
1. Succession (2018-Present)
Succession takes place in a world of familial wealth and cutthroat business dealings. The show follows the family of a media tycoon named Logan Roy who is facing some serious health issues. His four children are competing for his favor to inherit the empire when he dies. Despite being family, Logan's children are willing to do some pretty intense things in hopes of securing the inheritance. Succession has the perfect amount of financial drama and family backstabbing
2. House of Cards (2013-2018)
House of Cards is a Netflix original series that dives into governmental corruption. The show is about a fictional U.S. Representative named Francis Underwood. He is promised the Secretary of State in exchange for his support of a presidential candidate. However, he is overlooked for the position, he and his wife, Claire (Robin Wright), decide they are going to do what they can to get revenge.
3. Wall Street: Money Never Sleeps (2010)
Wall Street: Money Never Sleeps is a continuation of the 1987 movie Wall Street. The film is set amid the financial crisis of 2008 and it tells a twisted tale of corporate greed. Shia LaBeouf plays Jake Moore, a young and ambitious Wall Street trader who is engaged to a woman named Winnie (Carey Mulligan). Winnie's father, Gordon Gekko (Michael Douglas) also had a successful career on Wall Street before going to prison on insider trading charges. While the movie focuses on the story of Winnie and Gordon trying to repair their relationship, it also takes viewers on an interesting story through greed and redemption.
4. Suits (2011-2019)
In Suits, Patrick J. Adams plays a college dropout named Mike Ross who is on the run after being involved with a bad drug deal. He ends up getting a job at a law firm in New York City working under an attorney named Harvey Spector. Although Mike doesn't have any experience in the legal field, he and Harvey prove to be a dynamic duo. However, they have very different approaches when it comes to dealing with people. Suits is one of those shows that will suck you in as soon as you start watching it.
5. Halt and Catch Fire (2014-2017)
Halt and Catch Fire may not be as popular as some of the other shows/movies on this list, but it is still one you should add to your watchlist. Similar to Billions, Halt and Catch Fire is serious, clever, and realistic. However, instead of being set in the finance world, it takes place at a tech company in the 1980s. If you love computers and other forms of technology, this show will definitely interest you. However, even if you're not that into tech, you can watch this show without being overwhelmed by lots of complicated terminologies.
6. Dynasty (2017-Present)
Based on the 1980s series of the same name, Dynasty has a bit more of a soap opera vibe than Billions does, but all of the twists and turns will have you on the edge of your seat (in a good way). Dynasty follows two wealthy families who find themselves connected through an engagement. One family member, in particular, is willing to do everything in her power to separate the couple and keep the families apart. Since we all know that family drama tends to make for good TV, you can probably guess that Dynasty is very entertaining.
7. Exit (2019-Present)
Exit doesn't take place in the United States, but other than that it has a lot in common with Billions. According to the show's description on IMDB, "EXIT is a dark drama series based on true stories from Norway's financial scene. The series takes place inside this secret, exclusive world, where four friends from the west side of Oslo are looking for an exit from their everyday lives. They share a distinct narcissistic bent, and what appears to be very successful lives, but their days become a constant juggling act of obligations, money, and lies. "
Tell us what's wrong with this post? How could we improve it? :)
Let us improve this post!