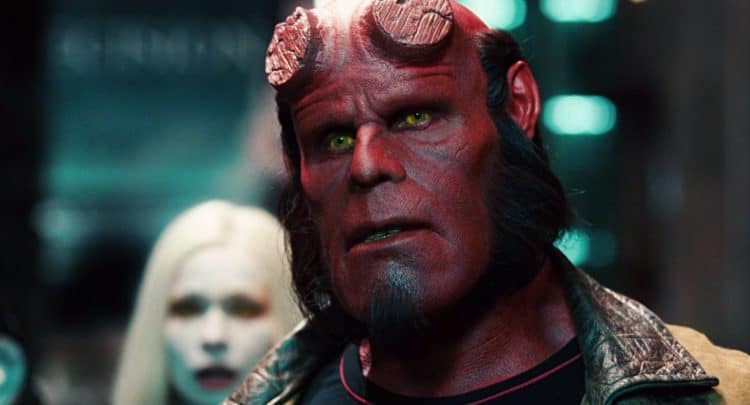 We've already heard that Ron Perlman would be willing to come back as Hellboy for the fans, but should he? It's that easy of a question to ask since as he's already admitted, he's 71 years old and he's not exactly excited to even consider it. But he's ready to do it for the fans, which is kind of funny since if the fans were to turn on him it's fair to think that Perlman would give them the finger and tell them to shut up, or something far more explicit. Perhaps the actor should give this some thought before he decides to jump into the makeup chair for another few hours every time he's needed on set. Another reason that he might not need to take this project on is that once again, he's 71, and even though a lot of actors keep taking on physical roles until they're no longer able, it does feel as though Perlman might need a lot of help in the makeup department since the guy isn't as imposing as he used to be.
Think about this as well, it's been at least a decade since he was seen on the screen. What story would Guillermo Del Toro bring to the screen if he was going to consider this? How many actors would return? What story would be told to complete this trilogy and make the fans fall in love all over again with this character? What could be done that might make this just as popular as it was before? Plus, how in the world would Del Toro equal or rise above the first two movies? It's possible of course, but it also feels as though the expectations would be through the roof, especially since David Harbour's attempt, interesting as it was, didn't really please the fans that much since they probably had Perlman's version in mind.
Let's lay our cards on the table, Perlman nailed this character in a manner that made it tough for anyone to live up to, but that was a while ago, and things have changed. The standards of movies have changed, what fans want has changed, and to think that this third installment would be able to meet every last expectation is kind of optimistic, even if Perlman would be the high point of the entire movie, as people would expect. There's a time when actors have to realize that the time has come for certain roles and ideas, and while it's very possible that Hellboy could come back and finish out a trilogy, it's still easy to wonder if this would be the best idea. The fact is that old ideas have been brought back as sequels with every expectation that they would be great, but have flopped horribly. The amount of pressure to make this movie into something that would be good enough to add to the other two would be intense, and like it or not, Perlman is not getting younger, and soon enough this idea will be easier to forget than to keep drumming it up for those that want to see it happen.
There's no desire to be a pessimist about this since, between Harbour and Perlman, Perlman was still the better of the two. But at his age and with the thought that he's not fully prepared to do this unless the fans want him to, it feels as though he should give this a serious bit of thought. The truth is that he might think that he owes the fans this last movie, but realistically the last Hellboy did manage to end on a happy note that saw the main character and Liz reaffirm their love for each other, and announced that they would be having twins. Some might want to argue that there's plenty of room for another story, and they're not wrong, but unless things get moving quickly then there's not a lot of promise that it could happen if the star isn't capable of taking on the role any longer. A lot of Hellboy fans won't want to hear this, but Harbour is the younger version that could continue forward if Perlman is finally convinced that he's over and done with the part.
It's not a popular opinion, but maybe Ron Perlman should think long and hard about this, and maybe he should even consider just letting the role of Hellboy go, since if Del Toro isn't up for it, then it's very likely that it won't happen. He's already created a legacy that people enjoy, so one has to wonder why he would want to risk that by possibly making a substandard sequel to cap things off. The sequel might be great, to be honest, but it's a risk that needs to be measured before such a project moves forward.