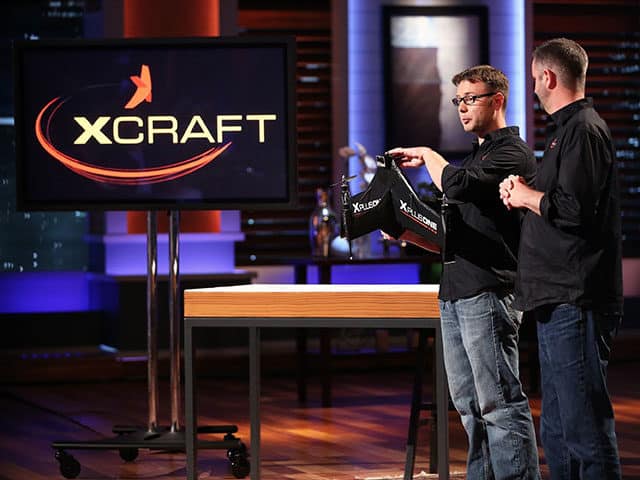 During Episode 5 in Season 7 of Shark Tank, which aired in in late 2015, each and every one of the five sharks decided to invest in the burgeoning drone business. The drone-maker was xCraft and, now in 2017, a number of serious developments have come about for xCraft. The members/backers at Kickstarter have been receiving their X PlusOne drones and their development kits. There was an early 2016 ordering numbers mixup, as well some difficulties with the use of multiple platforms like Indiegogo, Kickstarter, and the XCraft website itself, but all of those early issues have been resolved.
Find xCraft Drones on Amazon
Now, xCraft has seen a meteoric rise in their business, so they hired a complete team and a new community manager for handling customer concerns. And, their three main drone models have been selling on Amazon since the summer of 2016 and that's with free Amazon Prime shipping, too. The hardest part of buying one of these amazing xCraft Drones just might be choosing between the many options available on each model and that's what determines the pricing. The Plus One, AT2, and RC1 quadcopters start at only $499 and can run close to or even a bit over $2k.
The xCraft Drones X PlusOne
The X PlusOne: Platinum Quadcopter lets users enjoy themselves hitting the heights and taking amazing aerial video or using the mode called "Follow Me" for taking unique selfies during activities like skiing or bike racing for example. The X PlusOne sells for $709.66 and is touted as easy to operate with self-stabilizers in hover mode. It also has an upward-facing wing for pitching forward at more than 90 degrees for fast-forward-motion. Other Plus One models include:
The xCraft X Plus One DIY Quadcopter Kit in white at $499.00
The xCraft XPlusOne for GoPro HERO with Brushless Gimbal in Black at $612.15
The xCraft X Plus One Quadcopter HD Advanced with Gimbal and Run cam HD at $795.00
The xCraft XPlusOne Quadcopter with Gimbal and Run cam HD plus two extra batteries at $895.00
The xCraft Drones RC1
To date, the RC! only has one model selling on Amazon and it is a camcorder bundle:
The xCraft RC1-XP1-001-BK Quadcopter Drone in Black at $1,893.55
The xCraft Drones AT2
The AT2 has a number of models on Amazon, including:
The xCraft Quadcopter Camcorder Bundle AT2-XP1-002-WH Drone in white at $694.00
The xCraft Hybrid Quad Copter with Fixed Wing AT2-XP1-002-CB-B1 complete with GoPro Gimbal at $709.66
The xCraft Quadcopter Camcorder Bundle AT2-XP1-002-BK in black at $2,080.42
Not Just a Drone Tech Developer Anymore
So, now xCraft has become not just a drone technology developer but also a mass marketer of some of the most innovative products in the history of drone technology. The X PlusOne, which is the company's main product, is well-known for combining a helicopter's hovering abilities with an airplane's speed. It's basically a smaller drone that is making full use of many smartphone features. These days xCraft is taking advantage of the many recent autonomous flight developments while also making strides in the increase of accessibility and camera quality, as well. These days, it would definitely appear that XCraft is taking the drone market by storm. With 25 percent of the profits going into their pockets, it seems that the Sharks made an excellent decision.
Tell us what's wrong with this post? How could we improve it? :)
Let us improve this post!