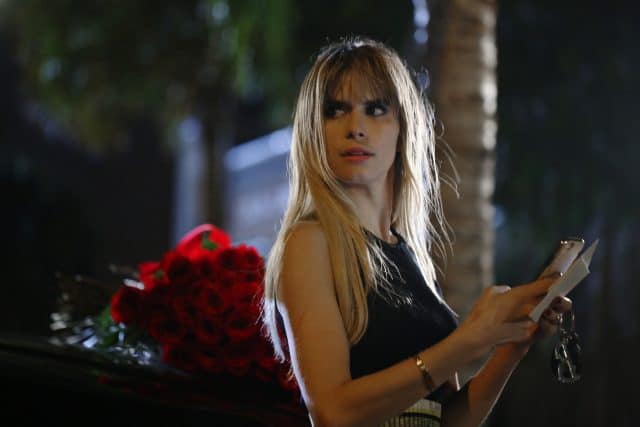 I really thought that last week's season premiere of Scream: The TV Series was the best possible way to follow up on the events from season one (check out my review of the season premiere!), so I've been eagerly anticipating what would come next. Let's jump in and see what happened in this week's new episode, "Psycho."
The episode opens with Emma running away in terror from the building the previous episode left her in. She tells her mom about the farm and what she found in it, but her mom reveals that she's been there plenty of times before. It seems like there are going to be a lot more secrets come out this season about Brandon James and his extended family, and these secrets should have a big impact on the plot. Emma and her mom go back to the farm to confront everything once and for all, but the walls have been wiped clean of every trace of the photos by the time they show up. It appears that whoever was staying at the farm and keeping track of Emma had the foresight to leave after encountering the young woman in the middle of the night. Emma's only solace at the moment ends up being Kieran, but she starts to think that she may be seeing things or hallucinating (something that I really hope the show explores throughout this season).
Meanwhile, Audrey is still reeling from her stalker. Noah comes to her rescue (in a way, at least), and he tells her of a new lead that's popped up from his podcast interview with Emma. They can't immediately follow up on it, though, once everyone realizes that it's been a while since anyone heard from Jake. Brooke tries texting him (no longer worried about looking desperate after their breakup), but she just can't seem to reach him (obviously, since he's no longer with us). It seems that her father also wasn't quite through with Jake either, further shaking up the relationship between him and Brooke. Brooke ends up finally going to the police station to file a missing person report, but she gets a text from Jake's phone right before she's able. The message leads her back into (what she thinks is) his good graces, and she finally professes her admiration for Jake to her very upset father.
Things are made a little harder for Kieran once the new sheriff finds out that he's been living on his own lately, and a sudden impending move to Atlanta for the kid isn't easy on Emma either. As Emma confides in her psychology teacher (a potential new confidant with a mysterious agenda), her mother attempts to work a plan for Kieran out with his legal guardian. Emma checks in with Kieran after her conversation (finding out about Kieran's mysterious cousin while at the house), and they drive out to the dock where Piper met her demise during last season's finale. At the dock, Emma make a real effort at confronting her fears, enabling her to fully reconnect for Kieran for the first time since the tragedy. When they get back to his house, they also find out that Kieran's aunt has decided to move to Lakewood so that he won't have to leave town himself. Before the end of the episode, though, Emma gets one more major surprise that is going to have huge implications for her story moving forward.
"Psycho" slows down a lot from the season premiere, but the plot still progresses in a big way while keeping the trademark fun for which the series is known. I didn't talk about it much in this review, but Audrey's subplot as Piper's accomplice remains one of the more interesting things about the early season, and I'm really looking forward to finding out more, too, about Emma's visions and hallucinations. In addition, the ramifications of Jake's death will have to start coming out very soon now that the body has been found, so, all in all, there's a lot of excitement surrounding the rest of the season.
What did you think of "Psycho?" Are you enjoying this season of Scream as much as I am? Let us know your thoughts in the comments down below!
[Photo Credit: MTV]
Scream Season 2 Episode 2 Review: "Psycho"
Summary
"Psycho" slowed down from the season premiere, but there's still a ton of plot progression in a very interesting episode of Scream.