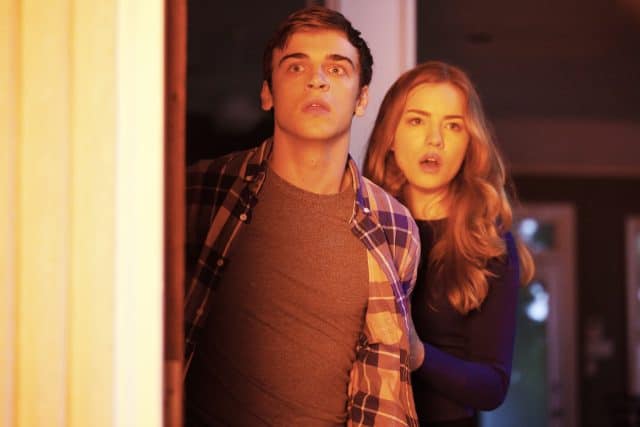 It's had its flaws, but this season of Scream on MTV has proven to be an insanely fun creature in and of itself. Let's take a look at what happened in this week's new episode, "Let the Right One In."
As a side-note, am I the only one absolutely loving the show's use of classic horror movie titles for its episode titles? In addition to being a fun little homage, they also do a great job of giving the smallest tease as to what the episode will be about. It's a tiny thing, but I've really been loving it this season.
The episode opens with Emma being questioned about the emails that were discovered as having been sent from her computer. While she obviously didn't send them, the discovery leads the police to finally believe her about being stalked. In addition, it allows her to finally come clean about what happened at the farm earlier in the season. The protection is good, obviously, but she ends up feeling betrayed by Kieran since he's the whole reason they decided to question her. All of this combines to push Emma even closer to Eli, throwing another huge wrench into the machine of her life.
Audrey and Noah are in a good place now that she's finally told him about what happened with Piper, but she still isn't willing to tell Emma the truth. Noah decides to spend some time getting to know Zoe a little better, while Audrey ends up an accomplice to what Brooke did at the end of last week's episode. Both of these storylines play out in a pretty fun way, and I have to admit to still being impressed with the development these characters have received this season. In particular, Noah's development through his relationship with Zoe has been so fun to watch. I could be biased since Noah has always been my favorite character, but making his character so much deeper in just a few episodes is one of the biggest accomplishments of the season so far.
The two biggest moments in the episode are easily the event taking place at the school and the fire at the end of the episodes (both connected in a fun way), but I don't want to go into those too deeply in order to keep from spoiling the episode. Suffice it to say, though, that next week's episode should have some very interesting followup.
"Let the Right One In" was a solid episode of Scream (albeit a tad weaker than last week's episode), and it progressed some storylines in major ways while developing some characters in even bigger ones. I can't wait to see what comes next.
What did you think about this week's episode of Scream? Let us know your thoughts in the comments down below!
Tell us what's wrong with this post? How could we improve it? :)
Let us improve this post!